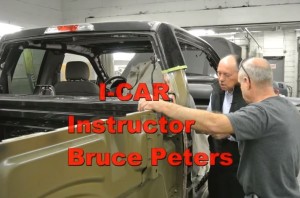 Shops curious to see the innards of an 2015 Ford F-150 "in the field" should check out a YouTube post Wednesday by a Philadelphia auto body shop.
The footage of Alan's Collision Center shop's first aluminum F-150 repair features a series of stills rather than an actual movie, but it and the accompanying description still give a sense of what a shop might see on the vehicle as well as repair considerations.
General manager Jim Pfau said he posted the repair on social media — elements appeared earlier this month on Alan's Collision's Facebook page — to encourage industry participation and discussion. (Also in that "open-source" spirit, the video rocks out to Triumph's "Lay It On the Line.")
"This allowed the repair to be transparent and exchange information," Pfau wrote in an email to Repairer Driven News.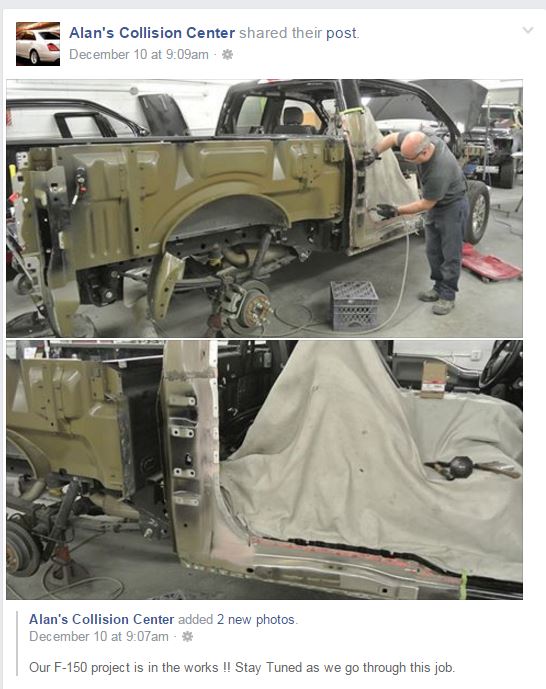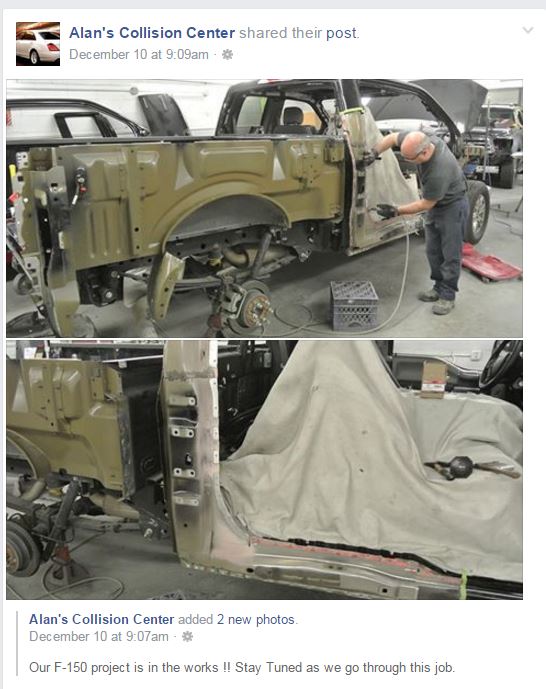 "I am very concerned that this truck will not be repaired correctly in the field," Pfau wrote in another email. "We did a lot of homework and sought help from industry people like Bruce Peters, Larry Montanez, Shawn Collins and Jamie Boettcher who helped design the program between Ford and I-CAR. Since this was our 1st F-150 I wanted on hands on deck. The next one will take much less time."
For example, Boettcher (of Summit Consulting) noted a couple of mistakes based off of the images shared by the shop. The issues have since been addressed, Pfau wrote.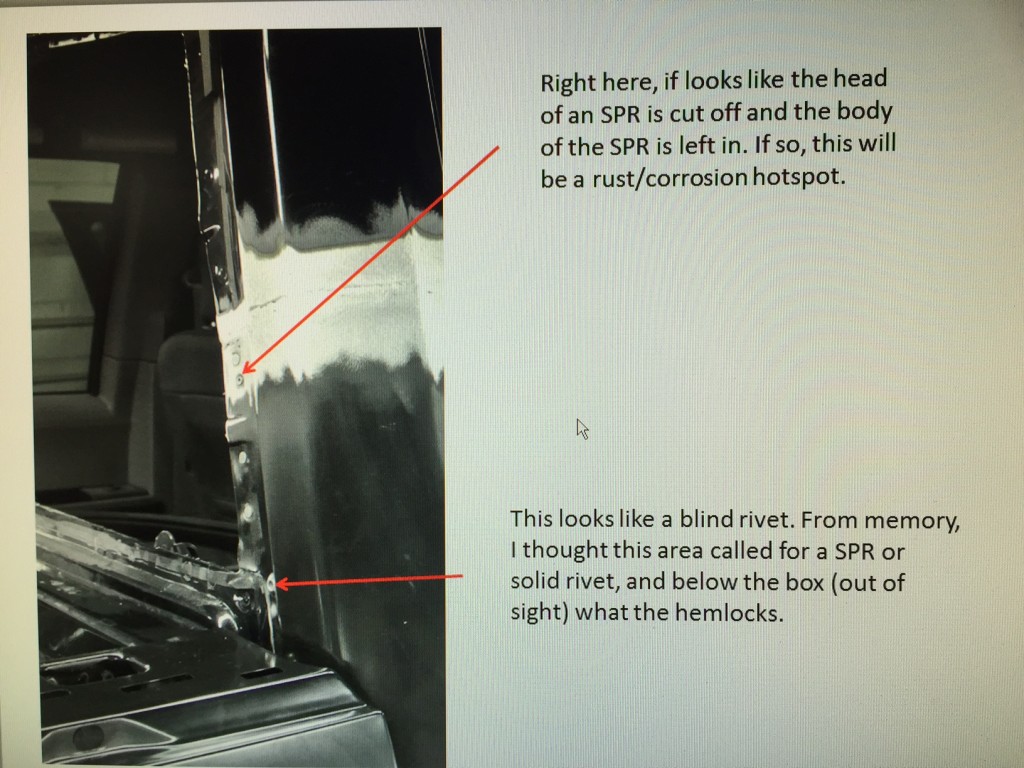 For any other shop interested in cramming for their first aluminum F-150, collision repair information can be found on I-CAR as well as the paid Ford repair procedures site. As a Ford collision representative noted, it's imperative to follow the OEM repair procedures to do a proper job.
Pfau accompanied the video with a lengthy discussion of both the expertise and expense needed to repair the vehicle as well as some concerns for the industry and consumers.
"This has been a very educational repair," Pfau wrote. "We replaced the right bed side, outer wheel house, front panel of bed and the right side (aperture) panel. …  Everyone was very quick to give me input and I would like to thank my colleagues."
Pfug also referenced the "huge investment back into the shop" necessary to do the job, reporting that aluminum equipment such as a curtained work area, welder and rivet gun cost about $50,000, with another $2,000 in training costs.
He argued that such cost must be recouped with a higher aluminum rate than that charged to repair steel and hypothesized that insurers would refuse to pay it.
"This will be a focal point going forward and customer awareness is going to be key," Pfau wrote. "The repair is straight forward like steel but it is the expense and understanding of Aluminum requirements I fear. I can see how shops will mis-repair this truck and how insurance companies will try and muscle us."
In this case, State Farm was refusing to pay more than the insurer's steel metal rate.
"The field supervisor was contacted and the request was denied," Pfau wrote in an email.
An email query to State Farm late Friday afternoon about the dispute has not yet been returned.
The truck was actually a referral from a "quality collision shop that put their hands up for help" on solely the aluminum work, according to Pfau. (Alan's Collision is certified by aluminum-embracing Mercedes, though it is not listed in the recommended Ford F-150 repair network.)
"I can see this being the case more and more but only by shops that are quality driven," he wrote. "Unqualified shops will just fix it in the middle of a shop with contaminated tools and a (MIG) spool gun."
As Pfau notes, responsible divisions of labor like the one that brought the F-150 to Alan's Collision might indeed be a growing trend in the collision repair industry, and a necessary adaptation to market and vehicle technology considerations.
CARSTAR this summer has examined assigning different niches to different network shops, and Collision Repair Magazine this month reported the chain is considering testing its Express program in the U.S.
That concept also arose — but with more controversy —  during the November Collision Industry Conference debate over whether a "Class A" shop could be anything other than shops equipped and trained to fix the widest spectrum of damage, or if different types "Class A" repairers (cosmetic versus structural, for example) could exist.
More information:
Images:
Shops curious to see aluminum Ford F-150 repair gear in action as well as the guts of an 2015 F-150 after an actual wreck should check out a YouTube video posted Wednesday by a Philadelphia auto body shop. (Screenshot of Alan's Collision Center video on YouTube)
Alan's Collision Center general manager Jim Pfau posted an aluminum F-150 repair on social media like YouTube and Alan's Collision Facebook page (pictured) to encourage industry participation and discussion. (Screenshot from Alan's Collision Center Facebook page)
Share This: