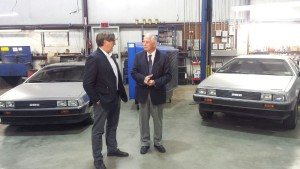 The Internet has been buzzing today over the news that DeLoreans are coming back into production — sort of.
It's because of the Low Volume Motor Vehicle Manufacturers Act, which was included in the mega-transportation bill recently passed by Congress and signed by Democratic President Barack Obama.
The law allows companies to build or import 25-year-old vehicles without running into modern safety laws, according to the Detroit News and the new DeLorean Motor Company. The new "DMC" has zero affiliation with the original OEM aside from, as the Associated Press reported in 2015, obtaining the rights to use the trademarks in a court settlement.
"We're hopeful that the law could be expanded to not just include replicas but all sorts of low-volume cars," DeLorean Vice President James Espey told the Detroit News. It wants to make its own cars, he told the newspapers.
However, the law does require the Clean Air Act of the replica's current model year be satisfied in some fashion, according to DeLorean.
Replica manufacturers (REMs?) can only produce 500 of each vehicle annually under the law, and must have a license to do so from the original manufacturer unless the OEM has made little effort to protect the intellectual property for three years.
And so the DeLorean, which famously traveled thirty years in the future — to last year — in "Back to the Future: Part II" can be reborn by the DeLorean Motor Company. It's shooting for 2017 but says there's hurdles.
"Our bill ensures that Houston companies like DeLorean are not hindered from selling their cars by antiquated federal legislation to hobbyists and enthusiasts who love classic cars," bill co-sponsor U.S. Rep. Gene Green, D-Texas, said in a statement Wednesday. "I'm proud to see an iconic Houston brand like DeLorean going back into production thanks to our bill and look forward to exciting times ahead at DeLorean as we go back to the future." Green visited DMC on Wednesday.
The new law could create all kinds of fascinating work for shops, both in manufacturing replicas and in fixing and painting them.
For example, here's some of DeLorean's FAQs:
Are body repairs possible for stainless steel?
Yes, but not in the modern way, i.e. body filler, sanding and painting. The shape and finish of damaged panels are restored by picking, filing and flap-sanding. All DMC affiliated dealers do this kind of body repair, either on or off the car. In many cases, estimates can be made from photographs, as well. … 
My doors wont stay up, how can I fix them?
95% of all problems with droopy doors can be solved simply by replacing with a set of the correct, proper struts, which we carry. Unqualified persons should never attempt to adjust the torsion bar(s) as severe personal injury and extensive physical damage are possible.
What can I do to fix the headliners?
DeLorean Motor Company recommends replacing the original headliner backing material with the modern fiberglass units that are available covered in either Dark Grey (for cars with black dashes and seats) or Light Grey(for cars with grey dashes and seats).
More information:
"Suit settled over DeLorean used in 'Back to the Future' films"
Associated Press via Seattle Times, Oct. 21, 2015
Share This: