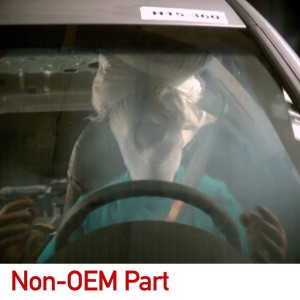 Right on the heels of the PARTS Act hearing in Congress, Hyundai on Wednesday formally announced a new email and video ad campaign touting the benefit of OEM parts.
The ad campaign will appear on Hyundai's YouTube channel (Good timing; people might be still checking out its Super Bowl ads.) and Hyundai's Consumer Awareness site. Hyundai will also spread the message to its vehicle owners via email.
The first video, "Don't Gamble with Counterfeit Parts" appeared Monday. As of about 1:10 p.m. Wednesday, it'd posted 2,008 views. (Some of which were us, of course.)
It features a roulette wheel with the red and black slots labeled with parts classifications like "grey market," "aftermarket," "counterfeit," and "salvage."
"When it comes to repairing your car after a collision, you don't always know where your parts are coming from," a narrator states. "It's a gamble."
It displays a "Non-OEM" part malfunctioning and sending an airbag wrapping around the fact of a crash-test dummy.
The malfunctioning part wasn't disclosed, but presumably it's related to the airborne airbag.
Anything other than new or recycled airbags (themselves controversial) are illegal, and counterfeit airbags have been recognized as a threat by the NHTSA, according to this 2012 Edmunds piece which does a nice job summing up the issue.
Other OEMs have focused on how airbag timing or crash-energy direction can be thrown off by a non-OEM part, such as a component on a bumper assembly.
Here's Honda:
And Ford:
"Counterfeit Hyundai parts have been a growing problem over the last 30 years," Hyundai customer satisfaction Executive Vice President Frank Ferrara said in a statement Wednesday. "Customers would see short-term savings after their vehicle was repaired, not even aware that non-Hyundai parts were used to bring these repair costs down. Short-term savings can have adverse long-term implications on the vehicle and passengers, which ultimately ends up costing more. Consumer awareness is essential to addressing this issue and Hyundai is willing to do its part. The more people who understand the dangers behind using non-Hyundai components and see the benefits of purchasing original parts, the less likely they are to suffer severe consequences and lose value on their car. Safety and trust are paramount to our brand, which is why we are launching this campaign to encourage everyone to purchase original parts, every time."
Hyundai also plugged its own repair network, the Hyundai Recognized Collision Repair Center program launched last year with Assured Performance.
Its Consumer Awareness site now has a locator tool to find Hyundai certified shops.
"Simply ask your collision repair center if they're a Hyundai Recognized Collision Repair Center," it states on its Consumer Awareness website. "These centers have been factory-certified as having the right facility, training, equipment and tools to properly repair your vehicle with Hyundai Genuine Parts."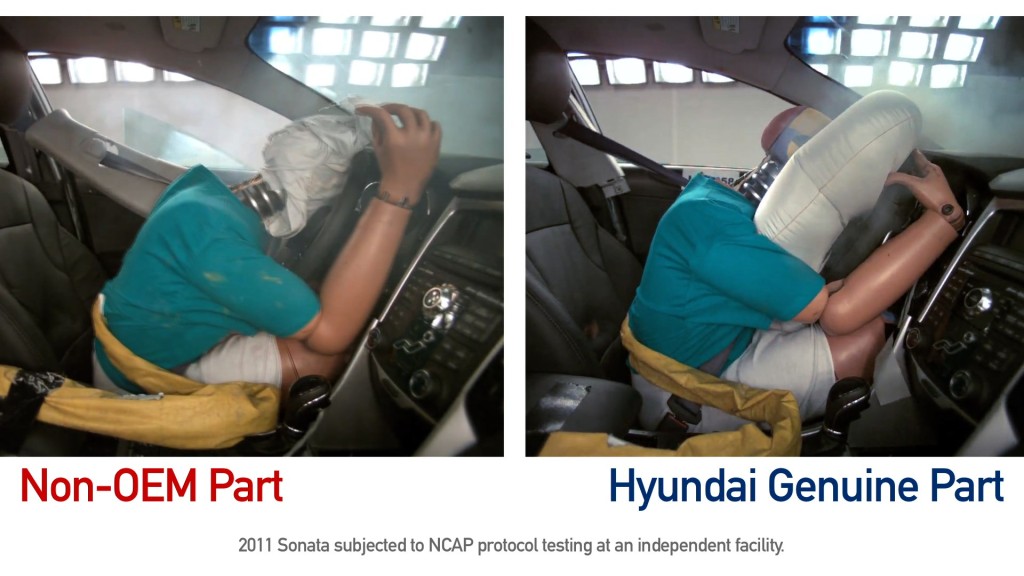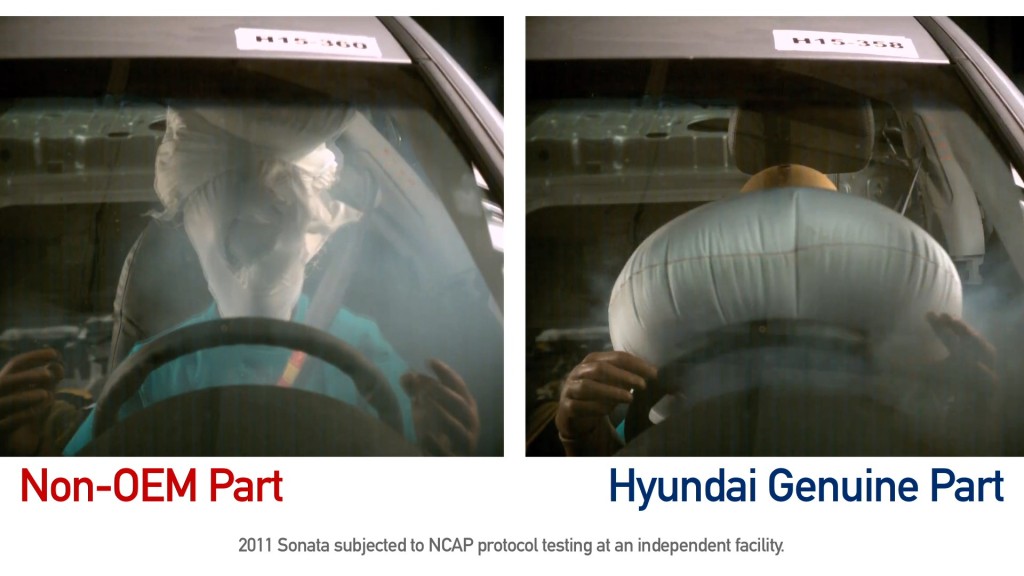 Customers still might not have a choice outside of going out of pocket. Apparently, not many read their insurance fine print, which allows the insurer to mandate non-OEM parts.
"Unfortunately, many customers tell us they are not aware that anything other than Hyundai Genuine Parts would be used to repair their vehicle after a collision," Hyundai wrote in a brochure available on the consumer site.
Hyundai encourages drivers to ask for an insurance rider mandating non-OEM parts and to request them as well during the repair.
While not outright criticizing insurer direct repair network shops, Hyundai notes their existence but advises drivers to shop around and ask their dealership and family and friends for recommendations, too.
The campaign was Hyundai's third to support collision repairers, dealerships and owners, the OEM wrote. It follows the repair network and the 2014 launch of the Hyundai Go Genuine Collision Conquest program.
More information:
"HYUNDAI LAUNCHES CAMPAIGN TO EDUCATE AMERICANS ON COUNTERFEIT AUTO PARTS"
Hyundai, Feb. 10, 2016
"Don't Gamble with Counterfeit Parts – Roulette Wheel"
Hyundai USA YouTube channel, Feb. 8, 2016
Hyundai Consumer Awareness site
Featured images: Right on the heels of the PARTS Act hearing in Congress, Hyundai on Wednesday formally announced a new email and video ad campaign touting the benefit of OEM parts. (Provided by Hyundai)
Share This: