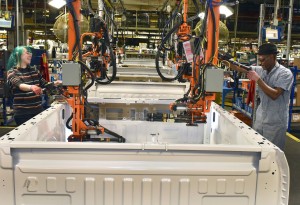 Auto body shop technicians and insurers should prepare for a slower pace until the collision repair industry familiarizes itself with aluminum, an expert said Thursday.
While the metal isn't necessarily more difficult than steel to repair, it demands additional precision to prevent problems like corrosion, DOXA Enterprises Chief Operating Officer Larry Hults said.
That means a technician who has quality piece-rate steel work down to a speedy science must adjust to slowing it down and ensuring every OEM step of aluminum work is done, Hults told a Guild 21 conference call. (See his presentation slides here.)
Hults, an ASE Master auto body technician and former I-CAR teacher, urged owners to have an open dialogue with techs and discuss such concerns.
"We (managers and techs) keep pushing each other to be faster and faster," Hults said. However, given the attention to detail needed now and in a future where as much of 40 percent of auto body components could be aluminum,"faster may not be available to us for a while."
"Everybody in your business has to be on the same page," he said.
Shops — particularly DRP ones — should have a similar conversation with insurers, who are even less familiar with aluminum than collision repairers, according to Hults, who ran national Allstate DRP severity for nine years.
"We don't all get the same amount of information at the same time," Hults said. He encouraged shops and insurers to talk "up front before you jump off that cliff."
That conversation should extend to labor rates as well, the 36-year Allstate claims veteran told the conference call. While not fully endorsing the idea of higher labor rates for aluminum, he did point out that it could be a necessary decision by shops.
"You'll need to look at how you price your business," he said.
---
More RDN aluminum coverage
---
On top of a slower pace altering the microeconomy of owner and tech revenues, shops have training and equipment to recoup as well.
Finally, the conversation should probably include the estimating services.
"We all know that estimating guides are just a guide," Hults said, calling them "not perfect."
Companies like Mitchell, CCC and AudaExplore are new to aluminum, and some of their data and line items might not fully account for aluminum.
"You're going to have to review the nuts and bolts" of shop pricing, Hults said.
More information:
Larry Hults' Guild 21 aluminum presentation
Guild 21/Verifacts, Feb. 11, 2016
Featured image: From left, Ford assembly line staff Denell Sadler and Levi Rouse work on the 2015 Ford F-150 in Claycomo, Mo. (Sam VarnHagen for Ford/Provided by Ford)
Share This: