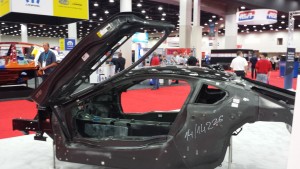 Mitsubishi Rayon, an affiliate of the Japanese OEM, and Continental Structural Plastics announced Tuesday they're planning a joint venture to develop carbon-fiber pillars and panels for North American vehicles.
Mitsubishi Rayon supplied the carbon fiber "precursor" for the BMW i3 and i8, and Auburn Hills, Mich.-based CSP bills itself as "the world leader in vehicle lightweighting technologies."
The news release seemed to indicate the two companies have for now partnered to study the idea of partnering, but both businesses also seemed confident they'll ultimately produce the joint venture.
Nikkei Asian Review on Tuesday reported that details of each side's investment would be revealed later and the formal partnership would come within the year.
The pair hope to produce carbon-fiber Class A body panels and structural parts like "engine cradles or supports; radiator supports; frames and rails; bumper beams; underbody shields; door inners and intrusion beams."
So basically, everything body shops handle — and CSP hopes the partnership will help yield cheap enough carbon fiber that more collision repairers could actually encounter such cars.
"This agreement represents a tremendous opportunity for us to work jointly with one of the world's largest manufacturers of carbon fiber to introduce a new generation of lightweight components for the auto industry," CSP Chairman and CEO Frank Macher said in a statement. "The expertise that exists between our two companies will enable us to develop and bring to market carbon fiber components that are cost-effective for mass production."
Interestingly, Macher just last year had questioned whether carbon fiber could truly be cost-effective enough to compete with other lightweighting.
"Less expensive carbon fiber is going to be a challenge," he said at the 2015 Megatrends USA. In some cases, he said, it was $30 a pound — "truly unacceptable."
Nevertheless, carbon fiber use in vehicles in general would grow from 3,700 tons industrywide to 10,800 tons by 2030, he projected.
Ducker Worldwide project director Abey Abraham at the same event presented 2011 data from Ducker and the Oak Ridge National Laboratory that found that compared to mild steel, carbon fiber cost $6.50 per pound of weight saved. Advanced high-strength steel cost $0.50, aluminum was $2 and magnesium was $2.50, according to that data. (See his presentation here.)
But these kinds of partnerships and OEM interest could yield the kind of advances and scale needed to cut these costs.
Ford announced in April 2015 it would work with DowAksa to advance automotive cost-effective carbon fiber with the goal of mass production for vehicles. BMW last year expanded its carbon fiber to the mass-market (well, the rich masses) with the 7 Series.
"By working together with Continental Structural Plastics, we gain access to tremendous expertise in composites, and in developing structural applications for light vehicles," Mitsubishi Rayon composite general manager Akira Nakagoshi said in a statement. "We look forward to the opportunity to further expand MRC's composite material technologies among automakers in North America, and are hopeful for creating better relationships among people, society, and our planet."
Nikkei Asian Review reported Mitsubishi Rayon wanted to grow its overall carbon-fiber business nearly 70 percent by the 2030 fiscal year to $882 million. In November 2015, it reported Mitsubishi Rayon planned to its double carbon-fiber production capability in three years and would probably grow from No. 3 to become the third-largest Japanese composite manufacturer.
More information:
"Continental Structural Plastics, Mitsubishi Rayon Sign Memorandum of Understanding Regarding Carbon Fiber Components for the Automotive Industry"
Continental Structural Plastics, March 8, 2016
"Mitsubishi Chemical unit eyes automotive carbon fiber tie-up in US"
Nikkei Asian Review, March 8, 2016
Featured image: The body of the carbon-fiber BMW i8 is on display at NACE. Mitsubishi Rayon supplies the precursor for the carbon-fiber. (John Huetter/Repairer Driven News)
Share This: