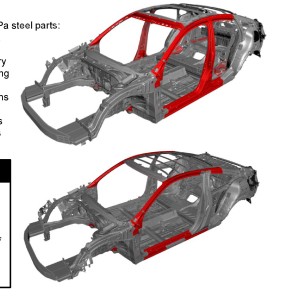 Honda last month released an auto body overview for the redesigned two-door 2016 Civic, and collision repairers should note how the body-in-white configuration diverges from the four-door edition.
Notably, the two-door Civic appears to have far less 1,500-megapascal steel than its four-door brother.
The four-door 2016 Civic includes the "gigapascal"-grade steel on a nearly-complete "door ring" involving the A- and B- pillars, roof and sill side stiffeners; it also has an 1,500 MPa roof front rail above the windshield and two 1,500 MPa rear frame rails. The two-door Civic only has 1,500 MPa A-pillars and roof and side stiffeners.
Both versions also have small 1,500 MPa front side extensions.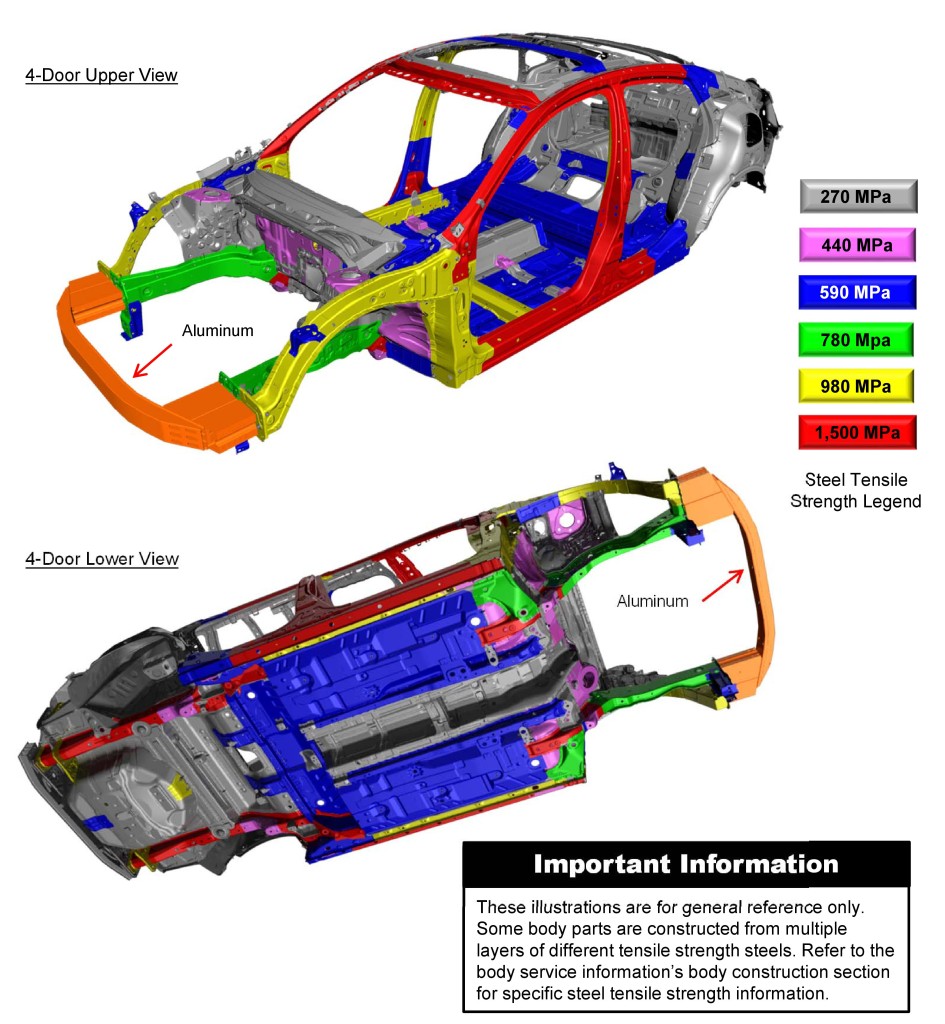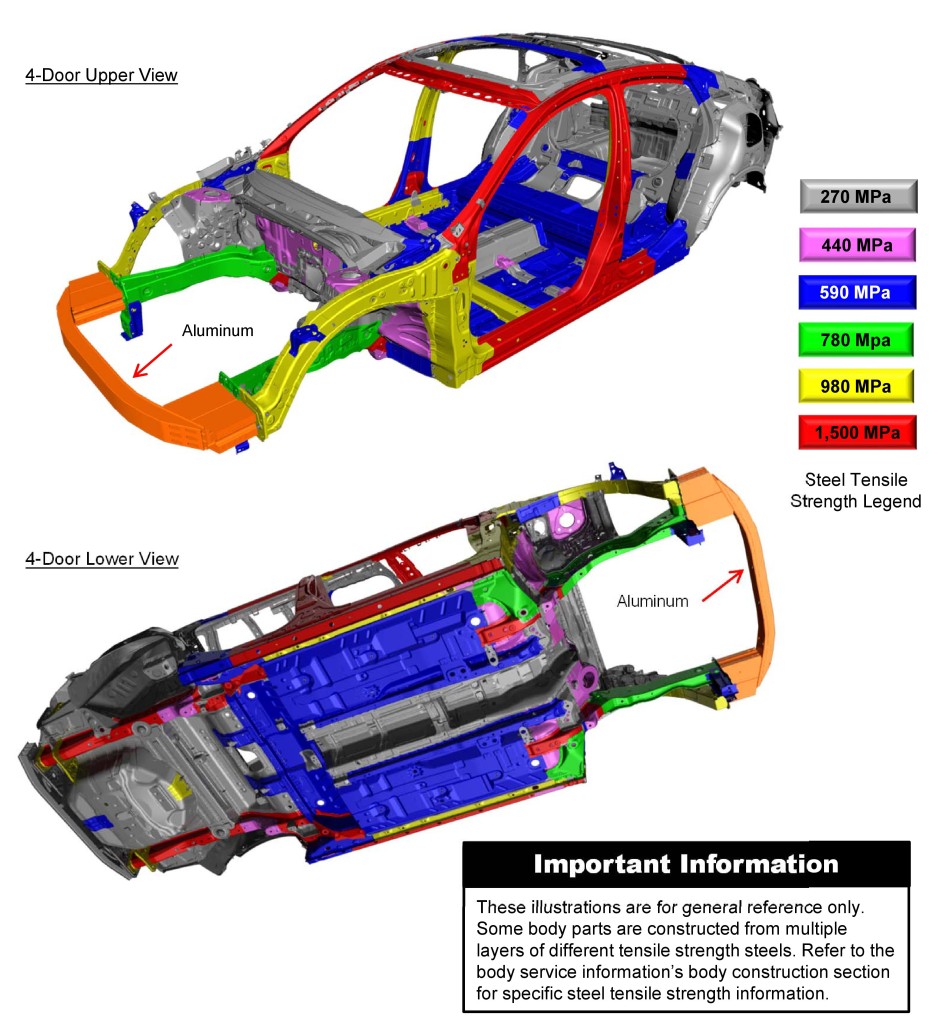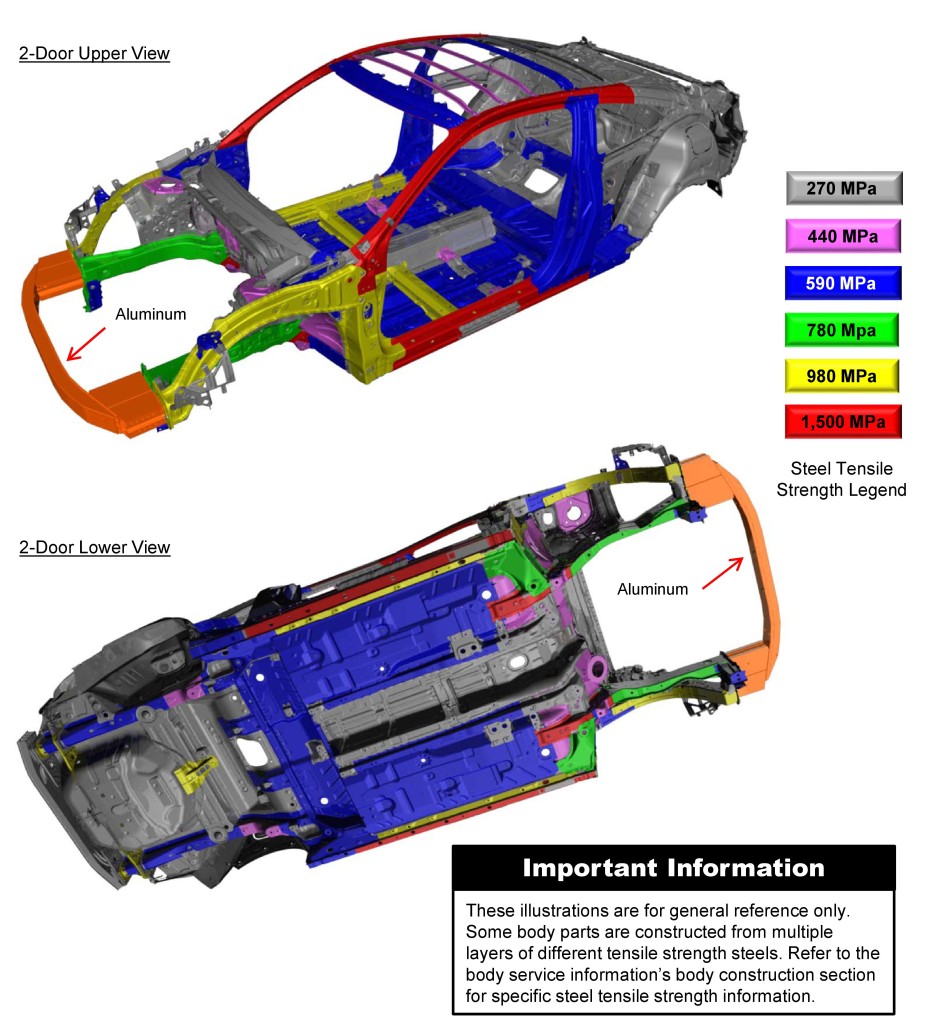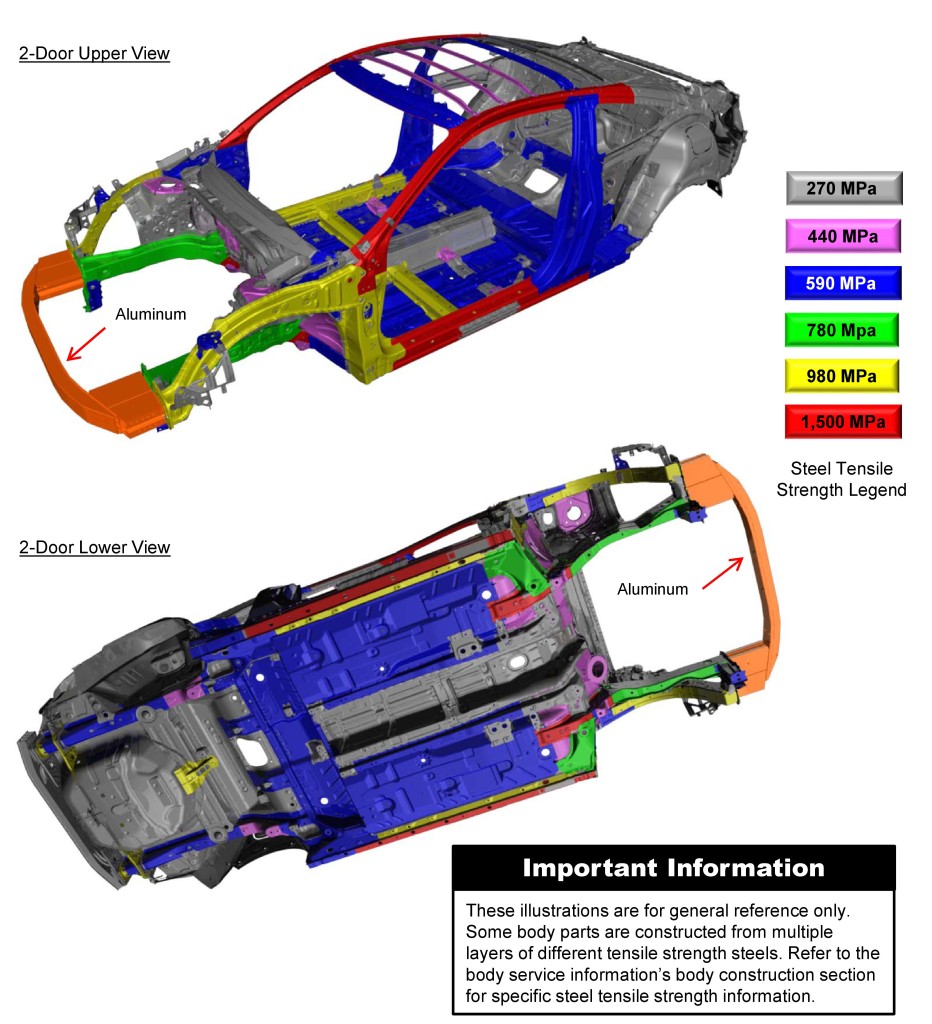 The 1,500 MPa ultra-high-strength steel is light and strong but must be replaced, never repaired or straightened, according to Honda. The replacement part must only be joined at factory seams by squeeze-type resistance spot welding or — "only in locations not accessible by a spot welder" — MIG brazing. (Emphasis Honda's.)
"Never do MAG welding on 1,500 MPa steel," Honda writes. "The heat generated during MAG welding will significantly reduce the strength and structural integrity of 1,500 MPa steel parts." (Emphasis Honda's.)
Needless to say (hopefully), the location of this stuff on the car matters.
It's unclear what proportion of the more than 335,000 Civics sold in 2015 were two-door.
The Body Repair News update released in March isn't meant to substitute for the actual OEM repair procedures. It's more meant as a highlights reel of what shops should expect — and hopefully a kick in the pants to seek the actual repair procedures at the Honda independent repair website. It might also be a handy quick-reference guide to show customers or insurers wondering why procedure X or labor time Y is necessary.
The following I-CAR video shows how to find the actual repair procedures.
The Body Repair News documents can also be found on the techinfo.honda.com website, under the "Collision Repair Information" link found on the left side of the site.
Just because the two-door Civic trades some 980 MPa and 1,500 MPa ultra-high-strength steel (usually defined as 780 MPa and up) for 590 MPa advanced-high-strength-steel (usually defined as 550 MPa and up) doesn't mean you can necessarily go around sectioning, straightening and welding the car willy-nilly.
"Parts made of High-Strength Steel (590-980 MPa) must often be installed as a complete part. Section only according to published repair information and guidelines," Honda wrote. "This high-strength steel requires special welding equipment, procedures, and settings. See the welding section of the body service information. Failure to use the proper equipment or follow the proper procedures can result in an unsafe repair." (Emphasis Honda's.)
On either Civic, Honda stresses never to apply heat to straighten "any body part."
"Any part that has heat applied to it during straightening must be replaced with new parts," Honda wrote. "… Ignoring these instructions may significantly reduce occupant protection in any subsequent collision."
As for joining other steels besides the 1,500 MPa steel, Honda only allows both MAG plug and butt welding on steels 780 MPa and lower. MAG butt welding is forbidden on 980 MPa steel.
It's also important to note that welding wire tensile strength must equal or exceed the lowest tensile strength of the welded parts. Honda provides a small kilopound per square inch (ksi) to megapascal chart in the Body Repair News; for example, welding wire of at least 86 ksi on parts 590 MPa is necessary.
One ksi typically equals a little less than 6.895 MPa, in case you were wondering. Of course, use whatever conversion metric or measurements Honda gives you.


"Typical ER70S-6 MIG wire has a minimum tensile strength of 70 ksi (483 MPa). It can be used when welding up to 440 MPa steel parts," Honda notes. So you'd need to upgrade to join the 590 MPa steel.
More information:
"2016 Civic: New Model Body Repair Information"
Honda Body Repair News, March 2016
I-CAR RTS Honda OEM repair information portal
I-CAR Repairability Technical Support portal, 2016
Images:
Honda last month released an auto body overview for the redesigned two-door 2016 Civic, and collision repairers should note how the body-in-white configuration diverges from the four-door edition. (Provided by Honda)
Locations of various steel grades (and aluminum) on the four-door 2016 Honda Civic. (Provided by Honda)
Locations of various steel grades (and aluminum) on the two-door 2016 Honda Civic. (Provided by Honda)
Honda gave this example of wire strength when welding 590 MPa 2016 Honda Civic steel to something of equal or higher strength. (Provided by Honda)
Share This: