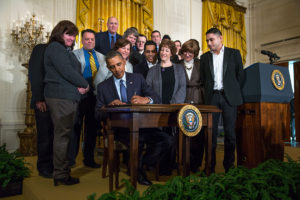 The Obama administration this week announced a major overhaul to federal overtime rules, more than doubling the threshold at which salaried employees become eligible.
Under the new rule, announced Tuesday by the White House and outlined Wednesday by the Department of Labor, anybody on salary making less than $47,476 a year gets time-and-a-half pay for exceeding 40 hours in a workweek. The rule kicks in Dec. 1.
In the past, the threshold had been $23,660 — below the poverty threshold for a family of four in 2014.
"Some salaried employees currently classified as exempt managers commented that they earn less per hour than the employees they supervise," the Department of Labor observed, referring to the old rule.
"One of the many Americans who has been working hard but struggling to keep up is a single mom from Tucson, Arizona, Elizabeth Paredes," Democratic President Barack Obama wrote in an email to petitioners. "As an assistant manager at a sandwich shop, Elizabeth sometimes worked as many as 70 hours a week, without a dime of overtime pay. So Elizabeth wrote to me to say how hard it is to build a bright future for her son. And she's not alone: Today just 7 percent of workers qualify for overtime pay based on their salaries. Compare that with 1975,when more than 60 percent of workers qualified for overtime pay based on their salaries. This policy just hasn't kept up with the times."
"Jobs With Justice illustrated this phenomenon in its comment by recounting the experience of a store manager who was classified as exempt even though she made only $34,700 per year and regularly worked 70 hours per week, spending her time performing routine tasks such as 'unloading merchandise from trucks, stocking shelves and ringing up purchases,'" the DOL wrote.
An earlier proposal put the new salary level at $50,400, but it was ultimately pegged to the 40th percentile of full-time employees on salary in the poorest region of the country.  However, the rule will adjust the threshold every three years to that percentile, and the White House on Tuesday anticipated that by Jan. 1, 2020, the cutoff would be around $51,000.
Making more than $47,476 doesn't automatically exempt an employee from drawing overtime. One must after that also satisfy a "duties test" proving that one's job is sufficiently white-collar and exemptable enough.
In response to employer concerns, the government kept the "duties" test the same and let bonuses and commissions count toward up to 10 percent of determining if a worker reaches the salary level — a first, according to the White House. (Other exemptions exist as well; find out more and sign up for webinars at this DOL resources page.)
The government also will bump the "highly compensated employee" threshold up to $134,000 from $100,000. That's the point in which an employer can virtually assume an employee is exempt and therefore provide less red-tape proof to the government of this fact.
"If you work more than 40 hours a week, you should get paid for it or get extra time off to spend with your family and loved ones. It's one of most important steps we're taking to help grow middle-class wages and put $12 billion more dollars in the pockets of hardworking Americans over the next 10 years," Obama wrote.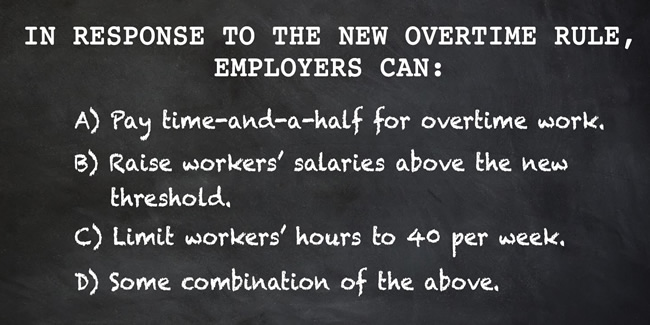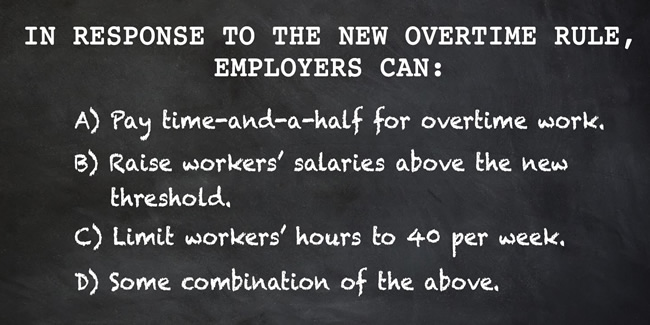 On the other hand, the New York Times reported that Oxford Economics, commissioned by the the National Retail Federation, "predicted that a 'disproportionate number of workers' who became eligible for overtime and worked more than 40 hours would 'see their hourly rates decreased by an equal amount, leaving their total annual earnings unchanged.'"
We've reached out to some of the major MSOs to get their thoughts as the industry's largest employers or franchisors of what also adds up to a huge industry workforce. Continue to check Repairer Driven News for details.
"Gerber Collision & Glass has been preparing for the publication of these final rules for many months," Gerber/Boyd said in a statement sent by CEO Brock Bulbuck. "We have thoughtfully examined our current approaches and we are ready to make those changes that might be necessary in time for the December 1, 2016 effective date. We look forward to working with our team members to help them understand how these changes affect them."
The Auto Care Association indicated members were already switching salary workers to hourly.
"Members fortunate enough to be aware of the coming changes are already beginning the reclassification of many employees as well as revisiting overall wages and benefits," Auto Care Association President and CEO Bill Hanvey said in a statement Wednesday. "One association member has already advised us that he 'has to inform 10 percent of his employees that they are now hourly, not salaried' and he doesn't know how to deliver that message. Even more troubling is the large number of companies in the auto care industry who remain unaware of the change in regulation and its consequences."
We encourage our members to participate in this twitter chat on the #OTRule @ 2:30 pm today. https://t.co/Bz60j3VYXh

— Auto Care Assn. (@AutoCareOrg) May 19, 2016
Hanvey also urged Congress to pass a bill to roll back the change, require economic analyses before making such rules, and stop automatic salary level updates.
"No one is arguing that the rules didn't need updating, but the massive change, all at once, will be financially disruptive and possibly devastating for many businesses," Hanvey said in a statement. "The association and the coalition for the Partnership to Protect Workplace Opportunity are asking members of Congress to support the Protecting Workplace Advancement and Opportunity Act."
Also, Democratic Vice President Joe Biden discussed the topic Wednesday. The feed starts here at about 46:48.
More information:
Department of Labor, May 2016
"Defining and Delimiting the Exemptions for Executive, Administrative, Professional, Outside Sales and Computer Employees under the Fair Labor Standards Act"
DOL, May 2016
"FACT SHEET: Growing Middle Class Paychecks and Helping Working Families Get Ahead By Expanding Overtime Pay"
White House, May 17, 2016
"Taking Action to Expand Overtime Protections"
White House, May 17, 2016
Images: Democratic President Barack Obama on March 13, 2014, signs a memorandum directing Labor Secretary Tom Perez to overhaul national overtime for salaried workers. (Lawrence Jackson/Official White House Photo)
Share This: