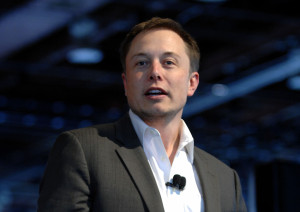 Tesla CEO Elon Musk announced his second "Master Plan" for the car company on Wednesday, and the draft shared on the OEM's website indicates a few more factors worth collision repair attention — including a Tesla crossover SUV and a Tesla pickup.
The other big highlight: Tesla will continue to aggressively pursue Autopilot, undaunted by the negative publicity that surrounded the death of a driver in Florida in May.
This puts the ball back into competitors and regulators' courts, and no doubt continues to accelerate the day when greater autonomy means much less auto body collision work.
Here are some excerpts relevant to the auto body business, though Musk's entire piece is entertaining and worth a read even if you only have a casual interest in cars.
New passenger vehicles
Today, Tesla addresses two relatively small segments of premium sedans and SUVs. With the Model 3, a future compact SUV and a new kind of pickup truck, we plan to address most of the consumer market. A lower cost vehicle than the Model 3 is unlikely to be necessary, because of the third part of the plan described below.
Tesla hasn't said if it will let auto body shops outside of its existing network repair the Model 3, which should be slightly more conventional (aluminum and steel) in its body-in-white and exterior than the Model S or X. But to make a CUV or truck work as an electric vehicle, Tesla might not want or be able to use as much steel — increasing the odds it'll restrict structural repairs to network shops.
Also, the Model 3 "factory machine" should really get going in 2018, but Tesla still seems to have hopes of 2017 production:
What really matters to accelerate a sustainable future is being able to scale up production volume as quickly as possible. That is why Tesla engineering has transitioned to focus heavily on designing the machine that makes the machine — turning the factory itself into a product. A first principles physics analysis of automotive production suggests that somewhere between a 5 to 10 fold improvement is achievable by version 3 on a roughly 2 year iteration cycle. The first Model 3 factory machine should be thought of as version 0.5, with version 1.0 probably in 2018.
Tesla semis, buses
Shops doing heavy-duty auto body repair will be curious to know that Tesla plans to make a "Tesla Semi" which is "really fun to operate" (at least until they go autonomous — more on that shortly) and some sort of autonomous, smaller bus.
In addition to consumer vehicles, there are two other types of electric vehicle needed: heavy-duty trucks and high passenger-density urban transport. Both are in the early stages of development at Tesla and should be ready for unveiling next year. We believe the Tesla Semi will deliver a substantial reduction in the cost of cargo transport, while increasing safety and making it really fun to operate.
With the advent of autonomy, it will probably make sense to shrink the size of buses and transition the role of bus driver to that of fleet manager. Traffic congestion would improve due to increased passenger areal density by eliminating the center aisle and putting seats where there are currently entryways, and matching acceleration and braking to other vehicles, thus avoiding the inertial impedance to smooth traffic flow of traditional heavy buses. It would also take people all the way to their destination. Fixed summon buttons at existing bus stops would serve those who don't have a phone. Design accommodates wheelchairs, strollers and bikes.
Autonomy and ride-sharing
The "fun to operate" semi concept is ironic, given that commercial truck and bus fleets are a major and perhaps low-hanging-fruit autonomy target. Tesla will keep plugging away at passenger cars, too — and when it's "approximately 10 times" safer than human drivers, it won't even call Autopilot "beta" anymore, according to Musk. More than 90 percent of U.S. crashes are chalked up to driver error.
I should add a note here to explain why Tesla is deploying partial autonomy now, rather than waiting until some point in the future. The most important reason is that, when used correctly, it is already significantly safer than a person driving by themselves and it would therefore be morally reprehensible to delay release simply for fear of bad press or some mercantile calculation of legal liability.
According to the recently released 2015 NHTSA report, automotive fatalities increased by 8% to one death every 89 million miles. Autopilot miles will soon exceed twice that number and the system gets better every day.
Musk also predicted that true self-driving — when you could sleep in the car safely — would need about 6 billion miles before global regulators signed off on it.
"Current fleet learning is happening at just over 3 million miles (5 million km) per day," he wrote. It's unclear if he meant 6 billion miles from now at that pace — six years or so — or from when "the software is highly refined and far better than the average human driver," as he also described being necessary before universal regulatory approval.
Here's the full paragraph:
Even once the software is highly refined and far better than the average human driver, there will still be a significant time gap, varying widely by jurisdiction, before true self-driving is approved by regulators. We expect that worldwide regulatory approval will require something on the order of 6 billion miles (10 billion km). Current fleet learning is happening at just over 3 million miles (5 million km) per day.

Uber your self-driving Tesla
Finally, Musk indicated he could charge more for a Tesla so long as you could leverage its self-driving capability to taxi people around while you did something else.
You will also be able to add your car to the Tesla shared fleet just by tapping a button on the Tesla phone app and have it generate income for you while you're at work or on vacation, significantly offsetting and at times potentially exceeding the monthly loan or lease cost. This dramatically lowers the true cost of ownership to the point where almost anyone could own a Tesla. Since most cars are only in use by their owner for 5% to 10% of the day, the fundamental economic utility of a true self-driving car is likely to be several times that of a car which is not.
Musk's first "master plan," released in 2006, signaled pretty much what Tesla ended up doing. So don't count them out.
Build sports car
Use that money to build an affordable car
Use that money to build an even more affordable car
While doing above, also provide zero emission electric power generation options
Don't tell anyone.
More information:
Tesla, July 20, 2016
"The Secret Tesla Motors Master Plan (just between you and me)"
Tesla, Aug. 2, 2006
Featured image: Tesla CEO Elon Musk talks about the Model S electric vehicle during the press preview for the world automotive press at North American International Auto Show in Cobo Center on Jan. 12, 2010, in Detroit, Mich. (Bryan Mitchell/Getty Images News file/Thinkstock file)
Share This: