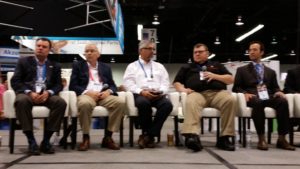 Representatives from General Motors and Audi confirmed Thursday that OEM position statements will be coming on pre- and post- collision repair scanning.
The comments from John Eck of GM and Mark Allen of Audi suggested the documents would be similar to scanning positions recently put forth by Nissan, Honda, Toyota and FCA.
OEMs at an insurer-automaker panel in the center of the NACE floor Thursday also seemed receptive to requests from Farmers and State Farm representatives to provide better clarity on model years and what kinds of technology triggered the demands.
Representatives from Honda and Toyota, however, also pointed out Thursday that trouble codes without a dashboard light could be found on their vehicles as far back as the start of OBD-II ports in 1996.
Continue to check Repairer Driven News for updates from the panel.
Share This: