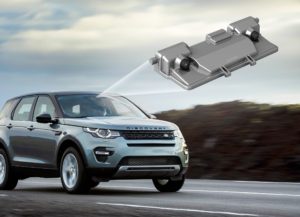 Two days after its rival Safelite touted a similar effort with Bosch, JN Phillips Auto Glass announced it with Pilkington NSG's help would roll out advanced driver safety calibration capabilities across the windshield repair chain.
"This comprehensive program, under development for more than a year, includes training, education, system upgrades, and the adoption of field-based calibration technology tools suited to the automotive glass replacement industry," JN Phillips wrote in a news release Wednesday.
Advanced driver assistance systems (ADAS) often are mounted right around the windshield, including on the back of rear-view mirrors, and can include the cameras necessary to manage lane-departure warnings and automatic braking. That puts a heavy responsibility on glass installers and collision repairers to calibrate the systems after a windshield is replaced.
As an European affiliate of Safelite noted, if the ADAS technology "looking" through the windshield is off by a degree, the vehicle might fail to react properly to a threat. The technology — particularly autobraking — has tremendous potential to save many lives and head off many crashes — assuming the aftermarket or vehicle owners themselves don't screw it up or turn it off.
By 2022, virtually all U.S. automakers will offer it standard, and Toyota plans do so by the end of 2017. 
Pilkington NSG, which manufactures OEM glass, has been developing an apparent aftermarket calibration option known as the OPTI-AIM system. This technology and the overall calibration initiative will "during the upcoming months" spread to JN Phillips' repair and support facilities and mobile techs, the glass repairer wrote.
The announcement means that the No. 1 and No. 2 glass repairers in the country — both with strong relationships to insurance companies — have agreed that calibration is important.
Safelite PR manager Melissa Metzger wrote in an email Tuesday insurers have been "strong partners in working with us on the importance of this issue for the safety of their policyholders." So hopefully local carrier representatives won't give glass and auto body shops any grief when the work has to be done.
OPTI-AIM
JN Phillips said it and Pilkington worked together for months on "detailed quality control field testing" for the OPTI-AIM, which it called "the tool that could become the standard for calibration of windshield-mounted ADAS systems during the windshield replacement process."
"This calibration system has performed exceptionally well through many months of field testing, in both in-shop and mobile service settings, and across a range of domestic and foreign vehicles," JN Phillips managing director Maureen Confalone said in a statement. "We have appointed a team of executive leaders, subject matter experts and field service technician leads, all of whom are working diligently in the calibration testing and program design and rollout. This is a significant investment for our Companies as the calibration program and the OPTI-AIM ™ tool will be rolled out to service each location in all of our markets."
The tool can can be seen in ads within the September-October issue of AGRR (below), and appears to involve at least a target and a device for connecting to the OBD-II port. We've asked JN Phillips and Pilkington to elaborate more on their confidence OPTI-AIMs will perform as well as the OEM calibration procedures.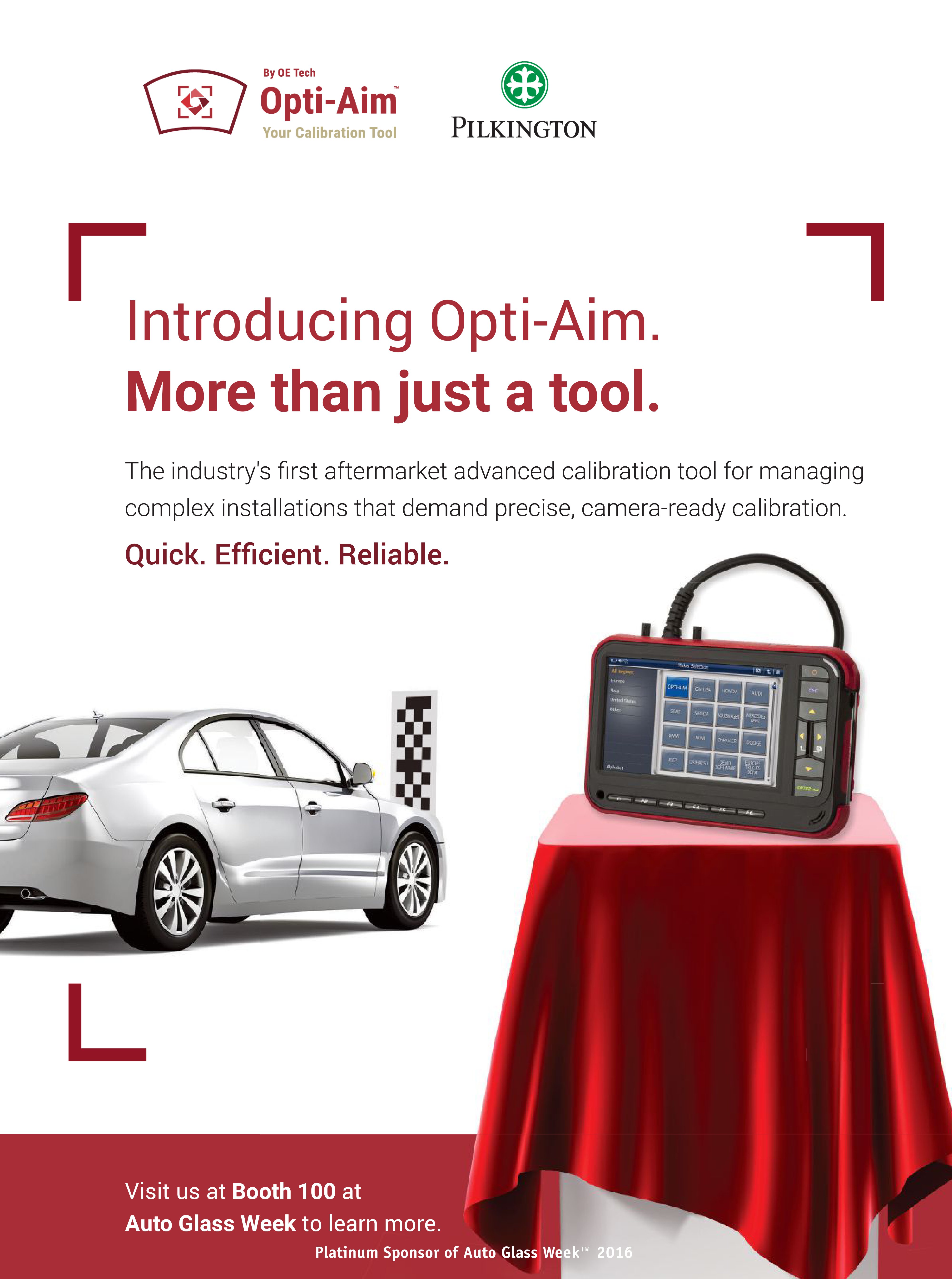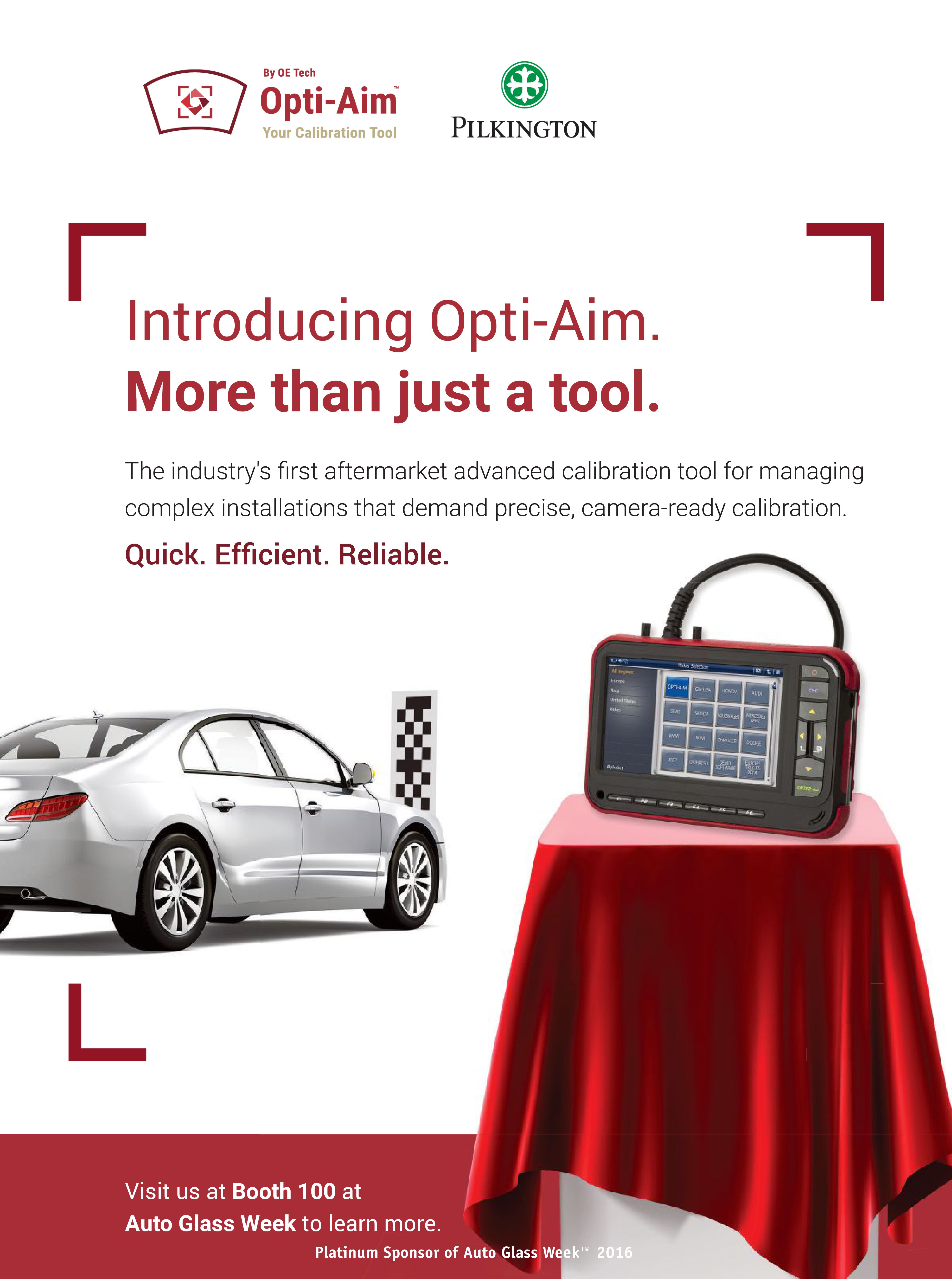 We asked Safelite and Bosch the same Tuesday, but they haven't replied beyond an earlier Metzger comment that "Because this is a competitive advantage for Safelite, we're not able to discuss too many specifics."
There's indications that aftermarket scan tools can and do miss certain diagnostic trouble codes (though the J2534 standard could eliminate that issue by allowing any scanner to download the OEM version's "operating system" — assuming someone pays a fee. Subaru has instructed shops that aftermarket windshields are unacceptable for ADAS-equipped vehicles, according to I-CAR, and other OEMS have strongly warned they can't vouch for what that glass will do for their technology.
So it begs the question of how confident — and how liable — glass and body shops can be with this apparently calibration tech, even with Tier 1 partners as experienced as Bosch and Pilkington.
For a look at how some OEMs are calibrating ADAS technology — often involving aiming at a target, with all the necessary gear available for sale or rent to shops — check out our coverage from NACE here. I-CAR also provided an overview last week, in part observing:
(Forward-facing cameras) that require replacement will almost always require some sort of calibration or aiming procedure. Other events that may require aiming an FFC include removing the windshield, removing the rearview mirror, or removing the FFC itself. Aiming procedures may be static (in-shop procedure), dynamic (on-road procedure), or some FFCs require both.
For a static procedure, a target or multiple targets are positioned in certain locations in front of the vehicle. Then, a scan tool starts an aiming procedure that will make the FFC align to the target(s). A dynamic procedure requires the vehicle be driven down the road (sometimes while connected to scan tool) at or below a certain speed for a specified amount of time and/or distance. Dynamic procedures sometimes require that the road be clear of snow or rain, and avoid curves and heavy traffic. However, some FFCs will calibrate more quickly when more objects are detected around the vehicle. Always refer to OEM procedures for instructions on how to calibrate the system. Some OEMs even have simple procedures to determine if the system is functioning properly.
In the United Kingdom,  glass repairers National Windscreens and Autoglass (like Safelite, a Belron company), MSO Nationwide Crash Repair Centres, auto insurance research organization Thatcham and leasing company Activa Contracts announced companywide calibration initiatives or publicly signaled the importance of ADAS recalibration in glass repair.
Thatcham, National Windscreens, Autoglass and Nationwide Crash Repair Centres also have announced a "Glazing Code of Practice" urging always following OEM procedures and keeping the customer informed as to the risks of driving around with an uncalibrated piece of Advanced Driver Assistance Systems safety equipment.
More information:
"JN Phillips Auto Glass/Windshield Centers Announces Launch of Comprehensive Windshield ADAS Calibration Program"
JN Phillips via Marketwired, Oct. 6, 2016
"Code of Practice For the Replacement & Refitting of Automotive Glazing for vehicles fitted with screen mounted Advanced Driver Assistance Systems (ADAS)"
Thatcham, July 28, 2016
"Typical Calibration Requirements of Forward Facing Cameras"
I-CAR Repairability Technical Support, Sept. 27, 2016
Images:
A stereo video camera from Bosch used for autobraking is shown in this illustration. (Provided by Bosch via Thatcham)
The September-October issue of AGRR displays an ad for the Pilkington OPTI-AIM. (Provided by AGRR)
Share This: