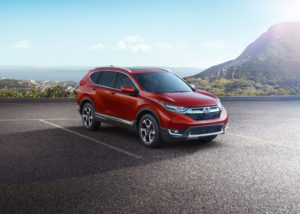 Honda announced Thursday it would offer the Honda Sensing package of advanced driver safety systems standard on nearly all of its 2017 CR-V trims.
The decision to build the ADAS suite — which includes autobraking — into what could be 75 percent of CR-Vs means that collision repairers will start seeing fewer of the popular SUV in shops. The technology has the capability to dramatically reduce crash volume, particularly on rear-ending incidents.
Honda Sensing not only includes automatic braking — with the ability to "see" pedestrians — but an alert to warn the driver to brake before the computer needs to step in.
In January, the Insurance Institute for Highway Safety projected auto-braking paired with crash warnings can cut 39 percent of all rear-end crashes — which works out to about 13 percent of all the crashes in America.
---
Get up to speed on steel body work at Repairer Driven Education
The Honda CR-V's Advanced Compatibility Engineering design will probably use a variety of steel grades. Learn more about steel quarter panel repairs for its sibling the Honda Accord, as well as the Toyota Camry and Audi A5, at "Case Study of the Procedures for Steel Quarter Panel Replacement" with Larry Montanez of P&L Consultants during the Repairer Driven Education Series Nov. 1-4 during SEMA. Register here.

---
But the impact will be far greater once one takes into account the other ADAS systems standard on the CR-V. These include lane-departure warning and automatic lane- (and road-) keeping if you don't heed the warning. There's also cruise control that not only automatically manages your speed but the distance to the car in front of the CR-V, and low-speed follow, which is the same thing but in traffic jams.
That's all standard, and coming to a few hundred thousand CR-Vs next model year. American Honda reported that between January to September, it had already sold more than 263,000 of the crossover this year.
If a CR-V driver wants to splurge for options, Honda offers the Blind Spot Information monitor — involving radar in the rear bumper and an indicator next to the side-view mirror; a rear cross-traffic monitor; and automatic high-beam lights, which switch from high to low on their own if another car would be blinded.
You've heard the hype about self-driving cars and partially self-driving cars ending huge swaths of collisions sometime between now and 2050. But the kind of commonplace Level 1-2 ADAS standard and optional on the CR-V will contribute to cutting crash frequency by 29 percent but bumping severity by 50 percent or so by 2020, Sean Carey of SCG Management Consultants said last month, citing KPMG estimates.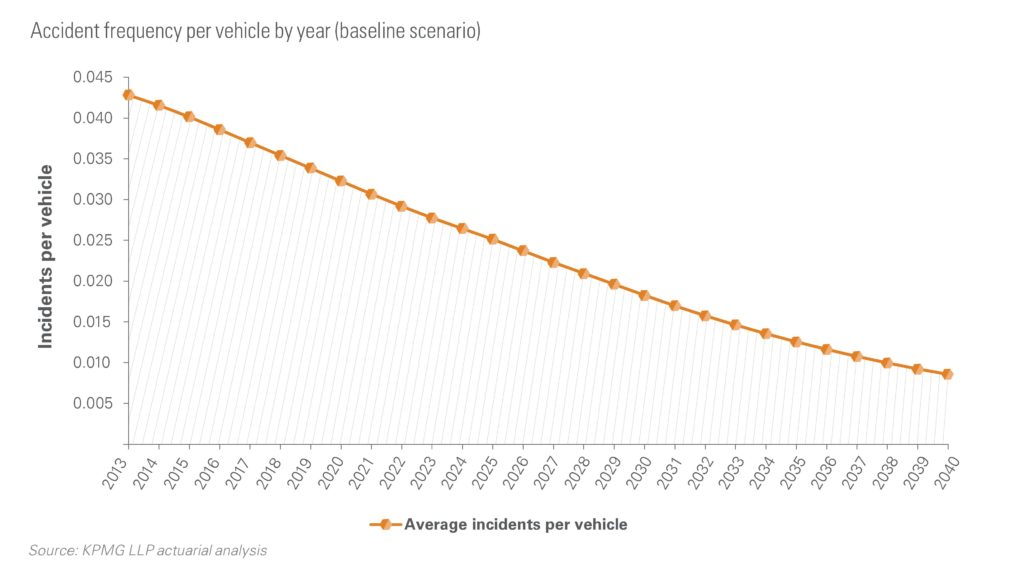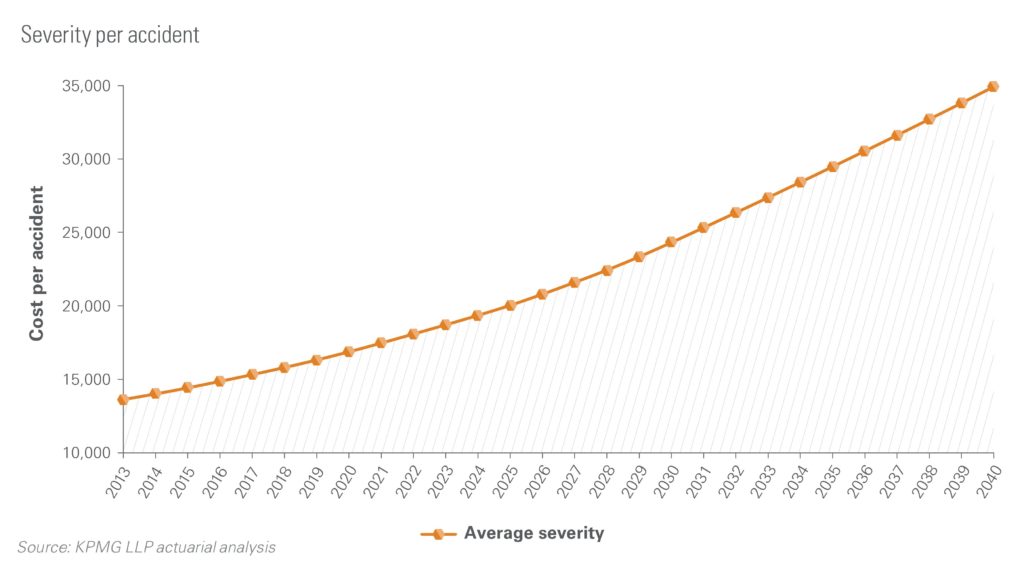 That's just a couple of years away, perhaps accelerated if more cars follow Honda and rival Toyota's lead and ramp up standard ADAS systems ahead of a 2022 target for standard autobraking.
Why will severity grow? These systems are expensive, and they can require additional procedures like calibration even if they're not the part damaged in a collision. Some of them, such as the blind spot radar in the rear bumper, seem like are prime targets to be damaged if a "dumber" older vehicle without such systems bangs into the CR-V.
"Repairers should be planning for a future whereby there are less repairs, coming from a different source, requiring higher and different skill levels and using different procedures, equipment and technology than today," one of Carey's presentation slides advised.
Honda also calls pre- and post-repair scans necessary after all collisions, another procedure that will raise severity. (Although there are indications the scans should have been SOP for years, which would mean their impact on severity was just delayed.)
Also noteworthy in terms of severity: The CR-V offers an optional hands-free power tailgate (a first for Honda) and rain-sensing windshield wipers.
Finally, severity will also grow because the CR-V is very likely built using a lot of higher-strength steels, and maybe some aluminum and magnesium thrown in there to save even more weight. These parts can be more expensive than mild steel and require different repair procedures — or more replacement — than past CR-Vs.
Honda hasn't released details of the body other than it's based on the Advanced Compatibility Engineering design. However, based on the Honda/Acura Pilot, Civic, Odyssey, MDX, TLX, etc. you can kind of guess what's coming.
Don't be surprised if you see aluminum bumpers, 1,500-megapascal partial or complete "door ring," and possibly a magnesium instrument panel and aluminum hood. Also perhaps some other innovative high-strength steel tricks, such as the Civic's "soft zones."
More information:
"Bold and Sophisticated Styling and Turbo Engine Power Restate the All-New 2017 Honda CR-V as the Outright Benchmark Compact SUV"
Honda, Oct. 13, 2016
Guild21 SCG Management Consultants presentation slides
SCG Management Consultants, Sept. 8, 2016
"Marketplace of change: Automobile insurance in the era of autonomous vehicles"
KPMG, October 2015
Images:
This KPMG prediction indicates collision frequency will fall dramatically by 2040. (Provided by KPMG)
This KPMG graphic predicts collision severity will increase dramatically by 2040. (Provided by KPMG)
Share This: