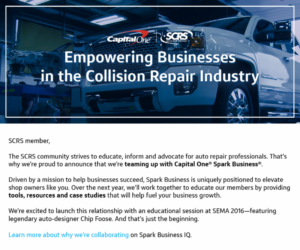 Editor's note: Capital One Spark Business, a small business-focused segment of the credit card giant, recently announced a partnership with the Society of Collision Repair Specialists geared at bringing Spark Business' solutions and advice to auto body shops. Though consolidation continues, the collision repair industry remains predominantly comprised of small businesses — which means there's a lot SCRS and Spark Business can offer each other and the industry at large.
One resource is Capital One Spark Business IQ, a financial website packed with advice and news content for new and established companies. Last week, the site offered an in-depth look at business challenges specific to the collision repair industry and how the SCRS-Spark Business partnership hopes to help shops overcome them. They've graciously allowed us to reprint it with minor edits; find the original Oct. 17 column on Spark Business IQ here.
By Capital One Spark Business IQ
It goes without saying that small business is the backbone of America, which is why Capital One Spark Business is consistently striving to support the owners that keep our economy humming. By identifying industry-specific challenges, Spark Business is able to solve for the unique needs of small business owners and develop strategic relationships that elevate entrepreneurs.
And that's why, over the next year, Spark Business will be joining forces with the Society of Collision Repair Specialists (SCRS) to provide educational support to shop owners by focusing on the specific challenges they face every day. By hearing from a number of customers in the industry and also drawing from the rich experience of SCRS, Spark Business looks to support educational initiatives that help this community work through common pain points.
"Investing in the equipment, the facility and the people to meet the demands of modern and future vehicles is a big challenge that keeps shop owners up at night," said Aaron Schulenburg, executive director of SCRS.
The collaboration is intended to educate businesses by providing tools, resources and case studies that highlight how to successfully overcome these business challenges and improve cash flow.
"The objective is to help businesses take their resources and the information that's available out there and use it to grow their business," Schulenburg said. "By partnering with a well-respected, leading financial business like Capital One, we are able to help our members understand how they can put their capital to the best use and see better returns by investing smartly."
Schulenburg touched on several hurdles that can stand in the way of success in the competitive auto repair industry. By better understanding what these shop owners are up against, Spark Business — together with SCRS — can help these businesses solve for specific challenges like managing cash flow and staying profitable yet competitive.
Challenges for auto repair business owners
Staying cutting-edge
"One of the biggest challenges we see right now is the rate of technology," Schulenburg said.
SCRS Chairman Andy Dingman agrees – and draws on his own experience running four family-owned auto repair shops in Omaha.
"Every shop that's out here is facing the same issues with technology at the rate it's coming out," said Dingman, general manager of Dingman's Collision Center. "What I am seeing is the necessity to know how to leverage buying power, how to negotiate deals on different equipment pieces."
Spark Business strives to transform and simplify the way small businesses manage their money and cash flow. As shops work to stay ahead of the curve with the latest technology, this collaboration can help auto repair owners connect with purchasing tools that can put more cash back into the business.
Factoring in employee training
Employee training is another expensive but necessary cost that dips into the profit pool.
"You're typically taking your most skilled, trained and productive employees off the production line," Schulenburg said. "A lot of repair facility owners and operators didn't have formal business training to factor those things in to figure out the right labor rate for their business. This is where shops can benefit from some real guidance."
Throughout the year, shop owners will have the opportunity to learn more about simplifying back-office operations to get a better sense of the funds flowing in and out.
Figuring out true costs
In order for a shop to thrive – not merely break even, charges for service must take into account expenses like the cost of equipment and employee training.
"Independent business owner without the background and understanding may not know what their true costs are," Schulenburg said.
Dingman affirmed this. "It would be helpful to repair facilities in the industry to know how to go about that," he said.
Working together, SCRS and Spark Business aim to help auto repair professionals get to work on the mechanics of their money.
It all starts at SEMA
The relationship kicks off at SEMA, the world's premier auto event. As one of the major highlights of the partnership, SCRS and Spark Business will host automotive legend Chip Foose for a joint-education session at the 2016 SEMA Show. The successful business owner will share his insights and tips, including how he grew from a single garage into a larger, successful business and the challenges he faced along the way.
Beyond the SEMA show, we look forward to continuing to support and empower the SCRS community through access to financial tools and educational resources that can help automotive businesses thrive.
This article originally appeared on Capital One Spark Business IQ.
More information:
"Capital One Joins SCRS to Empower Auto Repair Businesses"
Capital One Spark Business IQ, Oct. 17, 2016
Featured image: Capital One Spark Business, a small business-focused segment of the credit card giant, recently announced a partnership with the Society of Collision Repair Specialists geared at bringing Spark Business' solutions and advice to auto body shops. (Provided by SCRS)
Share This: