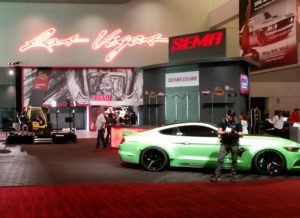 The Society of Collision Repair Specialists has a great SEMA lineup starting Tuesday, and auto body shop staff and owners won't want to miss the chance to learn from some of the top experts and educators in the industry.
These include none other than auto body celebrity Chip Foose, who joins SCRS and Capital One Spark Business for a special event at 3-5 p.m. Tuesday.
Appearing with Capital One small-business credit card head Buck Stinson, Foose will discuss growing a small business during "A Business Fueled by Passion – Talking Shop with Chip Foose" in the North Hall Upper Level, Room N258.
But you'll have to act fast to attend.
Click here to register yourself to pre-qualify for a ticket. Be one of the first 150 people on the pre-qualification list to show up to the SCRS booth at the SEMA Show (North Hall, Booth No. 11173) between 9 a.m. and 2 p.m. Tuesday, Nov. 1.
Tickets are first-come, first-served, and it's only one per person. However, if you couldn't get a ticket to the event, you can still see a live feed on Periscope (available for iOS and Android) by following @CapitalOne.
Find out more about other Foose appearances Wednesday and Friday here.
Besides the Foose event and the headliner OEM Collision Repair Technology Summit sessions on Thursday, SCRS has a tremendous Repairer Driven Education lineup addressing some of the hottest topics and business questions in collision repair.
Register and see descriptions for all the SCRS courses here, or visit www.scrs.com/RDE.
Some of the presenters' companies have promoted their courses in the past few weeks, and we thought we'd share some of the pitches for SEMA attendees still trying to plan their days.
Tuesday
9:30-11:30 a.m.: "Family Business Succession: The Family Component"; Lee Rush, Sherwin Williams.
"It is estimated 70% of family businesses will not survive into the 2nd generation and 90% will not make it to the 3rd generation," Sherwin-Williams wrote. "Learn how to effectively manage the family component that has proven to be the major stumbling block for family businesses in the succession process."
9:30-11:30 a.m.: "Developing New Talent in a Shrinking Workforce While Reducing Labor Cost"; Charlie Whitaker, Valspar.
"Today more than ever, body shop owners are faced with the challenges of delivering a quality product and service in a timely manner and yet, remain profitable in a market of rising cost," Whitaker said in a statement reported Thursday by Collision Repair Magazine. "Owners and managers that attend this presentation can expect to learn valuable information and methods in order to battle an increasing problem within our industry. That is, finding the right people, working within the constraints of a shrinking workforce pool, attracting new talent, and the cost of turnover and ways to reduce it."
Wednesday
9:30-11:30 a.m.: "Selling and Marketing in an Increasingly Competitive Marketplace"; Steve Trapp, Axalta Coating Systems. 
"The session will review the modern definition of marketing in the collision repair industry and discuss established marketing methods that attract customers by business segment," Axalta wrote in a news release Oct. 14. "Trapp will also share tips on how to effectively sell to customers and review a comprehensive marketing strategy that includes tactics to attract additional traffic to repair centers."
12:30-2:30 p.m.: "2020: The Future of Staffing – How to find, train & pay qualified people"; Mike Lanza, Sherwin Williams. 
"Fast-forward to the year 2020 and beyond," Sherwin-Williams wrote. "What will it be like relative to the world of staffing? While no one knows for sure what 2020 will bring until it's here, it is important to look forward and prepare for the possibilities.  Prepare your business for a mobile, educational and flexible workforce."
3-5 p.m.: "Who Pays For What? Interpreting the results for your business"; Michael Anderson, Collision Advice
"If you have ever heard from an insurance appraiser, 'You are the only one who asks to be paid for that,' find out the truth of who pays for what, based on results from these quarterly surveys conducted by Collision Advice and the CRASH Network," SCRS wrote Oct. 19.
3-5 p.m.: "How to find 'Open Capacity' in any Body Shop Uncovering Your Hidden Factory"; Mike Lanza, Sherwin Williams.
"Capacity is the maximum amount your collision center can produce," Sherwin-Williams wrote. "Discover your untapped potential in your current facility by uncovering your 'hidden factory'; and moving your business toward perfect production."
Thursday
11:30 a.m.-12:15 p.m.: "Color Matching and Styling: More Than Painting by Numbers"; John Parran, PPG — and special guest Charley Hutton.
"For the collision center, the session will address where and how the OE manufacturer comes up with their color palette, and how to match it," SCRS wrote Oct. 18. "There is ever-increasing complexity involved in formulating and matching the new colors, and this session will address tricks of the trade.
"For the builder and custom painter, the session will help to refine how you pick the color of the car, and how and why the OE manufacturers pick their colors – including current styling trends."
Friday
9:30-11:30 a.m.: "Scheduling and Workflow Solutions"; Thomas Hoerner, BASF
"The class focuses on the scheduling process and how balancing vehicle intake affects work in process, cycle time and touch time," BASF wrote Sept. 15.
9:30-11:30 a.m.: "Managing Collision Centers Technical Training needs of today and tomorrow"; Patrice Marcil, Axalta.
"The session will explore modern technical resources for collision repair centers that include eLearning modules, virtual classrooms and blended learning," Axalta wrote. "Marcil will explain the value of these programs and how they maintain a high level of technical competency and efficiency at body shops, while addressing challenges like cost, time, and travel constraints."
12:30-2:30 p.m.: "Competing with the Talking Car – Virtual Steering"; Steven Feltovich, Sherwin Williams.
"This session will explain the various emerging technologies and vehicle changes that will directly impact collision repairers and their customers," Sherwin-Williams wrote. "Additionally, it will provide ideas on how to use these technologies to continue to be competitive in the collision repair industry."
More information:
"Valspar's Charlie Whitaker to lead talent acquisition seminar at SEMA"
Collision Repair Magazine, Oct. 27, 2016
"SCRS' Repairer Driven Education Receives Ongoing  Support from PPG Refinish"
Society of Collision Repair Specialists, Oct. 18, 2016
"Axalta Experts to Present at Society of Collision Repairers Specialists' Program During SEMA Education Days"
Axalta, Oct. 14, 2016
"BASF sponsors Repairer Driven Education Series at SEMA"
BASF, Sept. 15, 2016
"Sherwin-Williams Consulting at SEMA 2016"
Sherwin-Williams
"'Who Pays for What?' Survey Deadline Nears – And a Chance to Learn How to Use the Report at SEMA"
Society of Collision Repair Specialists, Oct. 19, 2016
Featured image: The calm before the big show: SEMA 2016 on Oct. 31, 2016, a day before the event starts. (John Huetter/Repairer Driven News)
Share This: