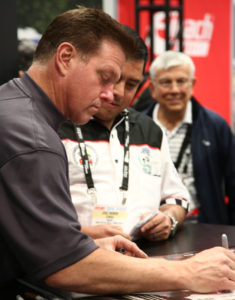 Besides stressing the importance of passion in evaluating potential employees, automotive designer Chip Foose last month at SEMA shared other business insights from his career.
In an SCRS-Capital One Spark Business small-business presentation and post-event interview with Repairer Driven News, the Foose Design owner embraced the idea of being a small business, recalled putting quality ahead of a reduced cost to his business and shared some perspective related to his own company's balance sheet strategy.
Staying small
"I like small businesses," Foose told Capital One small-business credit card head Buck Stinson and the crowd at the event.
He recalled working for Ford during a temporary 1992 sketch program and requisitioning a list of drawing supplies. The materials were placed in a box, and Foose tried to carry the container back to his desk.
"'You can't carry that,'" he said he was told. "'… You need a union guy. … We'll have it delivered to your cubicle.'"
Forty-five minutes later, Foose finally received his supplies.
Foose also recalled being stationed in a cubicle next to a man who for three days straight continuously disassembled and reassembled a pencil sharpener.
Finally, the co-worker exclaimed, "'I did it.'"
"What did you do?" Foose asked.
"'I balanced my pencil sharpener,'" the co-worker replied. A pencil inserted in the device sharpened perfectly, without vibrating.
How long have you worked at Ford? Foose asked. The reply: 26 years.
"I thought, 'I gotta get out of here,'" Foose said. "I wanted a small business again."
Besides this kind of "Office Space" Big Business absurdity, Foose also cited the bankruptcy of his longtime employer Hot Rods by Boyd as a cautionary tale favoring staying small.
"We're not bigger," Foose corrected us during an interview. "I've stayed really small."
"The brand has gotten bigger, but personally, we have kept a very small shop," he continued. I wanted to keep it small just because of the way that I saw Boyd's go … One hiccup, and it all went away."
Quality
Asked about evaluating vendors, Foose described a mix of case-by-case purchases and contracts — but the latter "were our vendors of choice before that." Suppliers would notice Foose's shop using their products and begin having conversations to formalize the relationship.
Foose also recounted an interesting story regarding the start of his partnership with BASF during the early stages of his company.
At Hot Rods by Boyd, he and everyone else worked on vehicles that would receive DuPont paint. Upon starting out on his own following Boyd's bankruptcy, Foose designed for a variety of shops using a variety of paint — and virtually all of the paint companies were using those cars in ads, except BASF/Glasurit.
When it came time for his shop to paint its first in-house vehicle, he asked professional detailers, "Whose paint are you getting the best results from?"
Four out of the five said Glasurit, and "I wanted to work with Glasurit," Foose said.
The car ended up winning a Ridler award, and so Foose contacted an area rep for the paint company, showed the man $11,000 in paint and materials invoices and the magazine ads from the other paint companies.
"I said, 'I could have called anybody in the industry and they would have donated the paint. Is there anything we can do in the future, because I really want to work with your company?'" Foose said.
The paint rep agreed to donate the paint for future Foose high-end cars.
DuPont later called and asked him to paint Jeff Gordon's racecar as a promotional vehicle, and out of professional courtesy, he called BASF to let them know.
BASF said it was fine with that — but then reacted when they saw a Foose logo next to a DuPont logo: "'What does this mean?'"
Nothing, Foose said. DuPont did want to formalize a relationship, he explained, but he didn't want to stop working with BASF. BASF came back shortly after and signed on Foose as a spokesman.
Asked if that initial decision to use BASF was a hard one for Foose when he was starting out with Foose Design — after all, he could have saved thousands with donor paint — he said no.
"I only want to use the absolute best," he said. "… They were no. 1. They were my choice."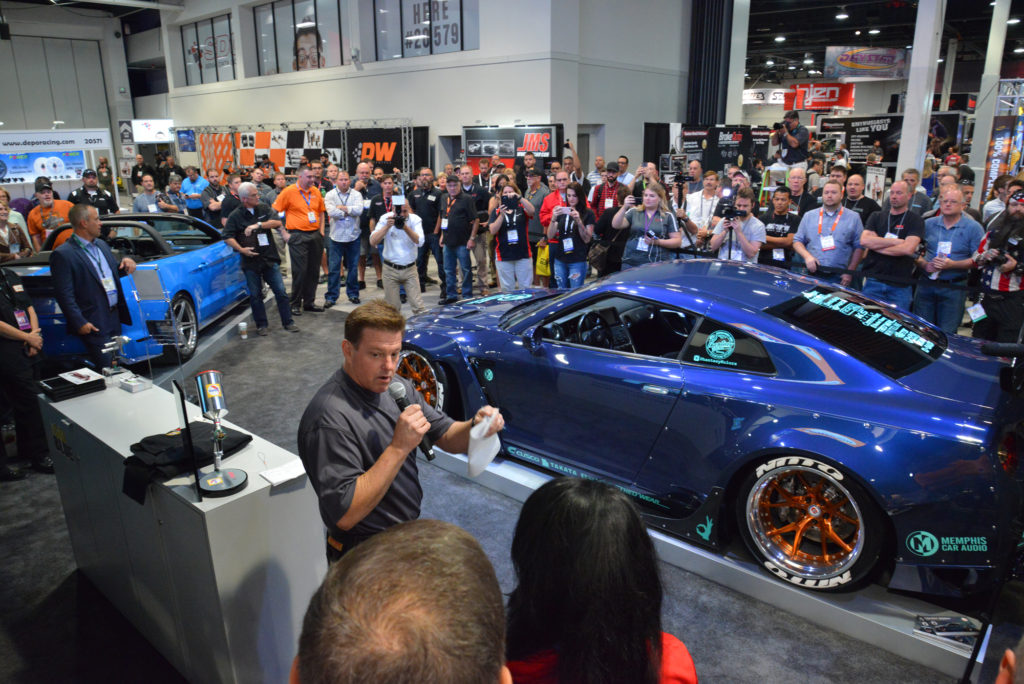 Financials
Like many small businesses, Foose recalled issues with cash flow during his early days at Foose Design.
"There was a few incidents where I was using deposits from one customer to finish other customers' projects and then giving them a bill, and them not being able to pay it," he said. "That caused a lot of problems. So then we had to finance to get things started."
Such financing involved a mix of traditional credit channels as well as his licensing deals, though the latter wasn't always a sure revenue stream either. One licensee "owed us a lot of money," Foose recalled, and he eventually wound up collecting about half of it.
He didn't have to resort to collections agents or some other formalized method, however.
"I just went and talked to him," Foose said. He told the licensee, "'I'm in a bind'" and "he was willing to help us."
But on the whole, Foose was a strong proponent of licensing as a long-tail revenue stream.
Foose said he saw its potential while working for Asha, designing concepts and products that it would license out to manufacturers. One of his ideas there involved integrating a garage door opener into the car's systems, and "they sold that for millions of dollars" while Foose was making $16 an hour, he recalled.
His experience with Boyd reinforced this. The company did everything in-house and stayed busy, but it ended abruptly following the "hiccup."
Instead, he decided to build up a "bank of intellectual property" where an idea today could pay him for the next decade — "putting small checks in the mailbox every month."
Plus, Foose said, it allowed him to design something, think, "Who do I wish made this?" and develop products together in exchange for a percentage of the wholesale.
"I don't want to become their competitor," Foose said. "I want to become their ally."
More information:
"SCRS and Capital One Spark Business talk with Chip Foose at the 2016 SEMA Show"
Society of Collision Repair Specialists-Collision Hub via YouTube, Nov. 29, 2016
Images:
Chip Foose is shown at SEMA. (Provided by SEMA)
Chip Foose can be seen in the BASF/Glasurit booth at SEMA 2016. (Provided by SEMA)
Share This: