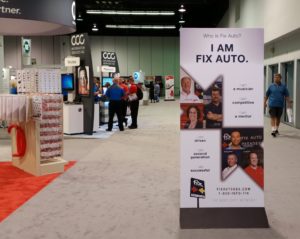 PartsTrader's announcement last week of a "recommended partner" deal for Fix Auto USA allows the auto body repair chain to tap into a new tool to analyze parts prices in specific markets, PartsTrader CEO Rob Cooper said Monday.
The new analytics offering is a PartsTrader perk for shops "willing to commit to a high level of engagement" — i.e., frequent usage — with the parts bidding platform, according to Cooper. PartsTrader is free to shops but charges parts vendors subscriptions and a percent of transactions.
"With increasing utilization of the PartsTrader platform, Fix Auto will begin to see greater efficiencies emerge as the workflow is standardized across the network," PartsTrader announced Dec. 8. "Fix Auto locations will gain access to the most comprehensive supplier network for competitive parts sourcing in the industry. Fix Auto will also be able to access PartsTrader's data analytics based on actual quotes and orders in a body shop's specific market. This information is updated each time a parts-related transaction occurs and can be used by members as factual documentation to support purchases."
The deal is more metaphorical than literal. As Cooper described it, Fix Auto plans to use PartsTrader consistently across the franchise chain and will be rewarded with such PartsTrader features as well as the more general benefits of using an electronic parts procurement system.
"Entering into a partnership with PartsTrader is exciting since it allows our Franchise Locations continued operational improvements and our customers the opportunity to realize these efficiencies," Fix Auto President and Chief Operating Officer Paul Gange said in a statement. "Fix Auto is committed to help members succeed by making available to them the best possible tools and the PartsTrader suite stands as the latest example of that commitment."
The partnership isn't exclusive for either organization, and other MSOs which do a lot of business on PartsTrader could get in on the analytics as well, according to Cooper.
Data can be a valuable tool, particularly to MSOs aggressively competing to make investors happy through growth and earnings. Such transparency also serves as leverage to get a better deal on parts — something attractive to both the insurers MSOs seek to court for referrals and, to a smaller degree, out-of-pocket customers.
Cooper said PartsTrader plans to roll out such analytic capabilities for all of its markets nationwide. He said the company defines markets primarily through metropolitan areas, some of which might cross state boundaries; in less congested areas, a market might be a city.
Asked about smaller shops with heavy PartsTrader usage receiving similar analytics, Cooper said some of the market data would only be useful to multi-shop operations with a larger footprint. However, he said PartsTrader did offer enough similar information for a smaller shop to optimize its supplier base and increase margins by about 3-6 percent.
A shop might have a "very comfortable" relationship with its favorite suppliers, which was fine, Cooper said. However, the potential for better margins was "pretty clear," he said.
"Collision repair facilities using the PartsTrader platform to search and compare for parts within their marketplace can access more competitive quotes and significantly reduce their return rates," Cooper said in a statement Dec. 8. "Fix Auto owner-operators will not only gain margin on parts purchases, benefit from accurate parts shipments, and improve their shop's bottom line, they'll be able to deliver increased value to their insurance partners by reducing cycle time, improving severity, and ultimately delivering a better experience to vehicle owner customers."
Asked about the potential for price erosion because of such analytics — which would cut into PartsTrader's revenue, too — Cooper said that the platform's quality metrics keep that in check.
"That's what protects that erosion," he said.
Cooper said individual shop data and privacy would "absolutely" be protected; any market statistics would be aggregates, he said.
"It's their own data," Cooper said.
More information:
"PartsTrader® and Fix Auto USA Agree On Parts Sourcing and Ordering"
PartsTrader, Dec. 8, 2016
Featured image: A Fix Auto advertisement appears on the floor of NACE 2016. (John Huetter/Repairer Driven News)
Share This: