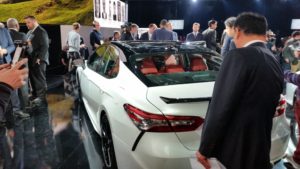 The 2018 Toyota Camry's successful attempt to regain some swagger extends to its paint job.  A fair percentage of the next-generation vehicle's fleet could receive a new two-tone paint option — an eye-catching option that could increase cycle time and severity.
"About 20 percent, we think initially, just to be able to get it out there in the market," said Toyota Motor Manufacturing President Wil James, whose Kentucky operation will have to build and paint all these Camrys. "… I think that'll taper off once we get them out."
"5 percent of Camry's huge," Mike Stoll of Toyota public relations observed.
Toyota sold 388,618 Camrys in the U.S. in 2016, down 9.5 percent from 2015. So Stoll's right: Any piece of that will be felt by the body shop community — a mere 1 percent would be more than some nameplates sell annually.
Toyota presented the 2018 Camry design option Monday with a black-and-white sedan, but James said multiple color options would be available.  The Camry displayed Monday featured black elements on part or all of the A- and C-pillar body and door outers, roof, spoiler, door top halves, and front fascia, while the rest of the vehicle exterior was white. It looked pretty neat, even if you couldn't help but think of a police car.
The style could catch on. We wrote earlier about how Daihatsu's two-tone option could be a cool-looking custom revenue stream for auto body paint shops in the U.S. to ape. Toyota apparently agrees that two-tone cars could have mass appeal, and while wading through the media scrum Monday, we heard at least two conversations mentioning the attention-grabbing look.
Here's a few different perspectives on the two-tone paint job for the painters out there:
More information:
"Ante Raised: All-New 2018 Toyota Camry Gains Emotionally-Charged Design and Performance Experience"
Toyota, Jan. 9, 2017
Featured images: The two-tone option for the 2018 Toyota Camry is shown. (John Huetter/Repairer Driven News)
Share This: