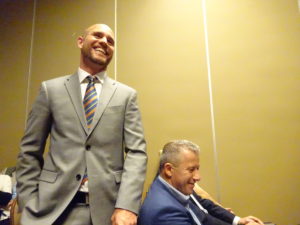 Utah, Md. repairers elected with Mo., Calif. incumbents to SCRS board; Yeung named chairman
By on
Announcements | Associations
Voters on Tuesday selected Utah and Maryland collision repairers and re-elected two incumbents to the Society of Collision Repair Specialists board.
In addition to being re-elected, board members Amber Alley (Barsotti's Body & Fender, Calif.) and Brett Bailey (A&B CARSTAR, Mo.), assumed the roles of treasurer and vice chairman, respectively. Bailey had been SCRS' secretary.
Newcomers Trace Coccimiglio of Valet Auto Body (Utah) and Mark Schaech Jr. of Mark's Body Shop (Md.) filled the seats vacated by Dusty Womble (Caliber Collision, Texas) and outgoing Chairman Andy Dingman (Dingman's Collision Centers, Neb.).
Dingman said he was "proud, and moved" to have served with SCRS, and called it "an absolute honor, and privilege" to serve with the other board members.
"You have much to be proud of," Dingman told the board.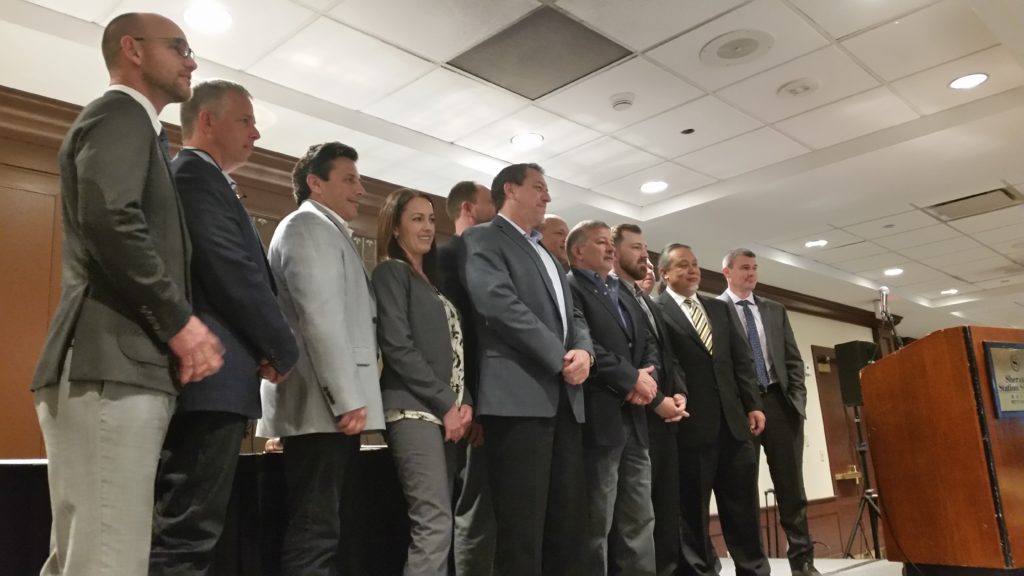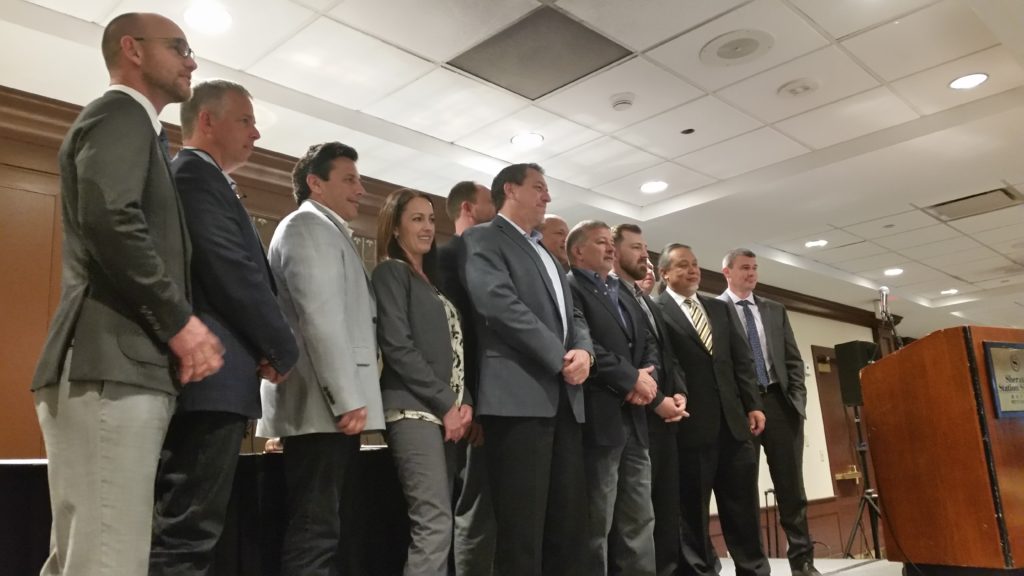 Alley, Bailey, Coccimiglio (who ran in 2016) and Schaech defeated  Justin Forkuo of 290 Auto Body (Mass.), Matthew McDonnell of Big Sky Collision Center (Mont.) for the posts.
Alley called it an "exciting time" in the collision repair industry.
"There's a lot of great things that we're working on, and, again, I would like to remain part of that," he said.
"It's been a great honor," Bailey said of serving on the SCRS board, noting that there was "not many more people as passionate as this group of people."
Coccimiglio, who noted he had never been in a body shop until he recently owned one, said it was good to have like-minded people and people who wanted to do quality work, calling that his "biggest motivator."
"Customers need us to be advocates for them," he said.
Schaech wasn't present for the vote; he was tending to his mother, who'd suffered a stroke. However, Washington Metropolitan Auto Body Association Executive Director Jordan Hendler, who knew Schaech in conjunction with WMABA, called him "very insightful" and told voters he would be a "huge asset" to the SCRS board.
Vice Chairman Kye Yeung (European Motor Car Works, Calif.) was elected chairman to succeed Dingman.
"It's just a special day for me," Yeung said Wednesday, noting SCRS' "heritage" of safety and correct repairs for a consumer and the "great strides" the organization had made recently.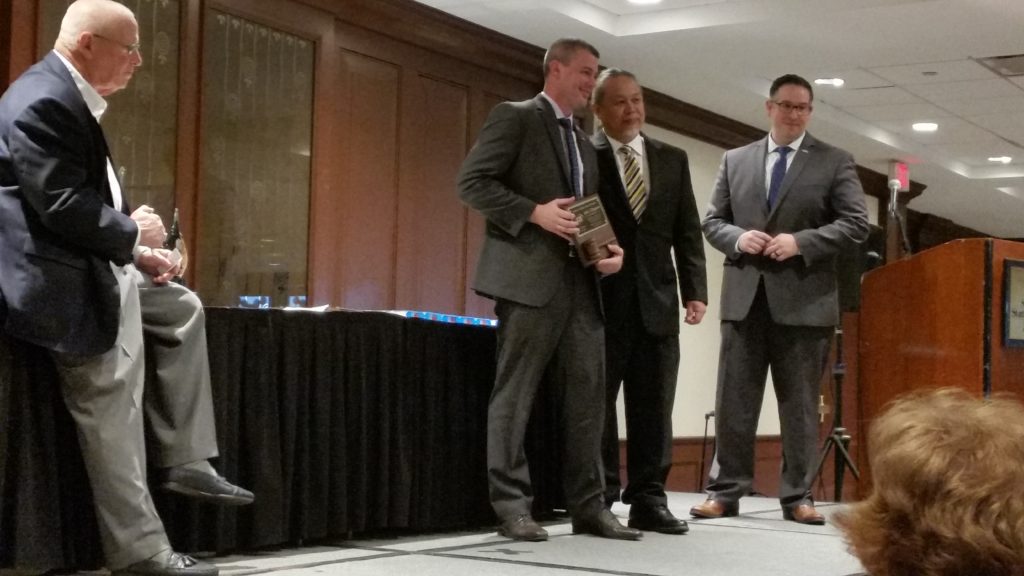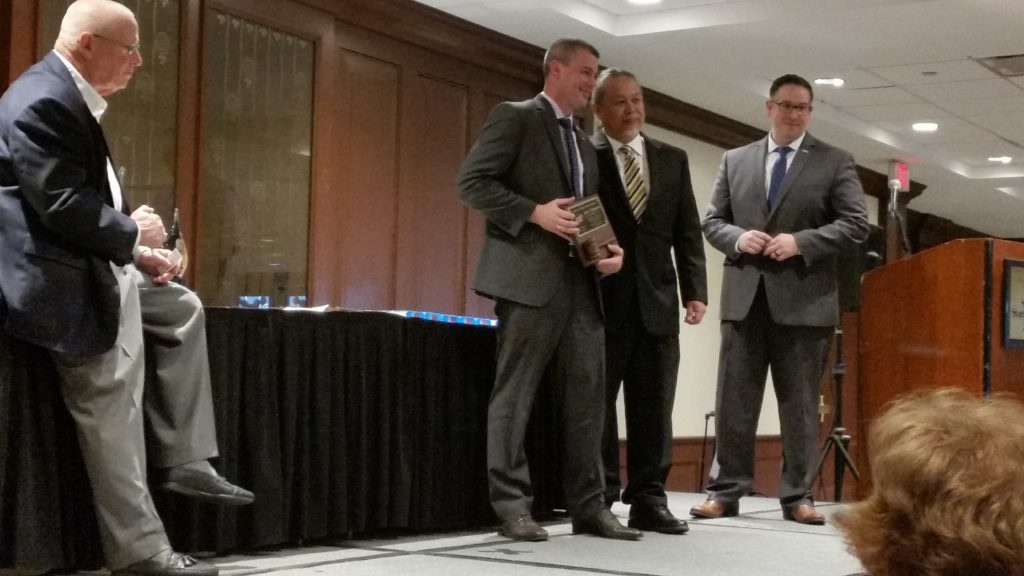 Correction: An earlier version of this story listed an incorrect location for Dingman's Collision Centers. The business is based in Nebraska. The article has been updated to reflect this.
Images:
Trace Coccimiglio of Valet Auto Body (Utah), left, appears at a Society of Collision Repair Specialists meeting April 18, 2017, to campaign for a seat on the board. (John Huetter/Repairer Driven News)
The Society of Collision Repair Specialists 2017-18 board is gathered at a luncheon April 19, 2017. (John Huetter/Repairer Driven News)
Left, Jeff Hendler watches as 2015-16 Society of Collision Repair Specialists Chairman Andy Dingman, appears with new Chairman Kye Yeung, and Executive Director Aaron Schulenburg on April 19, 2017. (John Huetter/Repairer Driven News)
Share This: