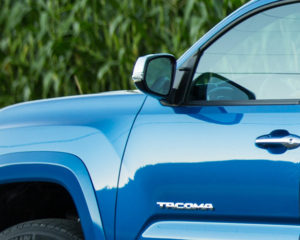 NSF's newly launched mirror registration program has accepted aftermarket mirrors sporting blind-spot monitoring for late-model Chevrolet and GMC SUVs and the Toyota Tacoma.
CAPA will do the same, following its December announcement of the Technical Committee approving a certified aftermarket mirror standard.
However, the organization — which has suggested it is more rigorous than NSF, according to the Automotive Body Parts Association's Body Language — doesn't appear to have approved any of those parts as of May 1.
This raises questions about safety and liability for the driver as well as the insurer and collision repairer selecting and installing these parts. The actual sensors that do the blind-spot monitoring work are elsewhere in the vehicle, but the light or other alert on the mirror can be what notifies the driver.
While increasing vehicle autonomy can prevent a vehicle from merging into an occupied lane itself, that doesn't change the driver's responsibility — or liability — for being the person legally regarded as in control of the vehicle. If for whatever reason the alert isn't conveyed, this could be disastrous for the driver and for the person who approved the part should.
Unlike a nonfunctional turn signal, which should be fairly obvious to the driver and to the police (either it's on when it's supposed to be or it's not), the absence of a blind spot monitoring alert would just indicate that there's nobody in your blind spot — even if there is.
Aftermarket electronics also raise questions about their ability to produce the proper diagnostic fault code — assuming OEM diagnostics are set up to monitor such systems, of course.
CAPA
CAPA provided us with its December 2016 CAPA 701 standard, which in addition to requiring fit, function and compliance with Federal Motor Vehicle Safety Standard 111 for mirrors (which primarily deals with the visibility of what's reflected) demands aftermarket blinkers meet the SAE J914 standards for side-facing turn signal markings and photometric testing.
CAPA 701 offers fewer details about the blind-spot monitoring alert, stating simply that "The CAPA Sample Part must provide illuminated features that are comparable to the CCS Test Part. Illuminated features may include turn signals, puddle/approach lights and blind spot indicators. The illumination sources of the CAPA Sample Part must be comparable to the CCS Test Part. For example, if the CCS Test Part utilizes an LED array for its illumination feature, the CAPA Sample Part must use a similar LED array."
"The function of the blind spot indicator in the mirror is verified during the Vehicle Test Fit," CAPA director of operations Debbie Klouser elaborated in an email.
Asked Thursday about the idea that such safety features should be OEM-only, Klouser argued that redundancies were built into the system and CAPA was verifying functionality.
"Assuming the argument is that during repairs, parts with these types of informational or supplementary functions should only be replaced with car company branded parts," she wrote. "In many cases the OEs warn drivers to not rely solely on these features, for example blind spot warning systems – they are not perfect and can be susceptible to weather conditions, dirt, speed, and other factors.  Parts that have passed CAPA's certification requirements have been proven to have functional equivalency to the car company branded part.  CAPA continues to monitor its requirements as vehicle technology evolves."
NSF
In contrast to the "certification" process it handles in-house, NSF mirrors up for "registration" are to be tested for fit, function and FMVSS 111 compliance at "an independent laboratory." It did not provide more specifics in the release, including how the lab would test electronic function of the side blinkers and blind-spot monitoring. (Or even convenience functions like heating or power mirrors.)
"This registration allows companies such as Chris Cam and YY to demonstrate that an independent laboratory tested and evaluated their mirrors to determined compliance with federal regulations and also tested them for fit and functionality," NSF wrote in a news release.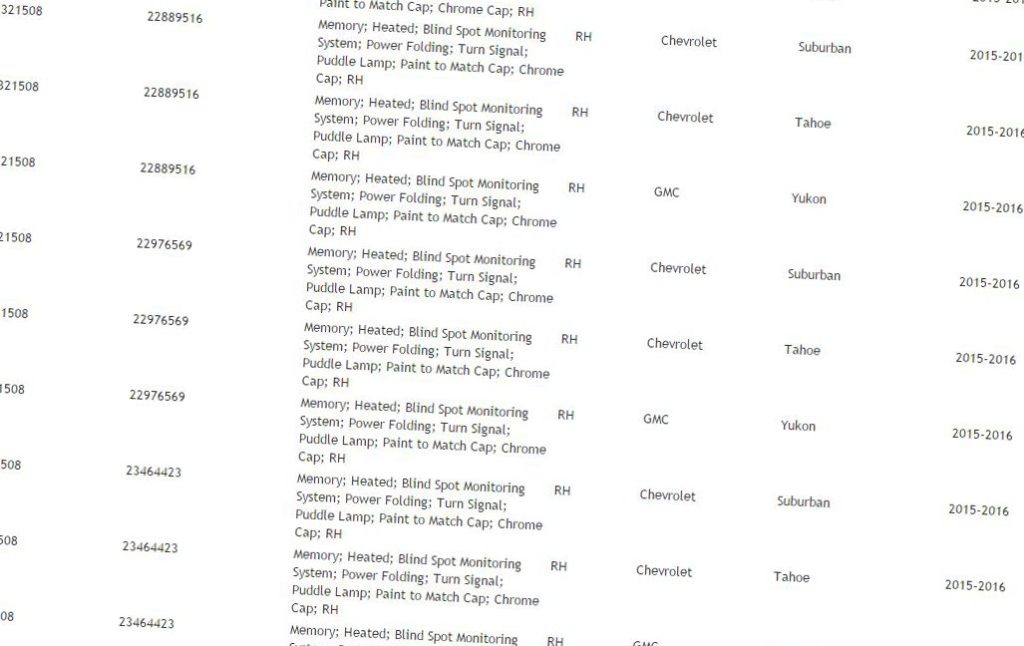 "Registration by an independent, third-party organization provides added assurance that mirrors on vehicles are meeting federal regulations," NSF automotive global managing director Bob Frayer said in a statement. "This is crucial especially as technology evolves and vehicles become more advanced. NSF International registration provides a cost-effective and timely solution for leading companies like Chris Cam Industry Inc. and Yuan Da Auto Mirror Industrial Co., Ltd. (YY) to demonstrate compliance."
Asked for more details about its electronics testing and the idea that such safety features should be OEM-only, NSF provided the following statement from Frayer. (We also asked for clarification the organization had never OK'd mirrors before, which might inform part of Frayer's answer):
As you know, NSF International has been offering certification of collision parts for over 7 years with great success.  The demand for certification of certain part types has been higher than others.  Voluntary registration provides a means for distributors, repairers, insurers and manufacturers to identify mirrors that have had their designs validated through testing to show they meet FMVSS 111 requirements as well as having been test fitted to a vehicle and tested for functionality.  NSF International believes that registration offers stakeholders a means to identify mirrors that meet safety requirements.
"When distributors, collision repair shops and insurers see a YY mirror with the NSF Registered Part mark they can be assured that the mirror meets essential requirements for field of view, reflectance and mounting in addition to meeting vibration and blind spot detection requirements," Yuan Da Auto Mirror Industrial Company sales manager Flora Shih said in a statement.
Chris Cam Industry praised the NSF standard as the first for the aftermarket — apparently missing CAPA's from five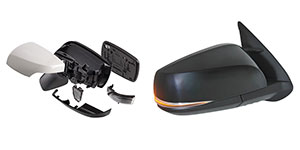 months ago.
"We are dedicated to manufacturing the best quality aftermarket mirrors but there has not been a standard for evaluation of aftermarket mirror quality until the NSF International program," Chris Cam product manager Brandon Chen said in a statement. The NSF International registration program helps identify the highest quality mirrors."
NSF describes its mirror registration sparsely on its website:
Company completes application form.
The company submits a test report from an NSF approved laboratory containing all required data and photographs showing compliance with FMVSS 111.
Company submits the appropriate payment of the registration fee and/or any other applicable fees.
Complete policies and requirements can be found in the NSF Registration Scheme for Automotive Parts and Services.
Though perhaps those details are in the NSF Registration Scheme, it's a little worrisome that the electronics didn't even seem to rate any mention here. Compare that to NSF's requirements for tire pressure monitoring systems technology:
The TREAD Act mandates the use of tire pressure monitoring systems technology in all light motor vehicles to alert drivers about underinflated tires.
Vehicle test fits verify that the sensor functions like the original equipment (OE) service sensor when installed.
Functionality requirements include service functionality (e.g. tire rotation and ensuring that the pressure values and location report properly).
Insurers might shy from such parts anyway, based on recent comments from LKQ CEO Robert Wagman. Asked about how vehicle complexity would affect the aftermarket business, Wagman said that while aftermarket manufacturers could replicate lightweighted parts, insurers were refusing to use recycled or aftermarket sensors. It's possible that caution might extend to the output for those sensors.
"Those were parts we really couldn't sell before anyway," he said of sensors. "So it's really not an issue."
More information:
"NSF International Launches Registration Service for Automotive Mirrors"
NSF, April 25, 2017
"CAPA Introduces CAPA 701 Mirror Standard"
Certified Aftermarket Parts Association, Nov. 29, 2016
FMVSS 111 for mirrors as of May 2017
Images:
The 2016 Toyota Tacoma Limited comes standard with blind-spot monitoring. (Provided by Toyota)
NSF's newly launched mirror "registration" program has accepted aftermarket mirrors sporting blind spot monitoring for late-model Chevrolet and GMC SUVs and the Toyota Tacoma.
From left, NSF-registered aftermarket mirrors from Yuan Da Auto Mirror Industrial Company and Chris Cam Industry are shown. (Provided by NSF)
Share This: