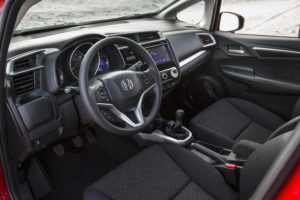 The Database Enhancement Gateway, which allows repairers and insurers to make inquiries and suggestions of the Big 3 estimating providers, was augmented in 2015 to offer weekly tips for repairers on the AudaExplore, Mitchell and CCC programs online and through the Society of Collision Repair Specialists' email list.
If you haven't used the service before to submit questions about estimating collision repair work or just browse responses to other carrier and shop questions, check it out. It's a good — and free — way to find IP best practices and help write the most accurate estimates or appraisals possible.
Here's some areas spotlighted as tip-worthy by DEG; we have resumed regular roundups for readers. To receive the tips as soon as DEG releases them, like/follow DEG's Facebook and Twitter feeds; it also posts videos to a YouTube channel once in a while. Or just browse the more than 10,000 inquiries and responses in the database and see what else you learn.
Transferring a part in Mitchell
Transferring certain bonded, riveted or welded parts isn't included in Mitchell, the DEG reminded shops, using a May 2016 inquiry as an example. 
A user apparently involved with the repair of the outer bedside panel of a 2003 Dodge Ram 3500 had asked, "Is Transfer welded on brackets from old panel included in Mitchell labor time or is this additional labor needed," noting that a repairer "Must drill out welds on old panel brackets and weld Brackets onto new panel before installing."
The user requested a copy of the Mitchell P-page containing the answer.
Mitchell obliged by quoting its P-pages, which declare "Transfer Time" is among non-included operations when the transfer is "For welded, riveted or bonded brackets, braces or reinforcements from old part to new part."
CCC: Fourth stage of four-stage coating not included
Painters applying a four-stage refinishing job to a vehicle might need to extra operations added manually to the estimate, the DEG noted.
In 2015, a user suggested to CCC that all databases add a fourth stage. They cited a 2014 Mazda CX-5 which needed a "special tinted clear" for a rear bumper to be painted "Soul Red."
"41V is a 4 stage paint process. Soul Red," the user wrote. "There is a special tinted clear that goes on after the midcoat. It needs to go through a bake cycle before the last coat of regular clear is applied."
The user suggested "1.0 minimum time for the additional application of the midcoat, baking, set up and clean up."
CCC said Soul Red, seen below on a 2017 Mazda3, could be either a three- or four-stage formula depending on the paint manufacturer.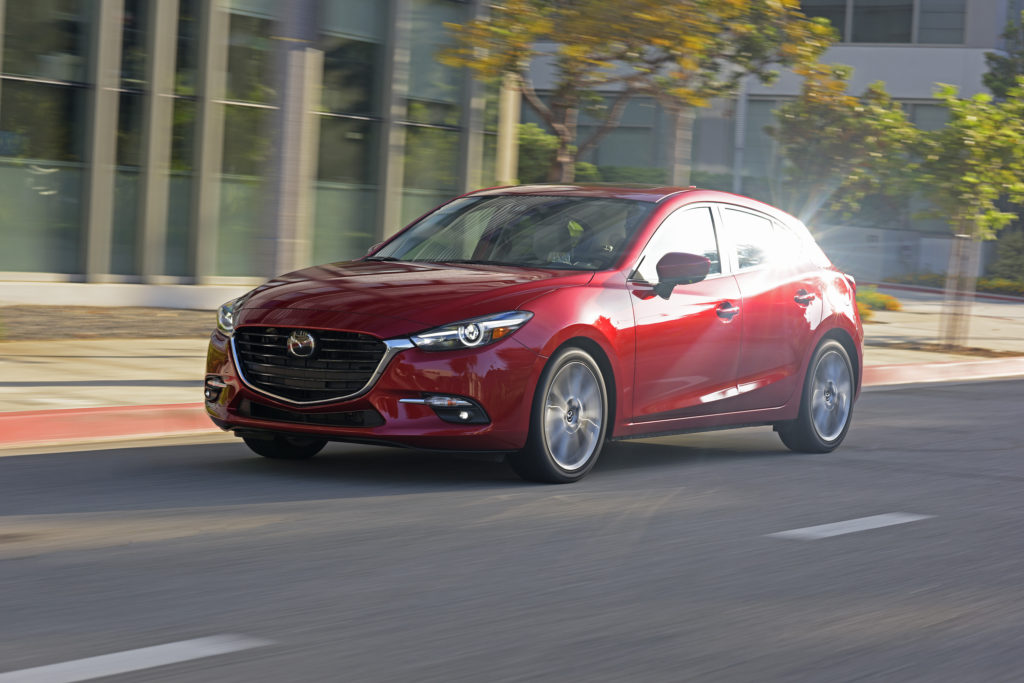 "In general a 4Stage formula will require the application of a ground coat in addition to the base coat and mid coat application while others may use a tinted clear coat in addition to the final clear coat (non-tinted). The use of a ground coat or tinted clear coat has not been considered in MOTOR's THREE-STAGE FINISHES (Base/Mica/Clear Coat) and is not included," CCC wrote.
It said four extra steps would be needed and "would require an on-the-spot evaluation to determine an estimated refinish time."
These were:
"1. Test spray-out panel or let down panel to match color.
"2. Application of a tinted clear coat (only if it is in addition to the non-tinted clear coat)
"3. Application of a ground coat (only if it is in addition to base coat and mid coat)
"4. Sanding the tinted cleat coat or clear coat to match the texture of the adjacent panels."
CCC said in that 2015 response that it'd take the suggestion of adding a fourth stage under advisement during its next review process. (As of Wednesday, it didn't appear to have been added to the MOTOR guide.)
In case anyone's interested, below is a Mazda look at its latest Soul Red, the brand-new "Soul Red Crystal," which will be on the next-generation 2017 CX-5.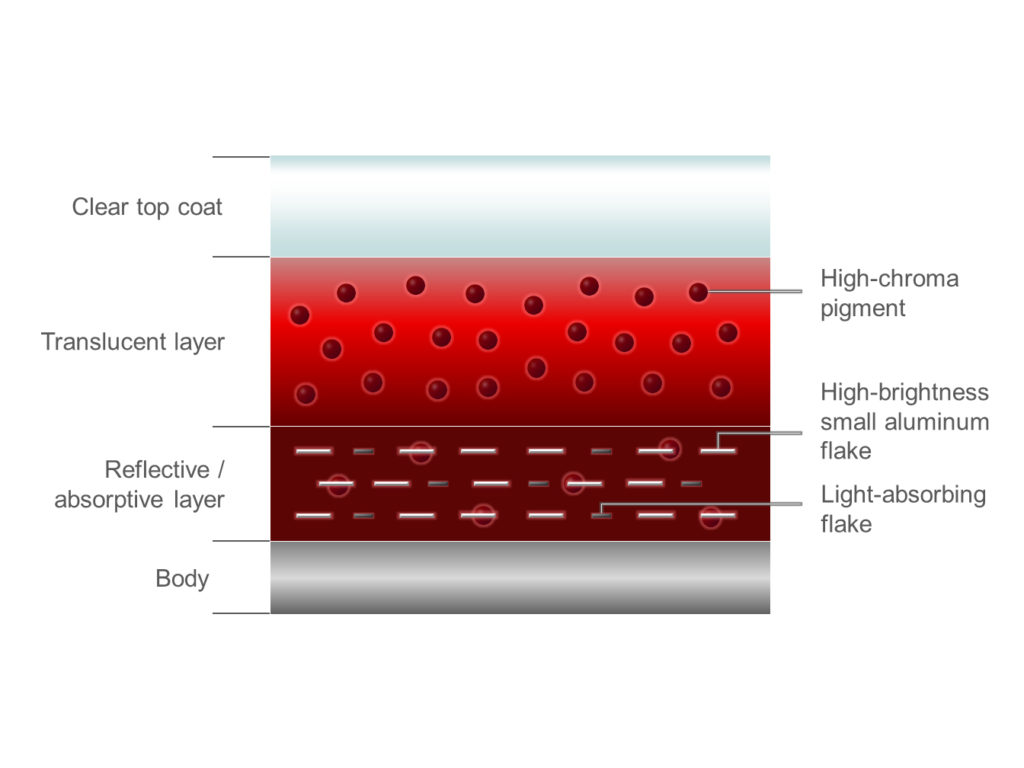 Pinch-weld repair in Audatex
The DEG earlier observed that pinch-weld repair wasn't an included procedure in CCC, and it reminded shops that the same applied for Audatex.
"The repair to the rocker panel caused by mounting a vehicle on a frame machine (pinch weld damage) is a not included operation in Audatex," the DEG wrote.
"Repair of any area of the vehicle that may be damaged as part of the repair process is a manual enter," AudaExplore wrote in 2015. "The estimator will determine the amount of repair needed for each situation individually. No changes warranted at this time."
The answer appeared to grant the clarity demanded by the user, who'd asked the IP to either "please come up with a time for prepping and repairing pinchwelds before and after clamps…and if not a time, then state with clarity it is a not included operation."
The inquiry was in relation to the act of putting a 2012 GMC Yukon on a frame machine.
"when mounting a vehicle on a frame machine, it is required to remove the old undercoating from the pinchwelds prior to installing the clamps, this must be done on the front and backside of four locations…….," the user wrote. "in addition after the vehicle is pulled and the clamps are removed the clamp marks have to be repaired… sanding out the clamp marks, and in some cases applying an epoxy primer and then glazing in the area and sanding it, and then even re applying seam sealer again on the front and back side of the pinchweld."
CCC: Steering angle sensor reset not included
The DEG earlier had advised repairers and insurers that electrical equipment resets might not be included in any of the estimating services. "Air bag lights, initializing of a power window, and steering angle sensors are just a few examples of items that require a manual line for the labor amount needed," it wrote.
It repeated this advice specifically for CCC users who needed to perform a steering angle sensor recalibration.
In the May 2016 inquiry which inspired the tip, the DEG user appeared to be faced with someone stubbornly clinging to a misconception that recalibrating the steering angle sensor on a 2015 Honda Fit was an included procedure.
"I am being told that CCC alignment times included time to re calibrate steering angle sensor, I do not show it listed in included on not included operation, also according to motors guide, page 10, Steering angle calibration is not an included operation. This would go for 2 or 4 wheel alignment?"
The user recommended the system be updated to allow 0.5 to 1 hours for the procedure.
The user was right, CCC wrote, but it opted against adding the procedure.
"Hooking up scan tool and calibrating the steering angle sensor is 'Not Included' in the Wheel Alignment Operation," CCC wrote.
"According to the 'Guide To Estimating: LABOR TIME PREMISE,' 'Computer control module D&R/relearn, Reset electronic memory functions after battery disconnect, Scan tool clear/reset electronic module, Scan tool diagnostics and Steering Angle Sensor recalibration', are listed as 'Not Included.'
"Motor Estimated Work Times applied to Mechanical Components Does Not Include any considerations for Recalibration of those Mechanical Components."
Mitchell: Aiming headlights not included
In a similar vein, the DEG advised that a Mitchell line item for installing a headlamp doesn't include the time to aim the part.
"LABOR TIME TO R&I HEADLAMP DOES NOT INCLUDE AIM LAMPS," Mitchell told a user in 2011.
An insurer had apparently tried to argue that it was, based on the user's account. The inquiry involved a 2006 Honda Civic.
"When you select R&I the headlamp,does the R&I time for the headlamp include time to aim the headlamp?" the user wrote, diplomatically continuing, "Insurance co. XYZ states that the labor time to R&I the headlamp includes aiming the headlamps. Please clarify."
CCC bumper preparation
Just because CCC sometimes lacks a "Prep Unprimed Bumper" option doesn't mean you don't have to prep the bumper, the DEG warned.
"On certain vehicles, the option to 'Prep Unprimed Bumper' may not show in CCC One," the DEG wrote. "It is not to be implied that because this option is missing from the estimating system, that it is not required."
CCC explained this in a 2016 caveat added to its P-pages: An operation for the preparation of unprimed bumpers will be provided whenever such manufacturing information has been made available by the OEM. However, this information may not be available at the time of publication, and preparation for unprimed bumpers may still be required, even though a published operation is not present."
Have a question?
Have a question about AudaExplore, Mitchell or CCC? Submit inquiries to the DEG here. Inquiries, like answers, are free.
More information:
Images:
The steering wheel on a 2015 Honda Fit is shown. A collision repair of the vehicle might require a steering angle sensor reset, according to a Database Enhancement Gateway inquiry. (Provided by Honda)
A 2017 Mazda3 in "Soul Red Metallic" is shown. (Provided by Mazda)
Mazda shows the composition of its "Soul Red Crystal" paint for the 2017 Mazda CX-5. (Provided by Mazda)
Share This: