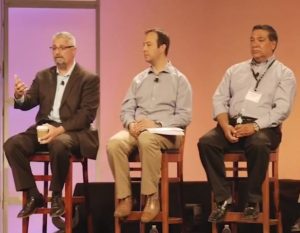 PPG's MVP Business Solutions has made available a new video that allows auto body shop owners, insurers and technicians to hear about issues like repair procedures right from three OEMs and a scanning expert.
"In this video you'll hear from the experts as they take a deeper dive into the hundreds of onboard systems on today's vehicles, any of which can be affected by a collision, including the repair process itself," PPG wrote in a news release. "Watch as this distinguished panel fields tough questions from some of the highest performing collision repair shops in the country."
The footage from a PPG MVP Spring Conference panel features Audi collision and workshop equipment specialist Mark Allen, Collision Diagnostics Services CEO Doug Kelly, Toyota Collision Repair & Refinish Training assistant manager Eric Mendoza, and Mazda project manager of project quality Richard Salceda. The panel is moderated by PPG automotive refinish business solutions manager Bob Medved.
As PPG indicated, the film features a lot of Q&A with the audience, which makes for a more engaging and real-world discussion than one between just a moderator and panelists. Definitely check it out.
More information:
"PPG MVP Tip of the Technology Iceberg"
PPG YouTube channel, June 31, 2017
Featured image: PPG MVP has made available its footage of a Spring Conference panel featuring experts like, from left, Audi collision and workshop equipment specialist Mark Allen, Toyota Collision Repair & Refinish Training assistant manager Eric Mendoza and Mazda project manager of project quality Richard Salceda. (Screenshot from PPG MVP video on YouTube)
Share This: