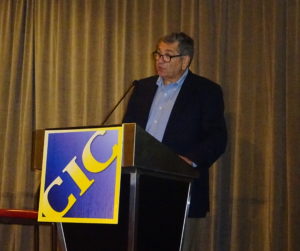 If you were in Chicago for the Collision Industry Conference or NACE last week and unable to keep up with the auto body repair industry's news because of the travel, training, buying or networking, don't worry. Repairer Driven News has you covered.
Below, find links to all of our coverage over the past few days:
"Mitchell overhauls UltraMate for cloud access, collaboration": Mitchell on Monday announced a major upgrade from UltraMate that will allow cloud-based estimating across multiple devices and permit a user to have more than one estimate open at once.
"SCRS to host groups' highest awards at new SEMA 'Red Carpet' event": The Society of Collision Repair Specialists announced Tuesday it would launch an annual "Red Carpet" awards event with this year's SEMA Week.
"General Motors to certify auto body shops in 2018": General Motors announced Tuesday it would "launch a comprehensive collision certification program in 2018," adding what Statista calls the nation's No. 1 automaker to the list of OEMs developing and recommending customers to auto body shop networks.
"Estify Pro pilot program to populate estimates with OEM procedure lines:" Estify on Monday announced a pilot program to help populate estimates with line items corresponding to OEM repair procedures and accompanied by the instructions themselves.
"Mitchell commits to BMS support 'without toll charges'": Mitchell on Wednesday committed to a means "without toll charges" for a collision repairer to exchange BMS data with business partners, drawing a major competitive distinction between the estimating service and rival CCC.
"GM offers idea of what it might do with telematics, collision repair": Though the company checked him from revealing too much, a General Motors staffer Wednesday suggested how the company was considering using OnStar and telematics to streamline the collision repair process and influence the customer's choice of shop.
"Subaru: Pre- and post-repair scan all vehicles since 2004 model year": Subaru this month released a position statement advising collision repairers to scan before and after a repair all vehicles dating back to the 2004 model year.
"I-CAR: No recycled quarter panels with rolled hem flanges:" I-CAR last week and again Thursday put to bed the idea that recycled quarter panels with rolled hem flanges could be used.
"Manager's comments in Texas deposition might feel familiar to some shops": Auto body shop owners, managers and technicians across the country might want read the deposition of a Texas dealership collision center's director and take a look in the mirror.
"$1M+ lawsuit: Texas body shop's disregard for Honda repair procedures caused injuries in fiery crash": A collision repair deviating from Honda repair procedures and absence of a fuel tank cover led to a Texas couple being trapped inside a burning 2010 Fit, a lawsuit demanding more than $1 million alleges.
Featured image: Collision Industry Conference Chairman Guy Bargnes (Painters Supply and Equipment), runs a Collision Industry Conference meeting in July 2017. (John Huetter/Repairer Driven News)
Share This: