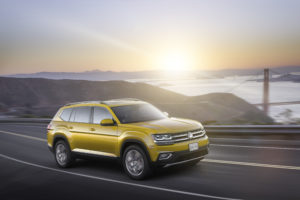 Volkswagen's largest SUV for sale in the U.S. is a unibody chock-full of ultra-high-steels, the company confirmed earlier this month.
"Essentially, we make them out of steel, high-strength steel, and ultra-high strength steel," Volkswagen senior product and technology communications manager Mark Gillies wrote in an email when we asked about the body-in-white, panels and closures for the Atlas and next-generation Volkswagen Tiguan.
Gillies provided us with the broad strokes of the body-in-white for the European version of the 2018 Tiguan, a smaller SUV built on the same Modular Transverse Matrix architecture as the Atlas.
"I don't have a similar schematic for Atlas, but the proportions would be similar," he wrote.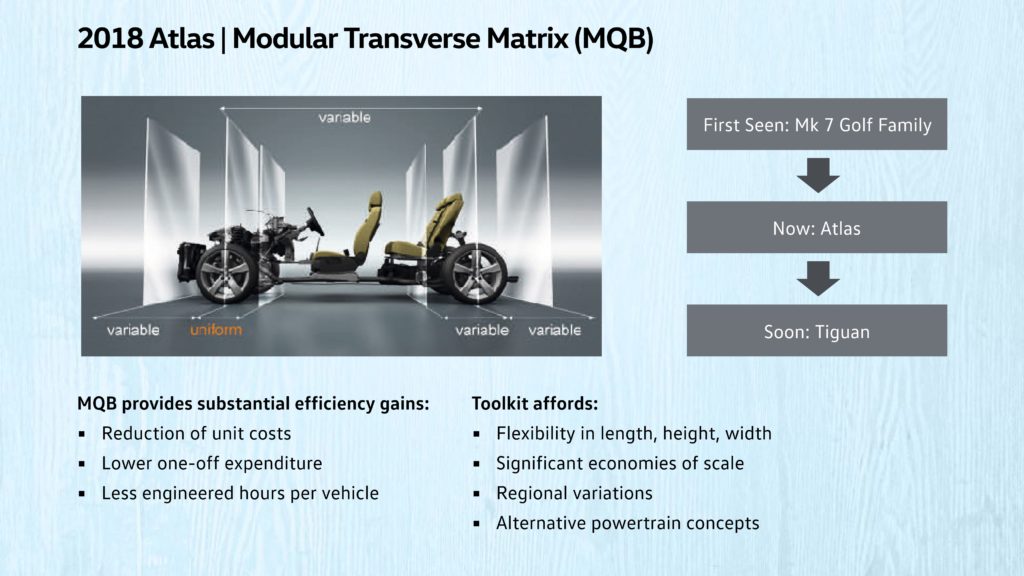 Areas including the A- and B-pillars, transmission center tunnel, front floorwell (kickout panel), roof rails, inner frame rails, and rear floor crossmember are all "ultra-high-strength hot formed steel" with more than a gigapascal of tensile strength.
Regions including the shotguns, another floor crossmember and roof crossmembers and other roof supports connected to the roof rails are also ultra-high-strength steel but below 1,000 megapascals. Ultra-high-strength steel typically starts around 780 MPa. The rest of the body-in-white appears to be less than 420 MPa in tensile strength.
This concentration of ultra-high-strength steel makes for a incredibly light but strong passenger cage and led the Atlas to ace the Insurance Institute for Highway Safety's crash tests, including the tough 40 mph small-overlap test. Watch how the energy moves through the vehicle but how little intrusion occurs during the small-overlap impact:
"Measures taken from the dummy indicate a low risk of any significant injuries in a crash of this severity," the IIHS wrote.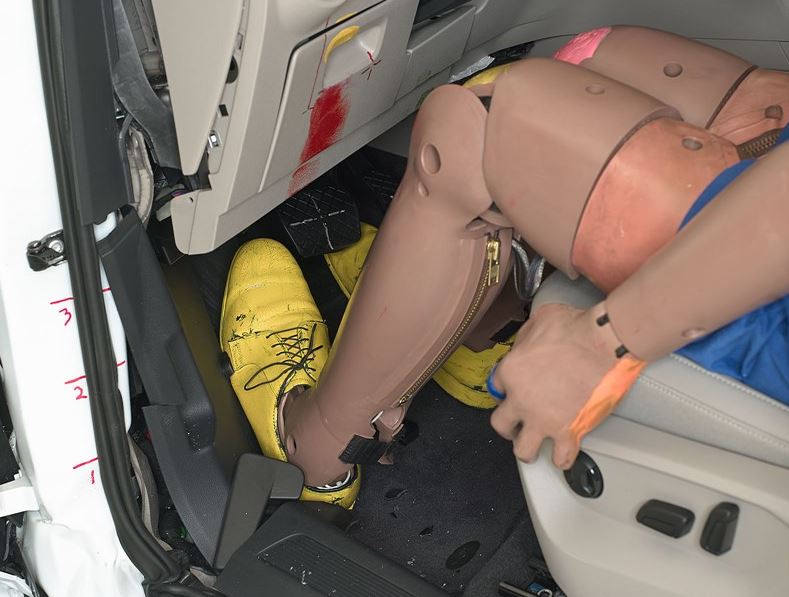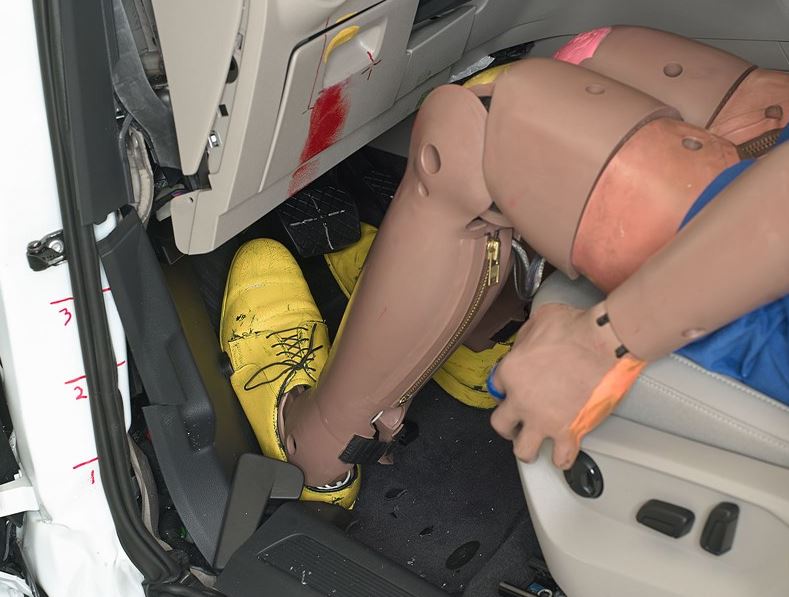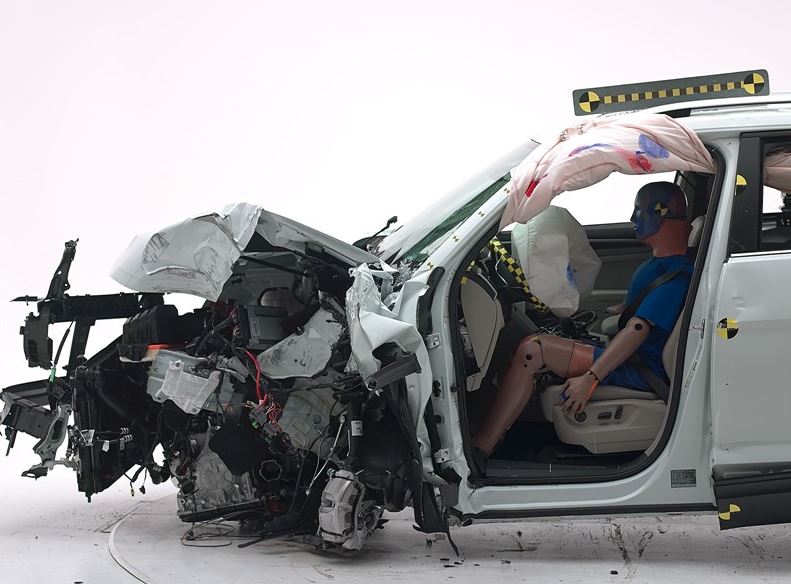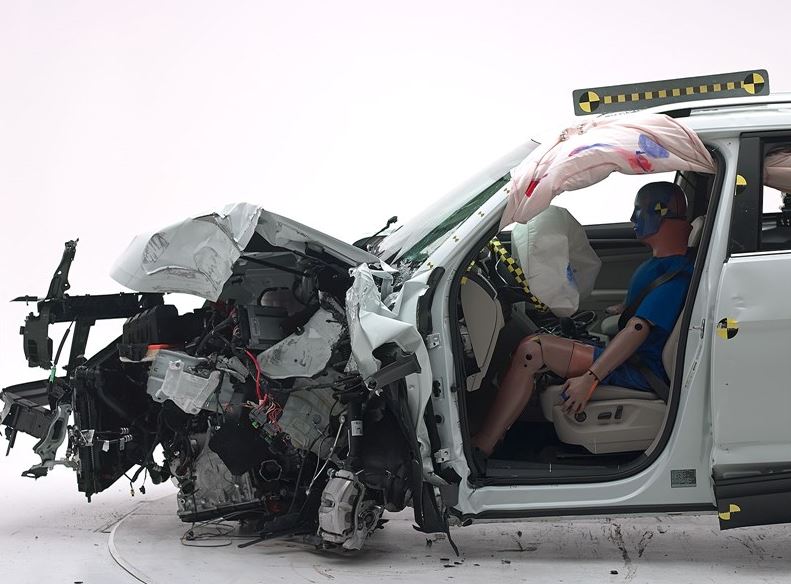 However, delivering this combination of lightness and strength through ultra-high-strength steels comes with a tradeoff. For body shops, many if not all of these parts will be replace-only and carry very specific heat and sectioning restrictions. A shop is going to have to consult Volkswagen repair procedures to fix this SUV or risk undoing all of Volkswagen's hard work protecting what could be as many as seven occupants inside.
Volkswagen started selling the Atlas mid-May. It's already sold 5,329 through the end of July, which puts it halfway to the Beetle's sales since Jan. 1 in just a couple of months. Read the repair procedures to prepare — and don't forget to check for the calibration demands of the vehicle, either. Besides any typical standard technology requiring calibration, the Atlas comes standard with a backup camera (as all 2018 vehicles must) and post-collision braking, which continues to slam on the brakes once the airbag sensors detect a crash to "reduce residual kinetic energy and, in turn, the chance of additional damage," according to Volkswagen. Autobraking and other advanced-driver assistance systems are also available as options.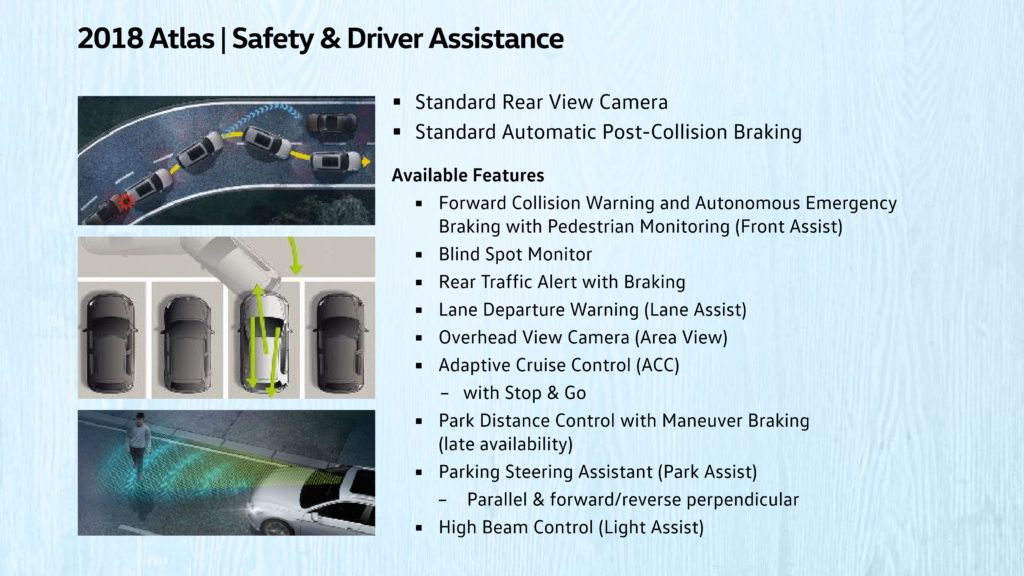 "Volkswagen's commitment to safety and driver assistance technology is unwavering. We take great responsibility to ensure our driver assistance technologies get smarter," Volkswagen product marketing and strategy Senior Vice President Hendrik Muth said in a statement earlier Aug. 4. "The Atlas is an example of our ongoing commitment to offering these features, and we are proud it has been recognized as an IIHS 2017 TOP SAFETY PICK."
See other features a shop might encounter with these Volkswagen media slides.
More information:
"VOLKSWAGEN UNVEILS THE 2018 ATLAS, AN ALL-NEW SEVEN-PASSENGER SUV BUILT IN AMERICA FOR THE MODERN AMERICAN FAMILY"
Volkswagen, Oct. 27, 2017
"2018 VOLKSWAGEN ATLAS EARNS 2017 TOP SAFETY PICK RATING FROM THE INSURANCE INSTITUTE FOR HIGHWAY SAFETY"
Volkswagen, Aug. 4, 2017
2018 Volkswagen Atlas media presentation slides
Volkswagen, April 2, 2017
2018 Volkswagen Atlas Insurance Institute for Highway Safety testing
Images:
The 2018 Volkswagen Atlas is shown. (Provided by Volkswagen)
The 2018 Volkswagen Atlas is an example of a vehicle using the company's Modular Transverse Matrix (MQB) architecture. (Provided by Volkswagen)
The 2018 Volkswagen Atlas has an ultra-high-strength steel kick panel, which probably contributed to the lack of major intrusion during an IIHS narrow-offset crash test. (Provided by Insurance Institute for Highway Safety)
The 2018 Volkswagen Atlas has hot-formed ultra-high-strength steel in many areas of the body-in-white, which probably contributed to how intact the vehicle's passenger cage looks following an IIHS narrow-offset crash test. (Provided by Insurance Institute for Highway Safety)
Some of the safety technology found on the 2018 Volkswagen Atlas. (Provided by Volkswagen)
Share This: