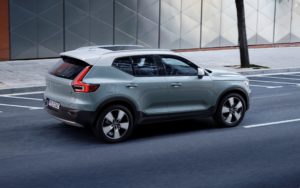 Volvo's XC40 will be the first in a new "Compact Modular Architecture" designed for electrification, the OEM said in revealing the vehicle earlier this fall.
Volvo described the platform in 2015 as "a smaller but equally advanced version of Volvo's acclaimed Scalable Product Architecture."
"The flexibility of CMA liberates Volvo's engineers and designers, allowing them to devise and introduce a wide range of new and alluring features whilst at the same time improving drivability, offering world-class safety features and connected car technologies," Volvo research and development Senior Vice President Peter Mertens said in a statement.
The question for shops will be just how closely the platform resembles its big brother in the design of the body-in-white.
Scalable Product Architecture and the XC90
Volvo first used the SPA platform on the 2016 XC90, a vehicle which was a pretty hot example of mixed-materials lightweighting back in 2015.
About 33 percent of the XC90 is boron steel. "We have quite a lot of that," Volvo body structure system attribute leader Henric Lindberg told the 2016 Great Designs in Steel. (See presentation here.)
Overall, 38 percent of that SPA body is hot-stamped steel. The bumper beams, strut towers and strut tower brace are aluminum.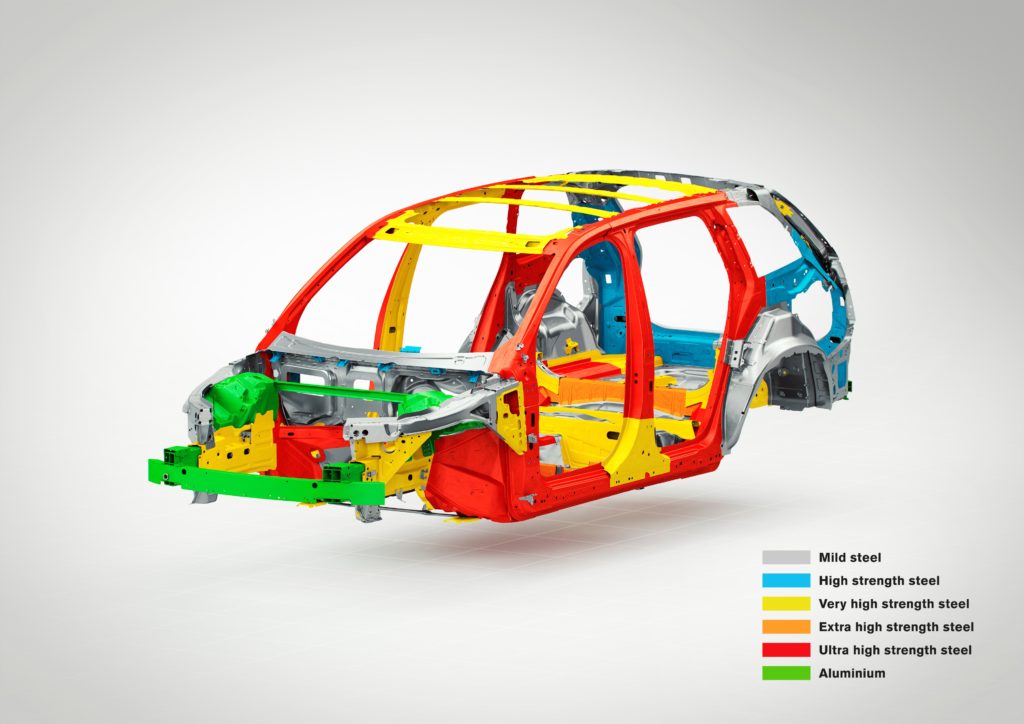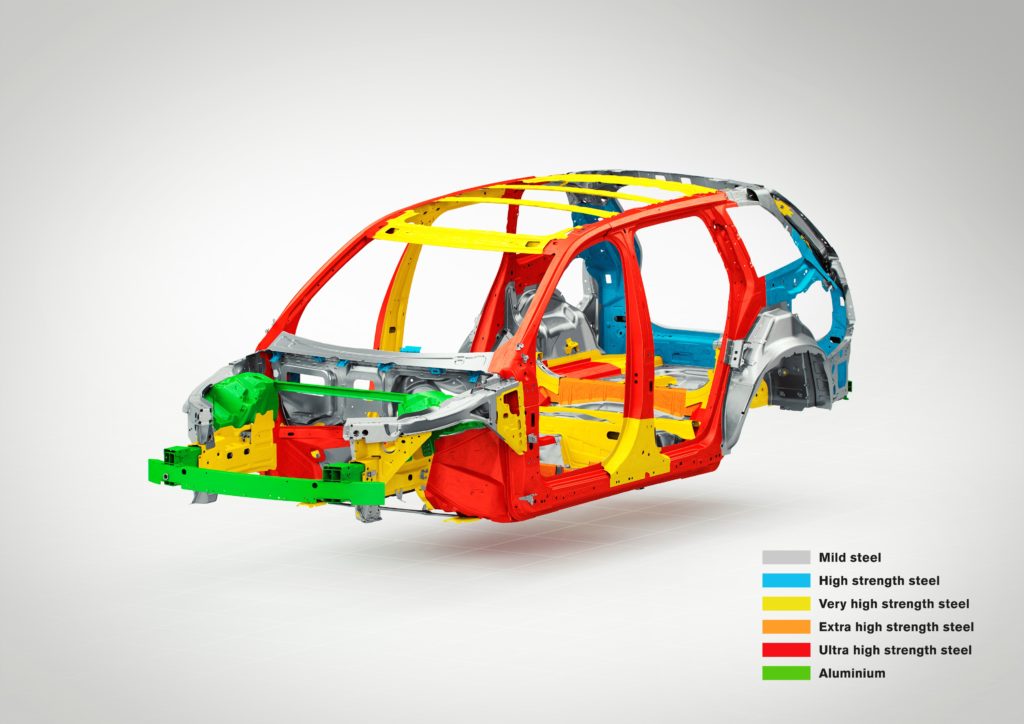 Exterior steel
But as noted above, it's unclear how much of this design will transfer over to the XC40 and the CMA. Asked about the similarities between the bodies-in-white of the CMA and SPA, a Volvo spokesman just said the platforms are different. It hasn't yet responded to an email Wednesday evening asking more specifically about the steel and aluminum mix within the structure.
The most in-depth Volvo XC40 news release focuses on active safety technology, such as advanced driver assistance systems, rather than the passive safety of a passenger cage, and a document on the CMA concentrates on the driving experience it delivers.
Volvo did note, however: "While the starting point for each new Volvo is the most advanced safety and driver assistance systems, the new XC40 also benefits from the high levels of safety and infotainment found in its larger stablemates."
Lindberg's presentation noted that Volvo was able to produce some of its steel in-house, and Volvo's "almost part by part" analysis allowed it to keep its lightweighting affordable. These qualities seem to increase the likelihood of an ultra-high-strength-steel-intensive XC40 with some complex and likely replace-only parts mixing high-strength and ultra-high-strength steel grades through tailored welding, rolling or tempering. For example, the B-pillar on the XC90: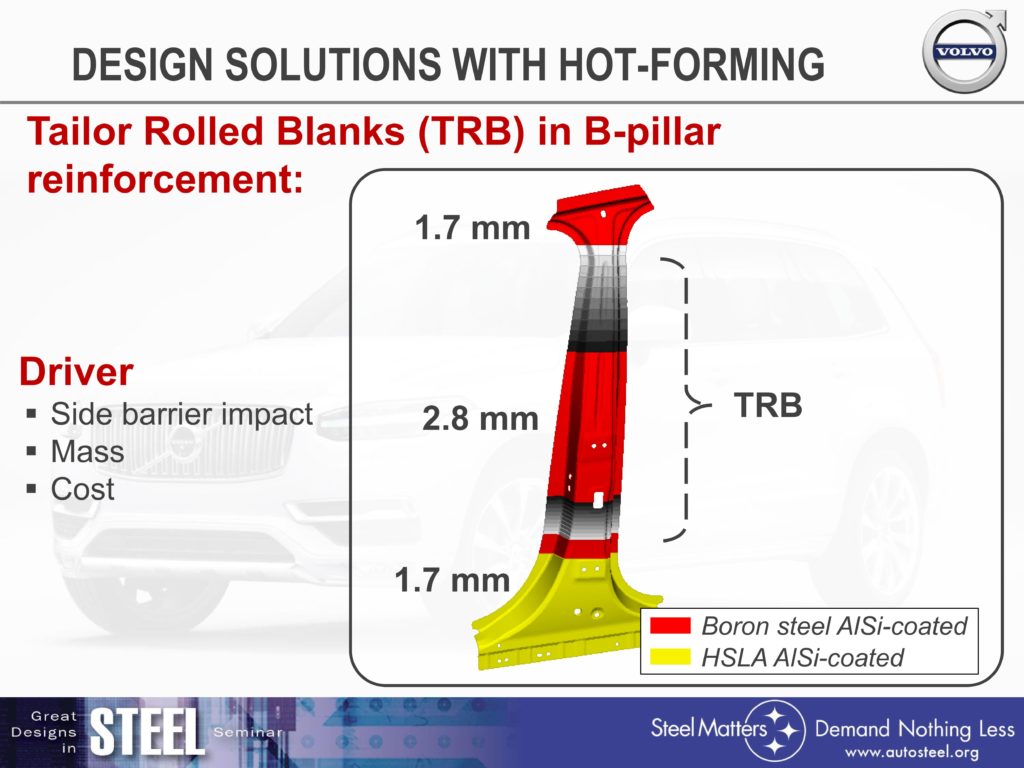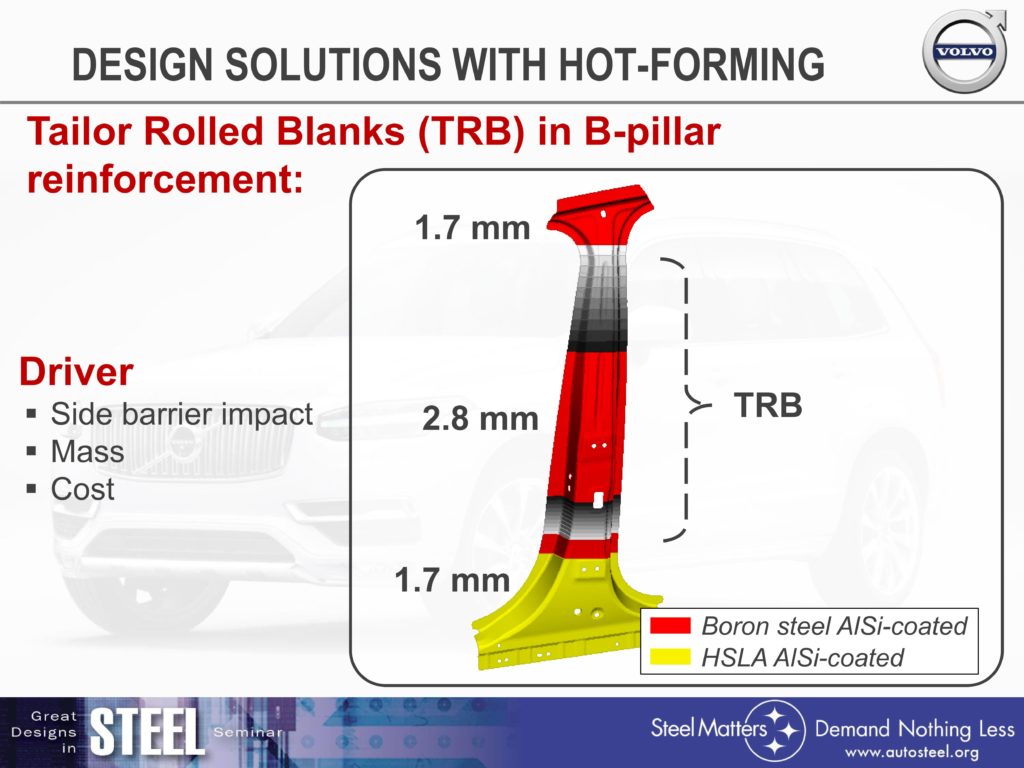 And since Volvo did inexplicably release some side-impact crash test photos, we can presume the B-pillar can indeed take a punch.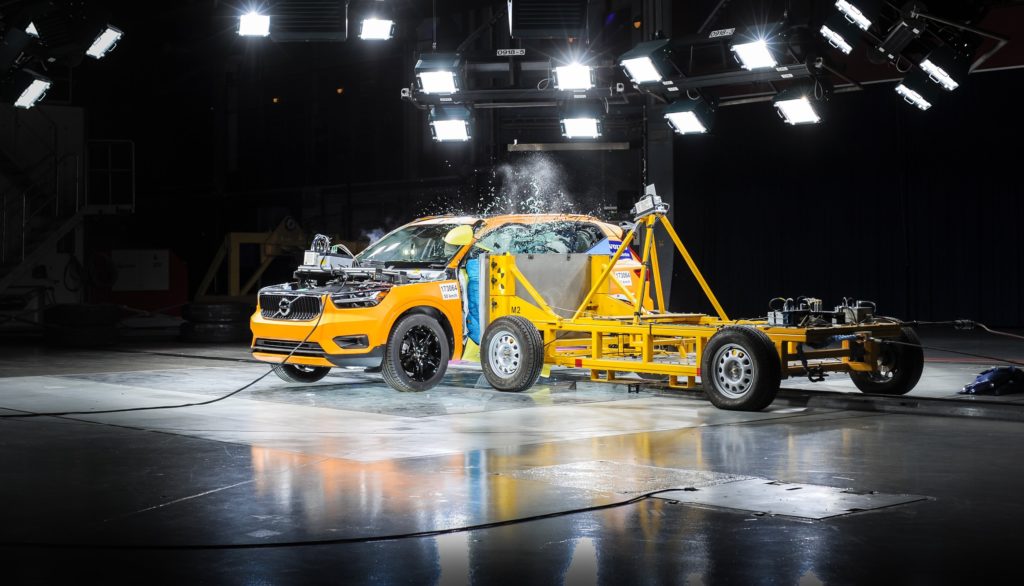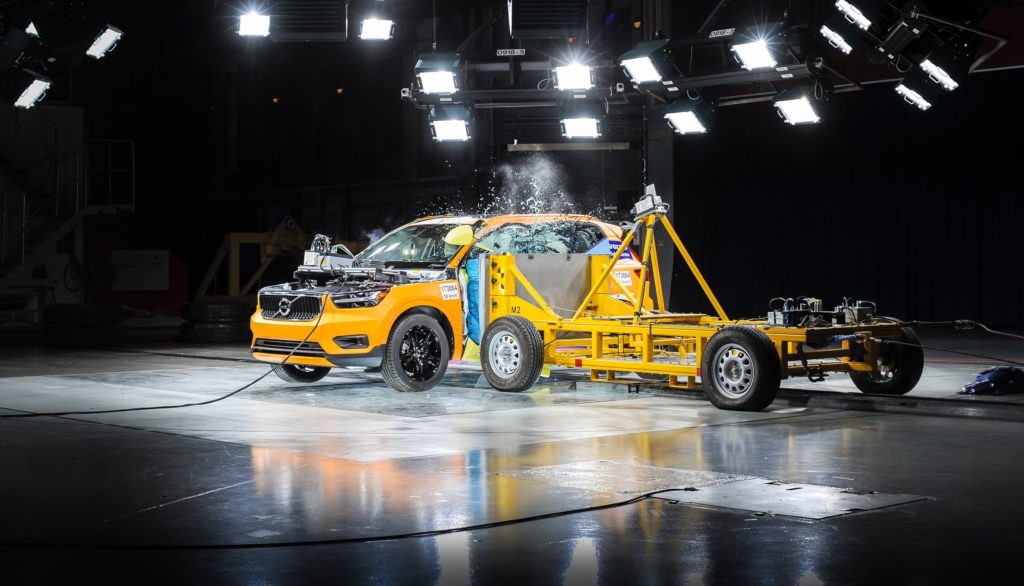 Volvo did confirm that the outside of the 2018 XC40 will be steel, rather than follow the path of other OEMs replacing exterior parts like hoods with aluminum.
"The XC40 body panels are made of steel," national media relations manager Russell Datz wrote in an email.
Two-tone paint
So while we don't entirely know what will be in store for a body technician, we do know painters will potentially have a more interesting time of it. Volvo promotes the XC40 as sporting "a broader and more playful colour palette, making it the most expressive model in Volvo's portfolio" — and this includes two-tone paint jobs.
"On the outside, a broad selection of possible colour combinations range from a solid, monochromatic theme, to dual compositions in vivid colours that lends themselves to self-expression, while the interior options deliver a truly youthful and premium feel," Volvo wrote.
Other OEMs are also offering two-tone designs for the model year. Toyota plans to start off with around 20 percent of the 2018 Camry's production run being two-tone to achieve sufficient market penetration but then taper off the percentage.
Asked about Volvo's proportion of two-tone vehicles, Datz said he couldn't give a specific estimate.
"It's hard to say what the take rate on two-tone coloring will be but it's safe to say the distinctive and bold design confirms XC40 customers' wish to stand out and express themselves in the world," he wrote.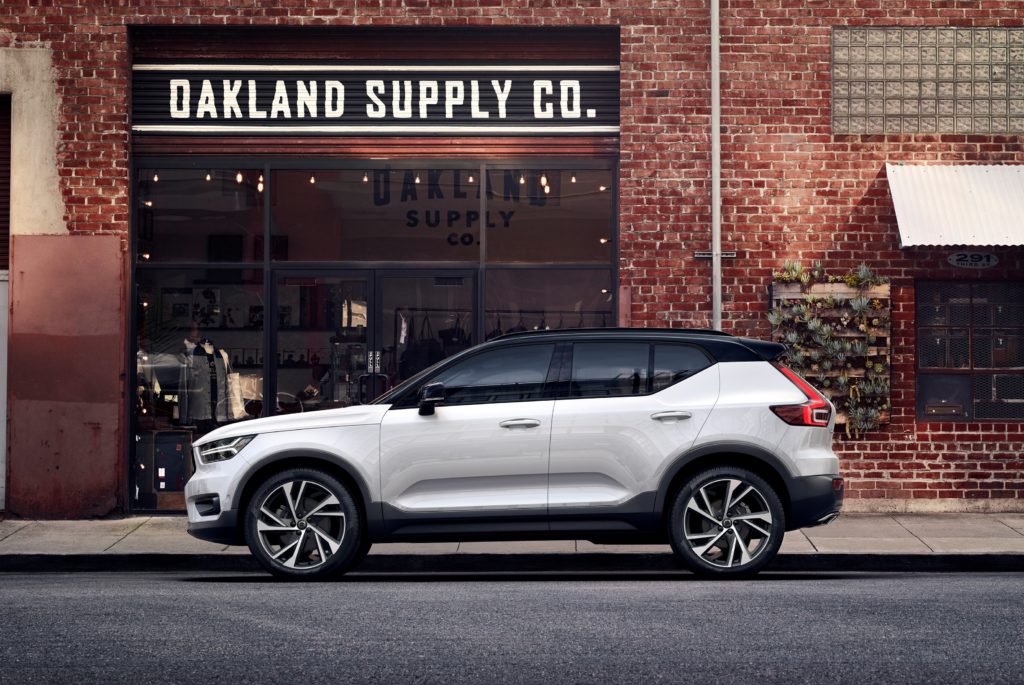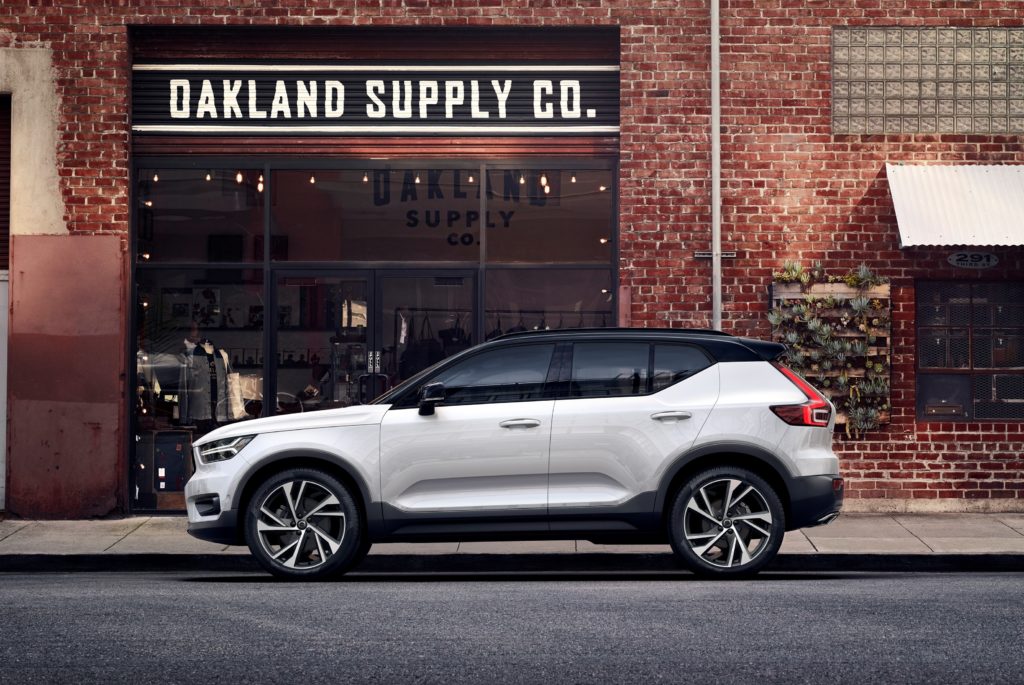 Care by Volvo
The XC40 also offers a brand-new form of leasing, known as Care by Volvo, which is similar to Cadillac's BOOK model but seems like it might be more affordable for the average user. Both services could shake things up for consumers, dealerships and the aftermarket.
According to Volvo, customers will pay the same monthly rate nationwide and get a new car every 24 months. The service will start with the XC40 and expand to other models, and a Care by Volvo owner will be able to substitute a different model temporarily for their daily vehicle.
"With Care by Volvo, we introduce a new car access for the modern age. In a time where consumers are used to transparent flat-fees for all sort of services, the traditional process of buying and owning a car can be perceived rather complicated," Volvo CEO Håkan Samuelsson said in a staetment. "Care by Volvo changes all of that."
There's no down payment, and elements like "insurances, taxes, service fees" are baked into the monthly price. Anyone with a Care by Volvo plan can also share the XC40 with friends and family "with a new digital key technology."
A digital key enables a host of other conveniences where third-party folks unlock and attend to your car like a pit crew for yuppies:
"Furthermore, Care by Volvo will, depending on regional availability, offer a range of digital concierge services, such as fuelling, cleaning, service pick-up and e-commerce delivery to the car," Volvo wrote in a news release.
This is a similar model to what Meineke President Danny Rivera noted might need to be the standard in automotive repair: Push a button and have a car picked up, repaired or serviced, and returned without the owner ever having to leave work.
"It may sound crazy to say that, but that's the world that we're going to arrive at," Rivera said in 2016.
Apparently, he called it, and we've arrived. This is the kind of thing collision repairers might need to consider providing as well in the next decade or two if digital key technology allow and consumer expectations dictate it.
"Time is a luxury for our customers, and with this service we are able to free up time in their daily lives," Care by Volvo Vice President Thomas Andersson said in a statement. "This is simply making life easier for our customers."
Asked about the other collision repair ramifications of the ownership model (Who picks the body shop? Would repairs involve OEM parts only?), Datz said he'd have more information about Care by Volvo following the December Los Angeles Auto Show.
Correction: The Volvo XC40 is completely new. The article has since been corrected to reflect that this is its first design generation.
More information:
"Volvo Cars' new global compact car range to be built on innovative architecture"
Volvo, Oct. 15, 2017
"Volvo Cars' new XC40 delivers a confidence-inspiring SUV designed for city living"
Volvo, Sept. 1, 2017
"Express your individuality with the new Volvo XC40 small SUV"
Volvo, July 21, 2017
"Having a new Volvo XC40 will be as hassle free as having a mobile phone"
Volvo, Sept. 21, 2017
"AHSS Technologies in the 2016 Volvo XC90"
Volvo via Great Designs in Steel, May 11, 2016
Images:
The 2018 Volvo XC40 can be ordered with a two-tone paint job. (Provided by Volvo)
The body-in-white of the 2016 Volvo XC90 is shown. (Provided by Volvo)
Volvo used tailored parts mixing different steel grades on the 2016 XC90. (Provided by Volvo via Great Designs in Steel)
Share This: