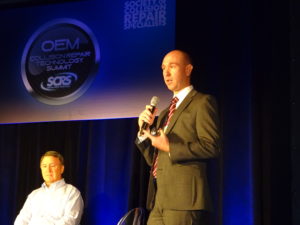 Experts in OEM Collision Repair Technology Summit panels on Thursday stressed education and repair procedures when asked to provide a takeway for the collision repair industry.
Despite the technical expertise of the panelists and the rapid technological change of the OEM fleet, the true message from the Society of Collision Repair Specialists' headliner SEMA week event is then arguably cultural. Commit to learning and taking direction from an OEM, rather than experimentation and assumption, and you'll at least have a fighting chance of keeping up with technical trends and avoiding a lawsuit.
"The future belongs to the prepared," said SEMA vehicle technology Vice President John Waraniak, one of the moderators.
Here's what the three sets of panelists felt were the most important things shops should hear when asked for takeaways by their respective moderators. (Continue to check Repairer Driven News in the future for coverage of the more technical aspects of the panels.)
'How Automotive Research is Driving Change in Vehicle Design, Technology and Function'
"These guys are doing it right," Mississippi State Center for Advanced Vehicular Systems Associate Director Matthew Doude said of the collision repairers in the audience. "They're here learning about what the future is like. …
"The shops that aren't learning, I think will be left behind."
Some of them will vanish as advanced driver assistance systems reduce collisions and repair complexity increases, Doude said.
He said the repairers at the event "doing it right … should encourage their colleagues."
Kaiser Aluminum engineering Vice President Doug Richman, an expert on the automotive aluminum which should skyrocket on vehicle exteriors over the next few years, said "it's now impossible" to repair a vehicle without following OEM procedures.
"You can't guess anymore," he said.
"It's a really complex and continuing to get more complex industry," Richman also said, noting later that "without your success, we're all in trouble."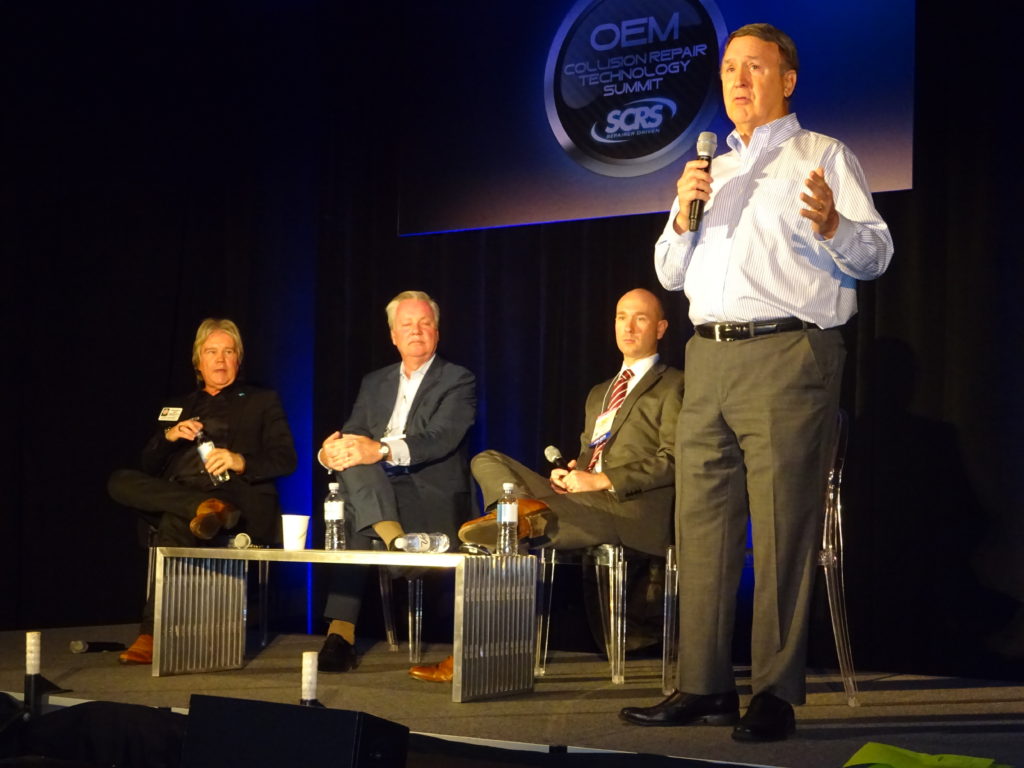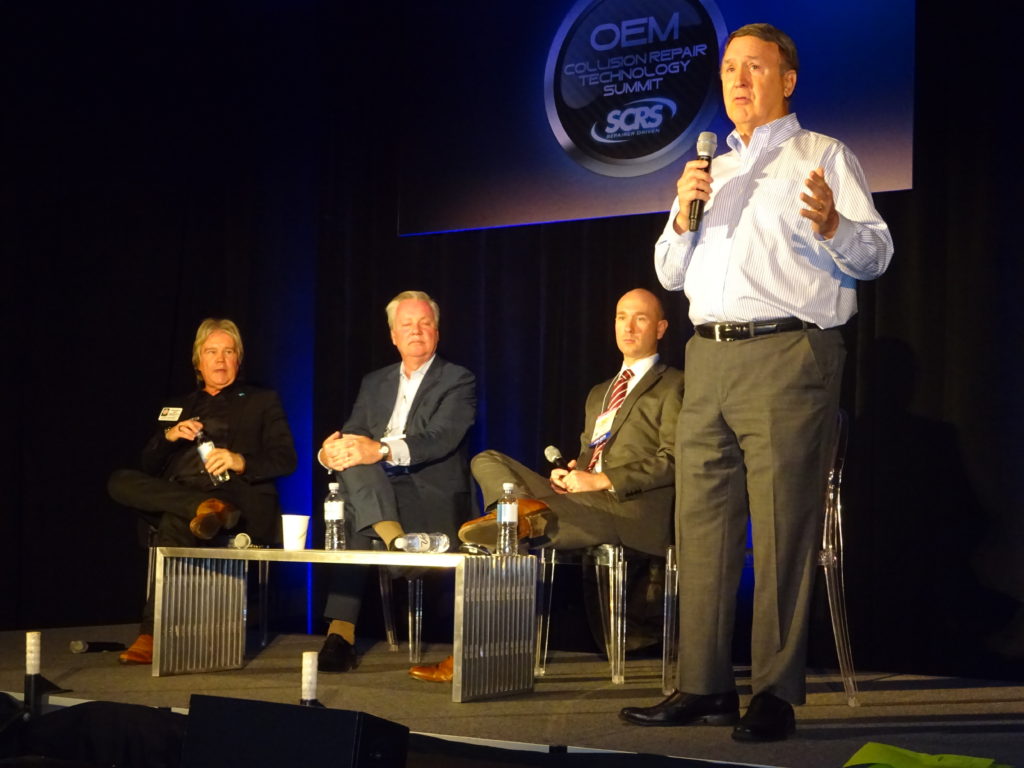 Ducker Worldwide Managing Principal M. Scott Ulnick said he couldn't add anything more to the changing materials sentiment. Instead, he stressed autonomous technology — including the ADAS systems that SEMA demonstrated could be invented by aftermarket providers and added to less advanced vehicles. (For example, we watched one exhibitor Wednesday demonstrate a wireless backup camera system which could be installed on older models. That could cut into your frequency.)
He described it as not a theoretical, "'a lot to be seen'" speculative notion but a reality.
"We're past the tipping point," Ulnick said. ADAS is an $8 billion industry for OEMs, and worth $1.5 billion to aftermarket developers, he said — and unlike something like lightweighting is a consumer-driven trend, not a regulator-driven factor. This means the technology could accelerate "a lot faster."
'The Impact of Advanced Vehicle Systems on Routine Repair Process and Procedure'
"Don't underestimate the importance of software in the future," said Dean McConnell, director of the Continental ADAS business unit, global customer programs, and NAFTA OEMs chassis & safety division.
Shops who integrate technology and equipment roadmaps into their business plans have a greater chance of being successful, he said.
"'I need to look up the repair procedures every time'" said Honda collision assistant manager Scott Kaboos.
Auto Care Association regulatory and government affairs Senior Vice President Aaron Lowe called training important and advised shops look at the amount of resources, such as tools and information, in existence.
"We fought a lot of battles" said Lowe, who fought to achieve the Right to Repair access privileges shops enjoy today. But it's up to independent shops to take responsibility and use the capabilities his organization helped win for you.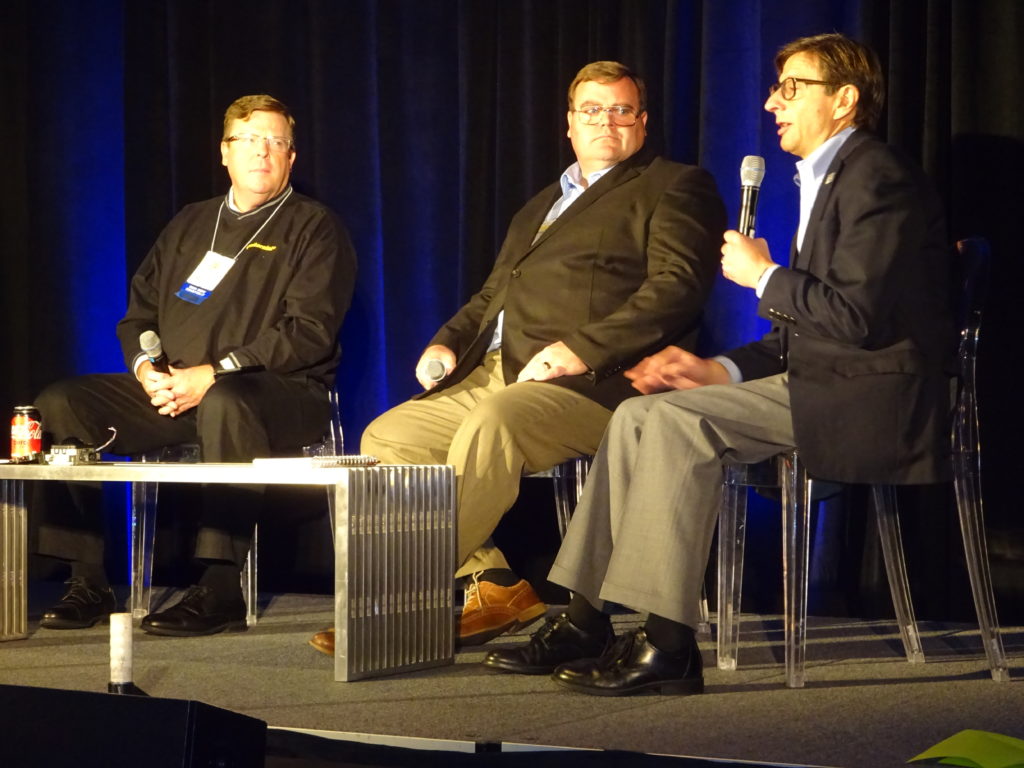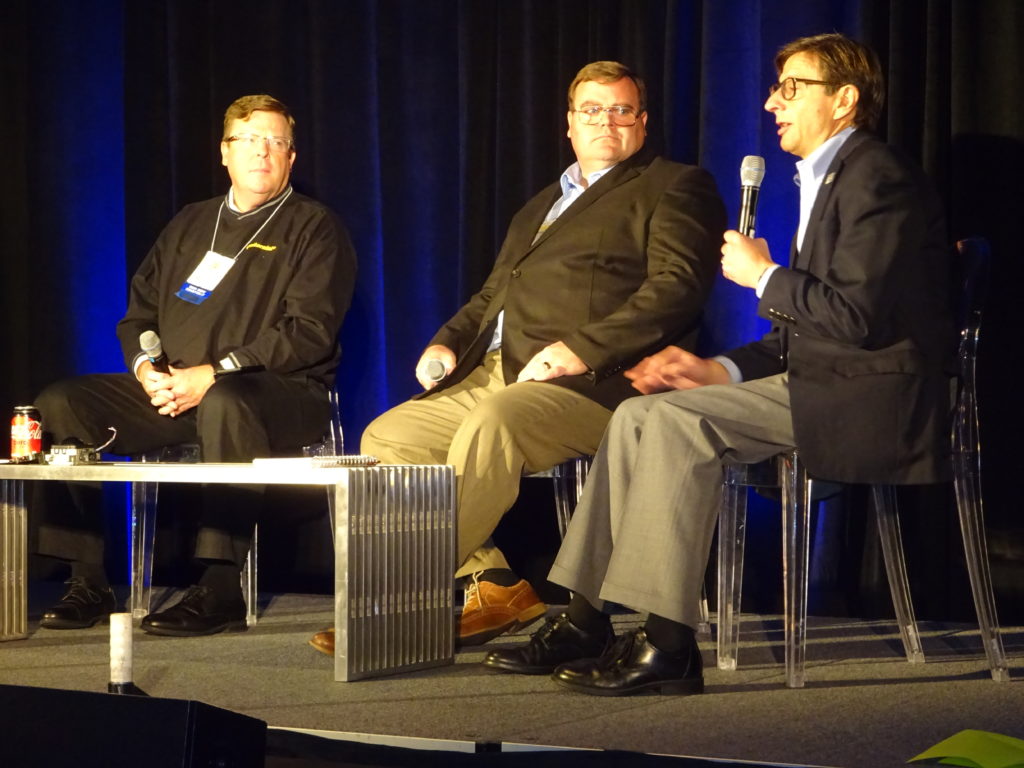 'The Hidden Dangers of Vehicle Technology, Improper Repair Methodology and Your Liabilities'
"The industry's changing," said Assured Performance Vice President and general manager Aaron Clark. "You need to change with it."
Be disciplined, protect the consumer's best interest, and make sure to research the vehicles you will repair, Clark said.
"If you can't fix the vehicle correctly, don't fix it," he said.
"Ditto,"Audi collision programs Director Mark Allen, adding, "But you're responsible."
Educate yourself, train technicians, equip appropriately, and inform the customer, he said.
"You are a professional … Conduct yourselves as such," he said.
"Research. Document. And inform," Todd Tracy of Tracy Law Firm said. He also advised repairers in states lacking auto body repair associations to create one at the state level and for major cities. It's how repairers could educate themselves, he said.
Vehicle Information Services collision repair attorney Erica Eversman argued that a national committee made solely of OEMs and repairers needed to be convened to develop repair standards. It would define training and equipment standards needed for anyone working on a vehicle.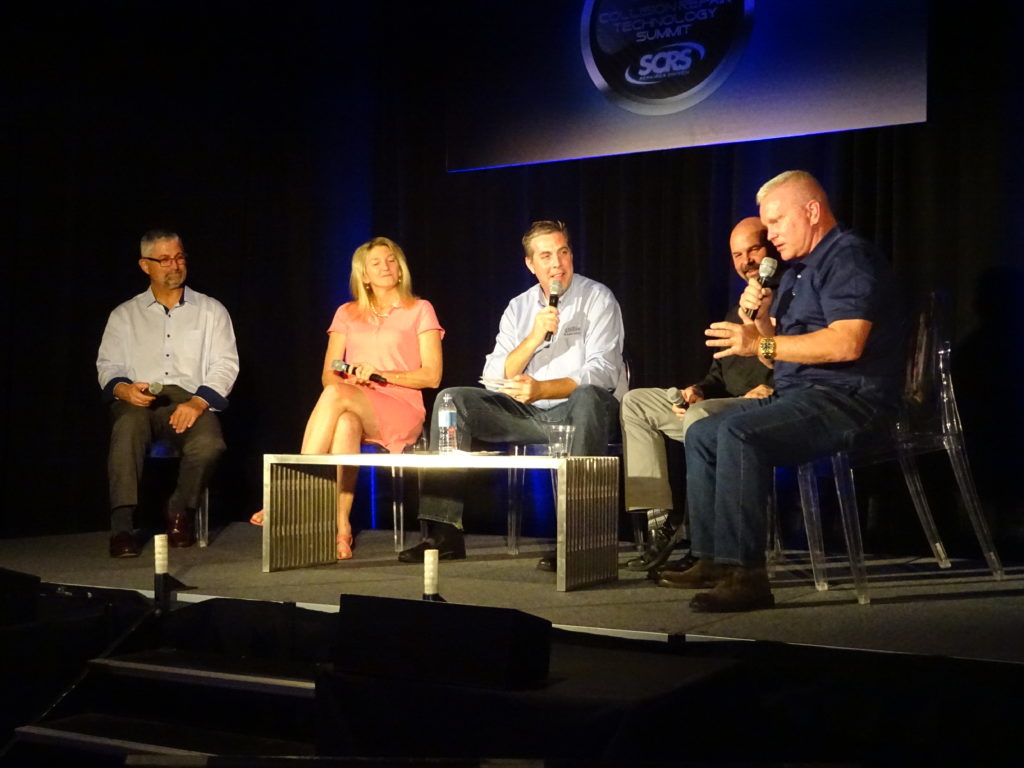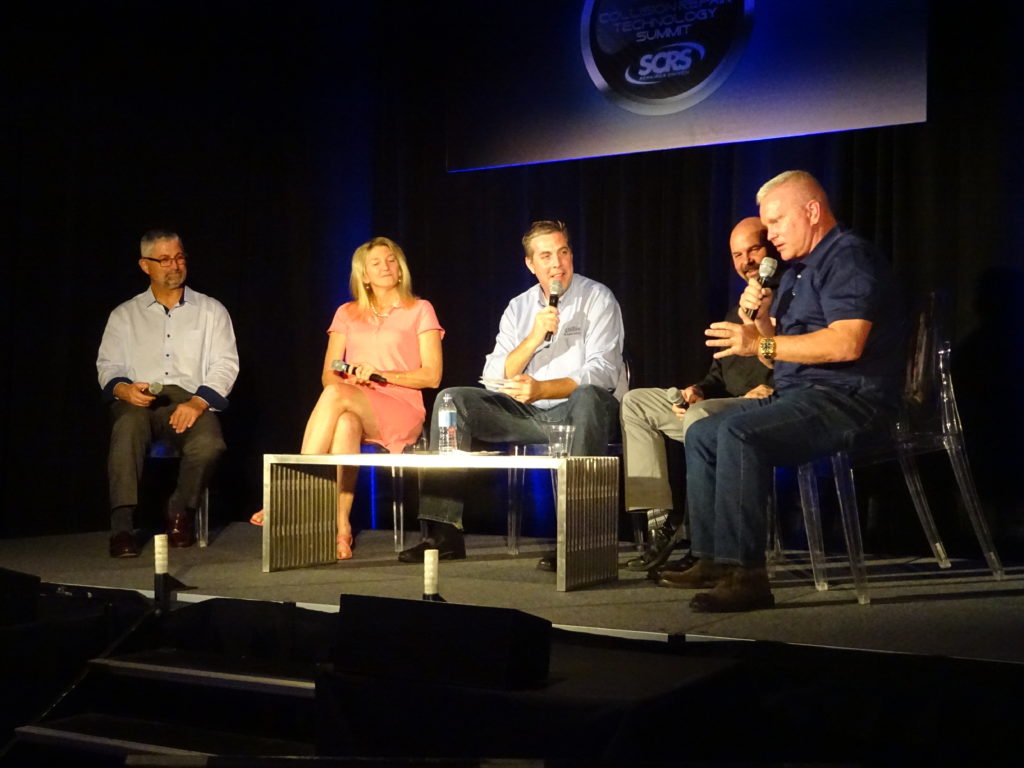 Images:
From left, Kaiser Aluminum engineering Vice President Doug Richman and Mississippi State Center for Advanced Vehicular Systems Associate Director Matthew Doude participate in a SCRS OEM Collision Repair Technology Summit panel at SEMA 2017. (John Huetter/Repairer Driven News)
From left, SEMA vehicle technology Vice President John Waraniak, Ducker Worldwide Managing Principal M. Scott Ulnick, Mississippi State Center for Advanced Vehicular Systems Associate Director Matthew Doude and Kaiser Aluminum engineering Vice President Doug Richman participate in a SCRS OEM Collision Repair Technology Summit panel at SEMA 2017. (John Huetter/Repairer Driven News)
From left, Dean McConnell, director of the Continental ADAS business unit, global customer programs, and NAFTA OEMs chassis & safety division, Honda collision assistant manager Scott Kaboos and Auto Care Association regulatory and government affairs Senior Vice President Aaron Lowe participate in a SCRS OEM Collision Repair Technology Summit panel at SEMA 2017. (John Huetter/Repairer Driven News)
From left, Audi collision programs Director Mark Allen, Vehicle Information Services collision repair attorney Erica Eversman, Ellis & Associates Managing Director John Ellis, Assured Performance Vice President and general manager Aaron Clark and Tracy Law Firm owner Todd Tracy participate in a SCRS OEM Collision Repair Technology Summit panel at SEMA 2017. (John Huetter/Repairer Driven News)
Share This: