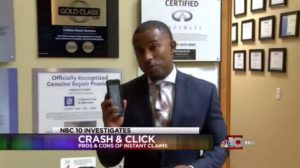 A Louisiana television news station has alerted vehicle owners in a three-state region to the existence of photo estimating and the potential for damage to be overlooked.
"I think it's a really great tool," Insurance Information Institute communications Vice President Loretta Worters told KTVE, characterizing photo estimating apps merely as a way to obtain an "initial estimate" quickly and conveniently.
The piece also discusses an unspecified video-chatting app facilitating quicker discussion — and therefore resolution — between insurers and shops.
The KTVE story references the volume and quality of photos, which might mislead some consumers. (Even if Ansel Adams took and sent 100 photos of a wreck with his smartphone, he'd still be risking an incomplete estimate and an unsafe car without a teardown, diagnostic scan and 3-D measuring.)
But the broadcast mostly stresses that interior damage could be invisible in an exterior photo and expert physical inspection is required — implying this should be done by a properly equipped and trained body shop.
"It's all about how you take the pictures, and who you bring those pictures to that can make all the difference in the world," reporter Randall Newsome says.
"They can't see all the damage" Parker Auto Body owner Matt Parker tells KTVE (surrounded by OEM certification placards). The only way to know the repair scope is to "tear it down and find out what kind of damage is hidden."
On the whole, both shops and insurers can use the story as an accurate presentation of photo estimating's strengths (including the insurer's personnel cost savings) and limitations. A convenient way to get the ball rolling on a claim? Sure. A complete assessment of everything wrong with the vehicle? Forget it.
More information:
"Crash & Click: The rise of car damage photo claims"
KTVE (MyArkLaMiss), Nov. 8, 2017
Featured image: KTVE reporter Randall Newsome appears in a November 2017 news story about photo estimating. (Screenshot from www.myarklamiss.com)
Share This: