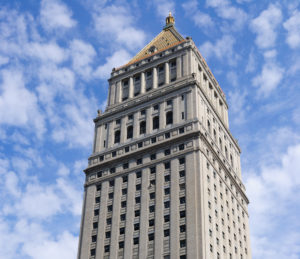 The Second Circuit Court of Appeals on Wednesday reversed a lower court's decision and ruled that a Syracuse, N.Y., collision repairer had presented enough evidence that its allegations related to Nationwide's assertions of market rates could survive a motion for summary judgement.
The decision in Nick's Garage v. Nationwide relies in part on a similar ruling Wednesday in Nick's Garage v. Progressive.
A Nationwide spokesman said in a statement Friday that "Nationwide is aware of the decision and we are reviewing all of our options at this time."
The opinions look at the specific language of policyholders' contracts with the carriers and New York law, Vehicle Information Services attorney Erica Eversman observed Friday. She noted that the arguments might not apply to a different carrier's policy or state's law (despite the court referring to its own decision against Progressive.
Nevertheless, the Nationwide opinion still provides a strong piece of ammunition for shops seeking to counter a common insurer argument, Eversman wrote in an email.
"In essentials, the insurers brought issues that shops and insurers have been at odds over for years to a very influential court, and they have now been told that their self-determined labor rates are not what the prevailing market rate means," Eversman wrote.
"… These are important decisions for the industry and will have an impact on how insurers do business in the future.  Shops need to make certain they push to be paid proper rates and that they push to use the parts that are appropriate for the repair in all instances."
Nick's Garage sued Nationwide on behalf of customers who had assigned the collision repair facility their policy benefits. Nationwide had refused to pay some of the shop's charges, which would have left the customers on the hook for the difference.
New York Northern District Court Judge Mae D'Agostino rejected many of Nick's Garage's arguments and declared summary judgment (an automatic win) in favor of Nationwide. On Wednesday, a "substantial part" of her decision was reversed by a Second Circuit panel made up of Judge Pierre Leval, Judge Raymond Lohier Jr., and Eastern District of New York Judge Edward Korman.
Nick's Garage still has to prove its points in trial and survive motions to dismiss. But the appellate court's ruling in the Nationwide case (and Progressive case) bolsters the argument by shops that a reasonable prevailing rate is what the actual market charges — not necessarily what DRP or even non-DRP repairers have agreed to accept.
"With respect to labor rates, Insurer undertook to show that its settlement offers were sufficient to repair the vehicles to their pre‐accident condition using the 'going rate' for labor. It relied on a declaration of Kevin Reynolds, one of its claims managers," Leval wrote for the panel. (Italics his; bold emphasis ours.) "Reynolds averred that, during the period at issue, Insurer allowed $44–46 per hour for hourly labor rates, and that this 'was the going rate in the marketplace during the . . . timeframe, and was the hourly . . . labor rate accepted by all collision repair shops in the Syracuse, New York marketplace with the exception of [Garage], and one other Syracuse area auto collision repair shop.' Reynolds further averred that Insurer 'had back‐up collision repair shops willing to repair and restore the . . . vehicles at issue to pre‐accident condition' at the price Insurer offered in its estimates to Garage.
"If Nationwide's obligation had been to pay amounts for which it, the insurer, could reasonably be expected to repair an insured's car, the Reynolds Declaration might have been sufficient. The declaration is reasonably understood as meaning that, in dealing with Nationwide, all the repair shops in the area (excepting Garage and one other) accepted Insurer's $44‐46 rates. If that had been the measure of the Insured's obligation, Garage would have been required, in order to defeat the motion, to show that, notwithstanding Reynolds's averment, there was a genuine dispute of fact as to the labor rates Insurer could reasonably be expected to pay.
"However, Insurer's obligation was to pay 'the amounts for which the claimant [i.e., the  insured] can reasonably be expected to . . . repair the property.' The fact that an insurer such as Nationwide, which has the capacity to bring a substantial volume of business to a repair shop, can prevail upon shops to agree to a particular labor rate does not show that one of the insurer's claimants can reasonably expect to get her car repaired at that rate."
"… Deposition testimony from Insurer's Material Damage Claims Director and Associate Claims Director for the Northeast further confirmed that Insurer's labor rate was determined by what insurance companies could impose—the rates it could use to reach agreement with repair shops, and its review of subrogation data from other insurers showing the rates used in their claims estimates—and not the rates claimants might reasonably expect to pay in the marketplace."
Leval also pointed out Nick's Garage's claim that Nationwide and other insurers had granting shops other concessions in exchange for reduced labor rates — which would skew the rate data.
"Furthermore, even putting aside the disparity between the rates Insurer could obtain and rates that claimants could obtain, Garage has raised a genuine question of material fact as to whether the rates Insurer offered for the vehicles at issue were in fact the reasonably expected rate in the marketplace," Leval wrote. "Garage presented evidence that Insurer and other insurance companies had a practice of masking the true effective labor rate it paid to repair shops by offering repair shops 'labor rate concessions' when it had difficulty reaching agreed prices with repair shops. These concessions— either in the form of lump sum payments or allotting additional labor hours for repairs—had the disguised effect of paying repair shops more money for labor, while maintaining the appearance (in estimates summaries and subrogation data) of paying the lower labor rate it included in its estimates to Garage. By presenting this evidence, Garage raised a genuine issue of material fact as to whether Insurer's offers to Garage were based on a labor rate at which the claimant could reasonably expect to have a damaged vehicle repaired."
"Nationwide's decision is equally interesting," Eversman wrote. "First, Nationwide's policy obligation was to pay an sufficient amount to repair the vehicle for what the claimant (i.e. the consumer) could reasonably be expected to obtain the repair.   Also, the court identified that there was evidence that Nationwide and other insurers were concealing the true effective labor rate they were paying by engaging in lump sum payments (concessions) or by adding additional labor hours to the estimates (without changing the labor rate fields in the software) to maintain the appearance that shops were accepting the low (disguised) labor rate in the estimates and subrogation data."
Featured image: The Second Circuit Court of Appeals' Thurgood Marshall Courthouse.(SeanPavonePhoto/iStock)
Share This: