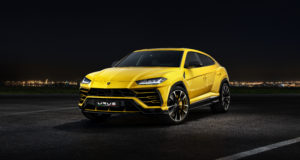 Lamborghini on Monday announced it had launched the Urus, a sub-5,000-pound "Super SUV" built using steel and aluminum.
Despite the OEM's history with carbon fiber, its news release Monday gave little mention of the substrate when describing the vehicle's structure. (We've contacted the manufacturer for more details on its use of composites in the body-in-white and exterior or the Urus. Continue to check Repairer Driven News for updates.)
Instead, Lamborghini on Monday highlighted a "blend of aluminum and steel."
"At a curb weight of less than 2,200 kg, Lamborghini's team of designers and R&D engineers focused on weight reduction throughout the car's chassis, with an intelligent materials mix to ensure maximum stiffness for the best possible comfort and handling as well as lower fuel consumption and CO2 emissions," the OEM wrote. "The chassis is a blend of aluminum and steel, with frameless aluminum doors, torsional beams replacing a C-pillar, and cross-members in aluminum contributing to the lightweight Urus, as does the chassis floor in a high-strength steel material."
Lightweighting brought the Urus to a 4,850-pound curb weight. For a little context, the Mercedes G65 and Bentley Bentayga, both of which Automotive News Europe called competitors to the Urus, weigh 5,924 pounds and 5,379 pounds, respectively.
The Urus' production prompted Lamborghini to build a nearly 525,000-square-foot paint shop. Automotive News Europe reported the OEM never had done its own paint in-house before.
Besides being generally noteworthy as another example of auto body lightweighting with aluminum and steel coexisting, the Urus is significant because of the kind of footprint it could have in the U.S. Lamborghini said 1,041 of its 3,457 sales last year were in America.
Automotive News Europe reported the OEM said it could produce between 3,500 and 4,000 Uruses worldwide a year — which would be more units than the entire company sold in 2016.
"With the Urus, Lamborghini is not only entering a segment that is completely new to our brand, we are also doubling the output of our company," CEO Stefano Domenicali told Automotive News Europe. "Each decision needed to be properly pondered."
If Lamborghini follows these predictions and trends. 1,050 new Uruses annually could produce a small bump for Lambo-certified shops nationwide. (Get a sense of where the Urus would fall saleswise with the model rankings compiled by GoodCarBadCar).
Other features potentially of interest to repairers:
The rear wheels can turn up to 3 degrees either way for a better driving experience.
The SUV has frameless windows, and the C-pillar-less rear windows are "glass-on-glass," according to Lamborghini.
The front axle has an aluminum subframe, while the rear axle has "an aluminum and steel hybrid construction cell."
The ride height can be controlled, and "Easyload Assist, standard on the Urus, allows the height at the rear of the Urus to be lowered for easy loading."
Perhaps not surprisingly for a vehicle you're paying $200,000 to drive, there's no Level 3 autonomy like that found in Lamborghini's relative the Audi A8. The Urus' advanced driver assistance systems end at Level 2 autonomy, according to Lamborghini.
More information:
"Lamborghini bets on power with Urus SUV"
Automotive News Europe, Dec. 4, 2017
"The new Lamborghini Urus: The world's first Super Sport Utility Vehicle"
Lamborghini, Dec. 4, 2017
Featured image: The 2018 Lamborghini Urus' body-in-white uses steel and aluminum, according to Lamborghini. (Provided by Lamborghini)
Share This: