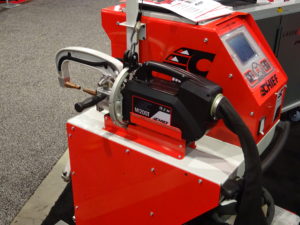 Some modern spot welders can adjust themselves to whatever substrate is placed in front of them and even offer feedback and carry a record of an auto body shop's weld quality.
However, a collision repairer should still perform destructive testing, panelists said in two new educational videos recently released by the Society of Collision Repair Specialists. The films were Parts 2 and 3 of a free trilogy on squeeze-type resistance spot welding in collision repair.
SCRS' now-Chairman Kye Yeung (European Motor Car Works) said his shop performs a test weld on a panel made out of the same material of the vehicle, and "it's a line item charge."
The shop keeps the coupon or test panel for the duration of the repair but discards it after that.
"We just do not have enough capacity to store every panel," Yeung said.
Technically, with three separate metal thicknesses, three separate test welds might be needed, he said.
"Due diligence, you should be doing that," Yeung said, calling it a decision a shop would have to make and build into a repair plan.
Former SCRS Chairman Barry Dorn (Dorn's Body and Paint) said his shop performs test welds on small pieces of metal and keeps them in the repair order. "That way, I'm not storing it," he said.
The existence of software able to keep a record of squeeze-type resistance spot weld history might eliminate the need for even that storage, Dorn said. SCRS board member Dave Gruskos (Reliable Automotive Equipment) said that some "top" welders will allow a shop to keep a record of their welds and demonstrate that "'yes, I fixed that car properly'" in the event of a vehicle failure — or that a squeeze-type resistance spot weld was incorrect and shot sparks.
A tech might even be able to get a notice of such a bad weld from the machine and be able to compensate by welding next to it — but that of course depends on factors like the vehicle and heat from the first weld, Gruskos said.
"Always get the manufacturer's procedure," Gruskos said.
Modern welders are able to adjust themselves to the variables of a particular car through an automatic feature. Gruskos said OEM approval of such welders involves running the machine through a series of welds — one might have one layer, another two, another five — without resetting the machine. (ProSpot has a good example of this here.)
If the automatic feature is working properly, "every weld should be exactly the same," Gruskos said.
But SCRS educator Toby Chess (Kent Automotive) and Dorn still advocated destructive testing despite this automation.
"You don't always want to trust it," Chess said. He said he's encountered instances where the machine declared the weld correct when in reality it wasn't.
"Just to protect yourself and the shop, do a destructive test," Chess said.
A destructive peel test typically involves measuring the diameter of the nugget revealed after the weld fails, according to Chess. A rule of thumb typically holds that the nugget's diameter should be five times the metal's thickness, he said, giving the example of a 1.2 mm thick coupon yielding a 6 mm nugget.
If the weld is too small, a shop might consider increasing the amperage and voltage, he said.
Dorn said often salesmen will encourage a shop to "'just hit the button and go'" — the welder will adapt to whatever you're doing.
"We still need to trust, but verify," he said.
Ultimately, the owner and the tech are the ones holding the liability if the weld fails, and owners are "responsible and accountable" to ensure the equipment works and the technicians are properly trained, according to Dorn.
Gruskos described two examples of how not to test a weld. Don't weld on the customer's vehicle, tap it with a chisel and pronounce it good to go. And don't just pull the trigger and assume the existence of a "a dot on both sides" confirms the weld was done right.
And don't hedge your bets by repeating the weld, according to Gruskos.
Gruskos said he's seen a welder try to ensure a proper weld by hitting the trigger a second or third time at the same location. But the first weld delivered the maximum heat the metal can take. Repeating the weld destroyed the characteristics of the metal (higher-strength steels, for example, lose strength when subjected to excessive heat). With a third weld, "you're just speeding up your cracking process," Gruskos said.
More information:
"SCRS Education Committee Presents – Resistance welding Part 1 of 3 – Power and Preparation"
SCRS YouTube channel, Sept. 28, 2017
"SCRS Education Committee Presents – Resistance Welding Part 2 of 3 – Selection, Service and Support"
Society of Collision Repair Specialists, Nov. 22, 2017
"SCRS Education Committee Presents – Resistance Welding Part 3 of 3 – Producing Successful Welds"
Society of Collision Repair Specialists YouTube channel, Nov. 22, 2017
Featured image: The Chief MI200T provides feedback on the quality of a repairer's weld. (John Huetter/Repairer Driven News)
Share This: