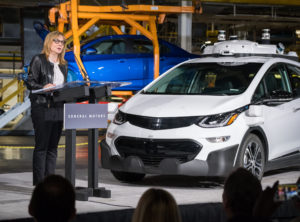 Cheap AI taxi fleets will take huge big bites out of the miles driven by more accident-prone humans in private passenger vehicles, General Motors President Dan Ammann said last month, suggesting a significant business impact for shops in more urban areas.
Ammann told analysts in a Nov. 30 investor event that GM planned to have self-driving taxis in at least one major U.S. urban area by 2019 — the start of a business with gigantic potential for the General and autonomous vehicle rivals.
Ride-sharing today constitutes only 0.1 percent of all the miles driven in the U.S., Ammann said during a Nov. 30 investor event. (See slides.)
"We still have 99.9 percent of the opportunity in front of us," he said.
It costs about $2-$3 a mile today to take a service like Uber or Lyft in a city like San Francisco, according to Ammann.
If GM can get the cost to $1 a mile by using a driverless vehicle, it would would "totally blow open the addressable market here," according to Ammann. A GM which can command 20 percent of all miles driven is making hundreds of billions of dollars if not trillions, he said.
Bring the cost-per-mile below $1, and consumer demand rises again to where GM and AI taxi competitors could end up handling 75 percent of all miles driven. The potential has climbed 300 times to a $1.6 trillion AI taxi industry.
"Price is really the dominant factor" in rideshare usage, Vogt said.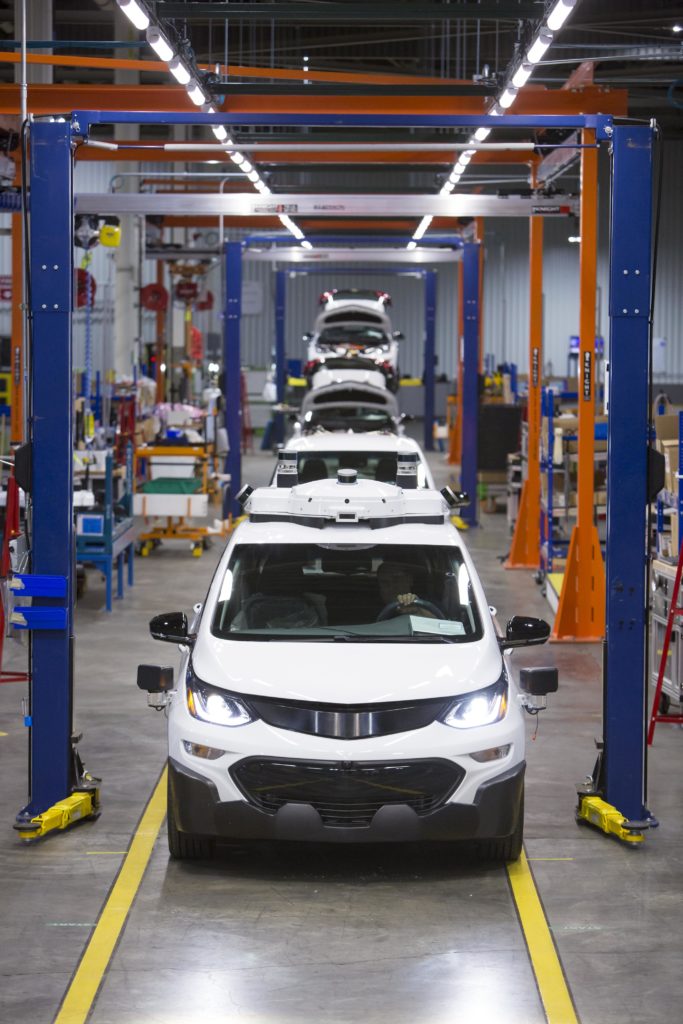 Ammann said GM actually sees a "pretty clear path" to this sub-$1 future.
$2.50/mile ridesharing in San Francisco finds roughly $1.75 going to the human driver and $0.75 kicked back to the ridesharing company, according to Ammann. But the rideshare company burns through $1/mile in expenses like incentives and loses $0.25 every time someone rides a mile in one of its vehicles, he said.
At early-stage autonomous, charging a customer merely $1.50 a mile is possible "really early on," Ammann said. But all of the revenue goes to the company who owns the AI taxi, and that company's only costs are depreciation and operations expense.
The unit economics are "vastly better," he said, yet the customer still saves money.
At $1.50, "we think we're making money," according to GM Chief Financial Officer Chuck Stevens. The company thinks $1 a mile could be a 20-30 percent margin business and achieved by the middle of the next decade, he said.
AI ridesharing alone could be a bigger business than GM's core business today, but with "significantly higher" returns, Stevens said. Ammann said that GM sees the potential to reach revenue-miles measured in billions "very quickly" after the 2019 launch.
GM has "three big levers" to drop the bill below $1/mile for a customer, according to Ammann: the vehicle cost, the usage and the car's lifespan.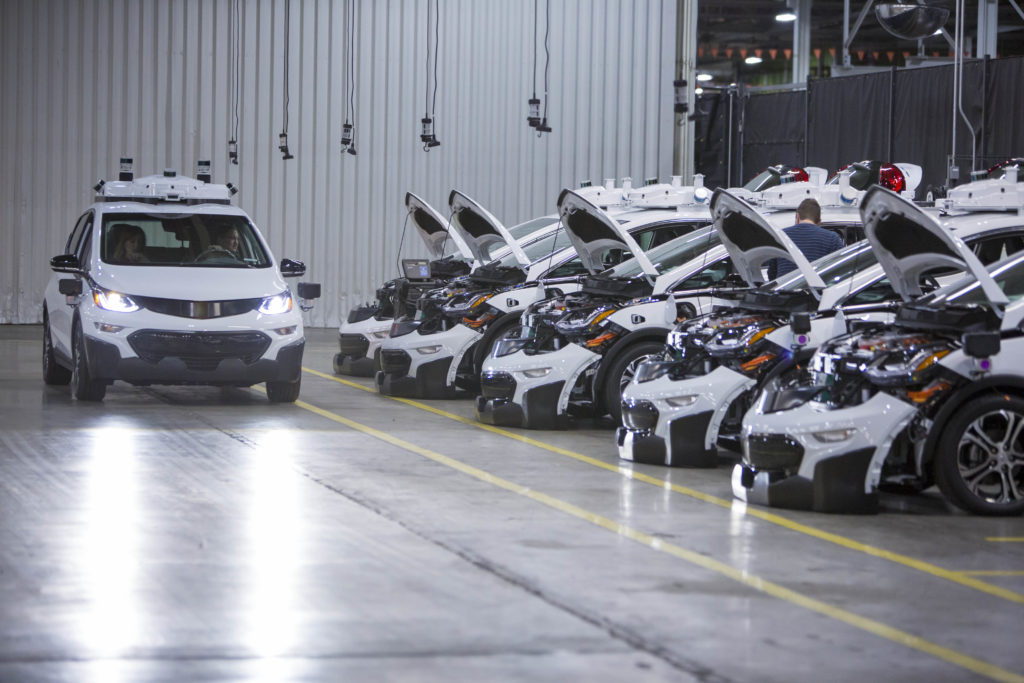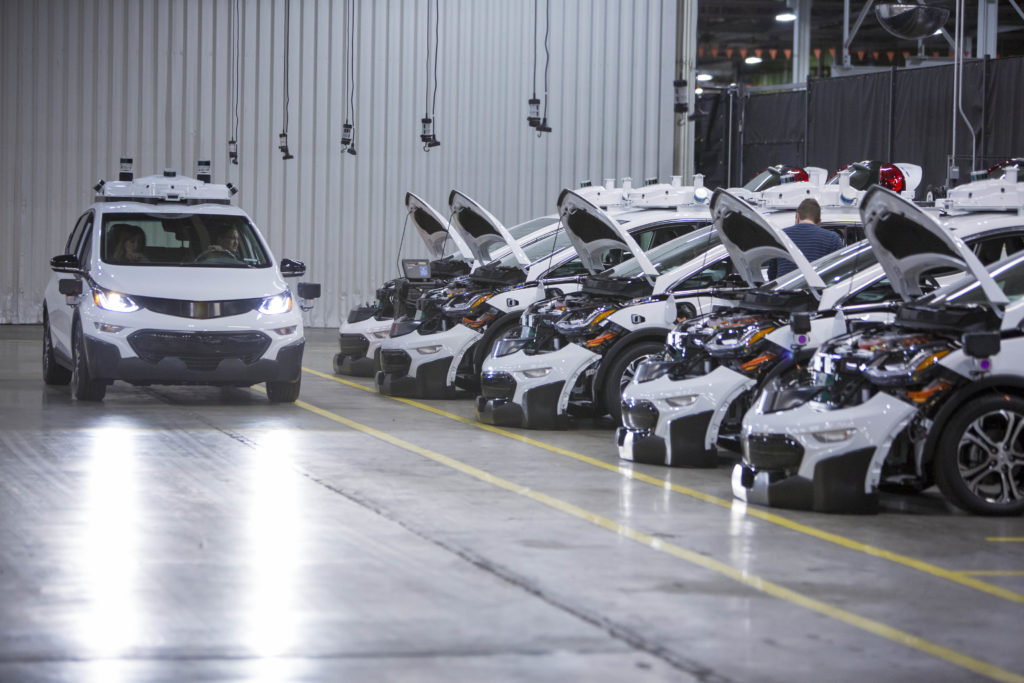 The cost of an autonomous taxi becomes easier to manage when you're GM and can just build the car rather than buy one at a markup. But the technology is still pricey, particularly as GM sees all its automated vehicles as being electric.
However, GM thinks it can get the battery price down to $100 per kilowatt-hour soon — it's at about $145 today — and cut the price of the computing platform, according to Ammann.
And here's the kicker — GM just bought a company which manufacturers part of what Ammann described the other major expense of an autonomous vehicle, the sensors. The acquisition of Strobe, announced in October, will allow GM to cut the cost of LIDAR down as much as 99 percent, according to Ammann.
A LIDAR system today (radar but with lasers) costs $20,000, according to Kyle Vogt, CEO of GM's autonomous car subsidiary Cruise. The next generation is $10,000 and has 1.25 times the range. But GM's ownership of Strobe and Cruise means the company can have 2.5 times the range but pay only $300, he said.
In terms of usage, GM could grow it two to three times by allowing the AI vehicles to deliver goods during off-peak periods of consumer demand, such as the middle of the day, according to Ammann.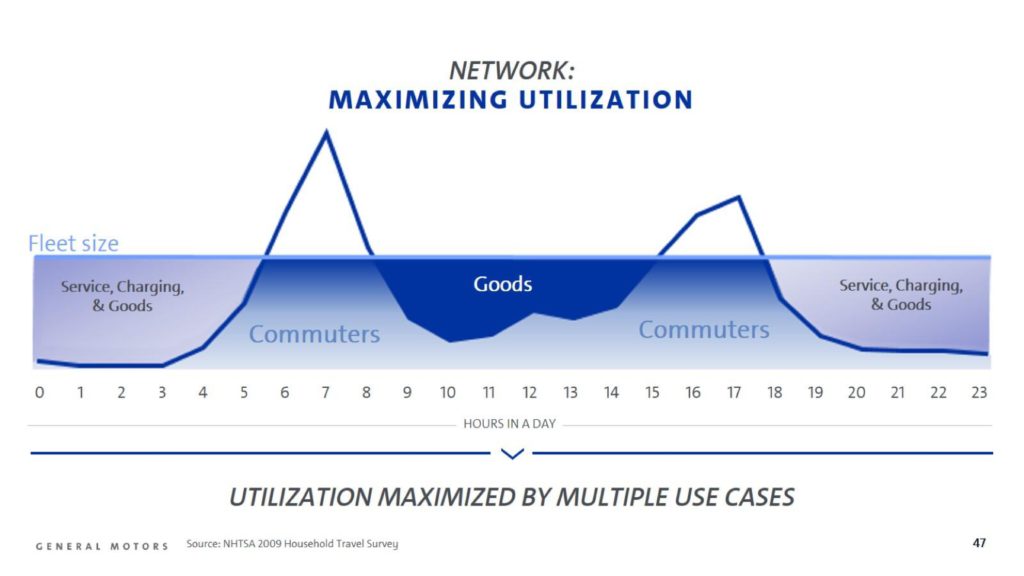 And finally, lifespan could be extended three to four times (it probably helps that electric vehicles aren't thought to need as much service and maintenance) by switching to an aircraft maintenance-type model of scheduled maintenance and service, he said.
GM also has the ability to leverage all the sensors necessary to keep an autonomous vehicle aware of its surroundings and sell the information off to make even more money. Because of the redundancy needed for safety, the car has 14 cameras, three articulating radars, five LIDARS, eight long-range radars and 10 "ultra-short-range" radar systems, according to a GM slide.
Once GM deploys the self-driving Bolts at scale, it will become the "world's largest mobile sensor platform" and have access to a huge amount of data, according to Ammann. This will include an "immense" amount of video, "lane-level traffic data," high-definition maps, and other information derived from the self-driving taxis going about their business.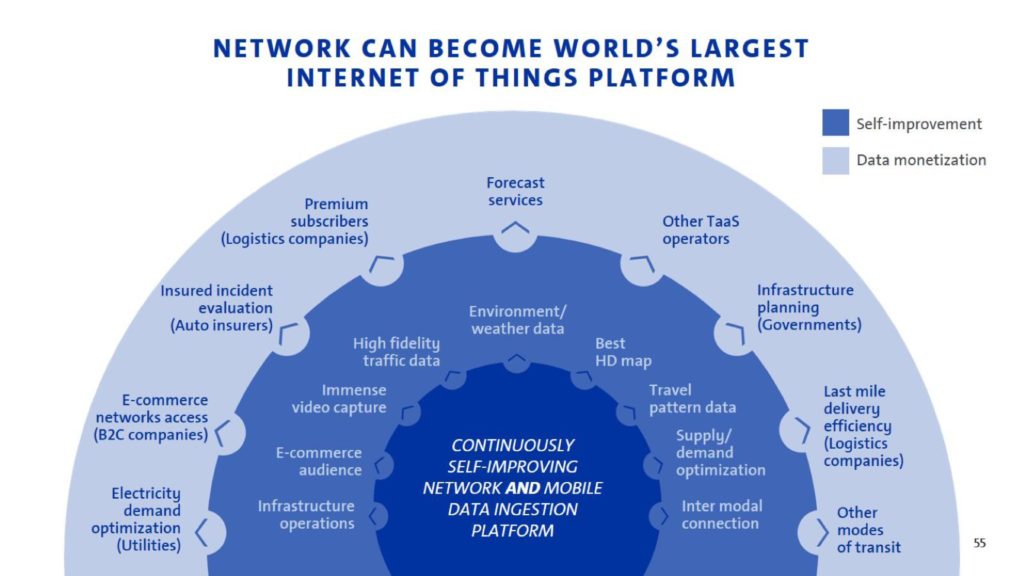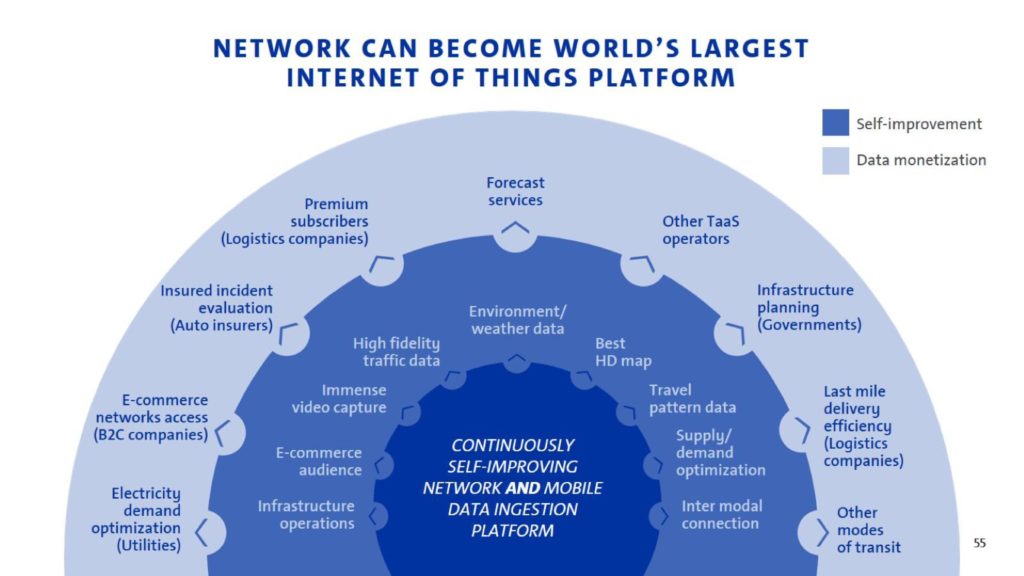 For example, $100 billion of the $1 trillion paid out in auto claims is fraud, Ammann said. But the GM vehicles will have information about accidents, and getting paid to prevent a fraction of that $100 billion could be money in the bank for the company, he said. Ammann also cited congestion, which costs logistics companies $100 billion in lost productivity. Why not let GM's vehicles warn other commercial fleets of that congestion in time to be rerouted — for a price?
The lifetime revenue for GM of an average car today is in the $30,000s, most of which comes from its sale to a dealer, Ammann said. But an autonomous vehicle has a "big time dimension," and the OEM can "pretty early on" reach a point where that car has hundreds of thousands of dollars in lifetime value to GM both in fares and data monetization, he said.
More information:
General Motors autonomous taxi investor webcast
General Motors, Nov. 30, 2017
General Motors autonomous taxi webcast slides
General Motors, Nov. 30, 2017
"GM Produces First Round of Self-Driving Chevrolet Bolt EV Test Vehicles"
General Motors, June 13, 2017
Images:
General Motors CEO Mary Barra said June 13, 2017, that GM finished a mass-production run of 130 test autonomous Chevrolet Bolts. (Steve Fecht for General Motors; copyright General Motors)
Share This: