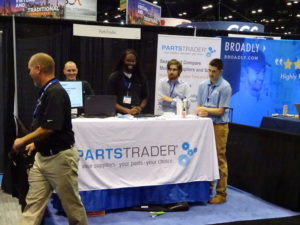 Citing unnamed sources, CRASH Network reported Thursday that State Farm is no longer demanding Caliber Collision use PartsTrader as a condition of participating in the Select Service network.
Caliber said it had no comment on the report, and State Farm public affairs specialist Tanya Robinson wrote in an email, "State Farm has nothing to share with Repairer Driven News."
"PartsTrader does not comment on the State Farm DRP program," PartsTrader marketing manager Julie Hardesty wrote in an email. "Please refer to State Farm for additional information regarding this issue."
CRASH Network cited Calibers in North Carolina, Georgia and three other states as reporting they no longer had to search for components on PartsTrader under State Farm's direct repair program. A Georgia source told CRASH Network that "due diligence in searching for alternative parts" was still necessary.
Though one Caliber source told CRASH Network he thought the nation's largest MSO would soon lose the PartsTrader mandate enacted the Hartford direct repair program, the insurer told us it had no intention of dropping the requirement.
"The Hartford is committed to helping get its customers back on the road as soon as possible and will never compromise the quality or safety of a repair," spokesman Thomas Hambrick said in a statement. "PartsTrader enhances the number of quality parts options for repairs and we have no intention to discontinue use of it within our direct repair network."
PartsTrader has been controversial, with some shops embracing the electronic parts procurement system and others upset about being forced to use it as a condition of the No. 1 insurer's direct repair program.
More information:
"MSO DROPS PARTSTRADER, REMAINS ON SELECT SERVICE"
CRASH Network, March 15, 2018
Featured image: PartsTrader's booth at NACE 2017 is shown. (John Huetter/Repairer Driven News)
Share This: