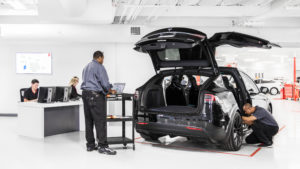 CEO Elon Musk told shareholders Tuesday that Tesla should "by the end of this month" open company-owned body shops in "at least the Top 10 metro areas" and prestock them with parts.
"In fact, we think we might be able to do, for a lot of them, like same-day body repair," Musk said during the annual stockholder meeting. (Comments start around 44:39.)
The comment drew some applause, and Musk followed up by saying, "It's definitely possible," and said the company wanted to have "at least some number" of same-day repairs.
Musk said that with third-party repairs, "best case, it's about a week, and some cases, it's several weeks. so this is pretty exciting, actually."
Tesla would take its largest service centers, add an "annex" for body repairs, and prestock them with parts "so you don't have to wait for parts to come from the factory," according to Musk.
"We're making major progress on the body shop front," Musk told shareholders. Tesla also was "rapidly expanding service centers," and drivers should see a doubling in capacity year-over-year, he said.
Tesla-certified shops have described an inadequate parts supply chain as the true reason for delays in repairs to the company's vehicles, in contrast to the OEM's claim that repairer inefficiency is to blame. Tesla funneling parts to its own shops would seem to exacerbate delays at third-party repairers.
Tesla certification and the Tesla auto body repair process will take on greater importance once Tesla works out its manufacturing kinks and can produce Model 3s at scale.
Musk boasted Tuesday that the Model 3 had already become the No. 1 mid-sized premium sedan despite only one version being available. All-wheel drive will come out at the end of the month, and a lower-cost version (likely a reference to the truly mass-market $35,000 edition) with a lower battery life will be available at the end of the year, according to Musk.
Model 3 is now the best-selling mid-sized premium sedan in the USA pic.twitter.com/xI7LsgRI6D

— Tesla (@Tesla) June 5, 2018
The first-quarter 2018 California Auto Outlook, published by Auto Outlook on behalf of the California New Car Dealers Association using Data Source: IHS Markit, concluded Tesla was No. 1 in the "Near Luxury" segment. As the state is probably one of the most Tesla-friendly in the country, the statistics are interesting — particularly if you're a repairer there.
Tesla owners registered 3,723 Model 3s in California between January and March for a 14.3 percent market share, beating runners up Mercedes C-Class (3,323 registrations) and BMW 3 Series (3,260). The segment drops off sharply after those three, with the Lexus ES (2,044) and Infiniti Q50 (1,944) rounding out the Top 5.
California Tesla registrations in 2017 rose 11.3 percent to 19,598 in 2017. However, the first quarter of 2018 had already seen 7,350 registrations — which beats out brands like Infiniti, Chrysler, Mitsubishi, Volvo, and Land Rover.
Musk called it "quite likely" that the company could turn out 5,000 Model 3s a week by the end of the month. Production lines "have demonstrated" the ability to produce 3,500 cars a week already, and Tesla has upgraded them, Musk said.
More information:
Tesla 2018 shareholder meeting
Tesla, June 5, 2018
First-quarter 2018 California Auto Outlook
California New Car Dealers Association, May 22, 2018
Featured image: A Tesla Service Center is shown. The company plans to open Tesla-owned body shops in annexes of some large centers. (Provided by Tesla)
Share This: