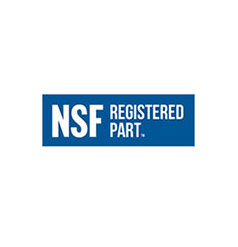 New NSF "registered" aftermarket parts meet a market demand, an NSF executive told the April Automotive Body Parts Association convention, according to a recent CRASH Network report.
"I would love to be able to certify all these products…but at the end of the day, what the market is saying is we don't have an appetite for certification," NSF automotive certification global managing director Robert Frayer said, according to CRASH Network.
Frayer told the ABPA convention that certified parts receive a manufacturer plant audit and "in-market testing," but registered parts don't, CRASH Network reported.
"Certified parts are eligible to bear the NSF mark which tells consumers and industry professionals that the part and the manufacturing facility have met the program's stringent requirements," NSF's certification webpage states.
"Registration affords companies an easy, quick and cost effective means to publicly demonstrate compliance to multiple industry standards and regulations," NSF's registration webpage states. "Products and services that meet registration requirements appear in the online NSF listings and can be referenced in marketing and other promotional information."
Whether it's appropriate to loosen standards and potentially confuse the market so vendors can save money is debatable, particularly given other aftermarket parts industry quality concerns raised by Frayer.
A June 11 Autobody News report by CRASH Network editor John Yoswick found Frayer calling on the aftermarket parts industry to ensure imitation parts still allow advanced driver assistance systems to work.
"It's one thing to design a bumper cover that fits the vehicle. It's another thing to design a bumper cover that allows for the proper installation of the proximity sensor, and making sure that proximity sensor works properly," Frayer said, according to Autobody News. "It's something that NSF is working very hard to make sure happens."
Autobody News also reported that Frayer said the company's NSF distributor certification arose in part because distributors weren't actually delivering NSF-certified parts a shop had ordered.
'Registered' parts
NSF publicly discussed registered parts in April and in 2017, according to CRASH Network, and it has published multiple news releases touting registered parts. However, NSF declined Tuesday to answer questions about the program.
"I have reviewed the inquiry with our team, and NSF has no comment on this question," NSF senior communications specialist Ken Bearden wrote in an email.
NSF filed for "NSF REGISTERED PART" and "NSF REGISTERED PRODUCT" trademarks in November 2016 for "Automotive parts and accessories, rearview devices for vehicles, rearview mirrors, tire pressure monitoring systems, and vehicular brake friction materials."
It's unclear if the trademark could apply to more automotive parts than the rearview "devices," — backup cameras — mirrors, TPMS technology and brake components.
NSF-certified parts receive the traditional blue circle containing the word "NSF." NSF-registered parts receive a blue rectangle stating "NSF REGISTERED PART" or "NSF REGISTERED PRODUCT."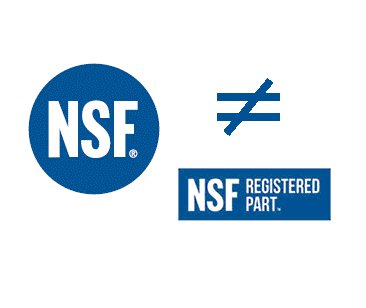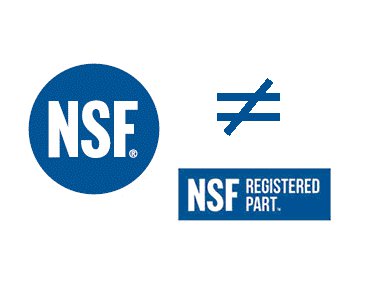 NSF announced its mirror registration in April 2017, a recognition that it said could be granted to mirrors with blind spot monitoring indicators or turn signals. Its first TPMS registration appeared in August 2017, and its debut brake-related registration was announced in October 2017.
In March, NSF announced it had registered HUSHAN Autoparts backup cameras. NSF's listings on Tuesday included scores of HUSHAN imitation rearview cameras for Buick, Chevrolet, Dodge, Ford, Jeep, Honda, Kia, Mazda, Nissan and Toyota vehicles.
"NSF registration allows manufacturers of cameras, such as HUSHAN Autoparts, to demonstrate that their products can be mounted appropriately and have been independently tested and evaluated to comply with Federal Motor Vehicle Safety Standard 111 (FMVSS 111): Vehicle Rearview Image Field of View and Quality Measurement," NSF wrote in a news release. "The evaluation also includes field-of-view and response-time testing."
"Registration by an independent, third-party organization provides added assurance that rearview cameras on vehicles meet federal regulations while also functioning and fitting correctly," Frayer said in a statement.
"NSF International's registration program helps identify high quality rearview cameras meeting FMVSS requirements," HUSHAN CEO YC Chen said in a statement. "When distributors, repair shops and insurers see a camera with the NSF International Registered Part mark they can be assured that the camera meets essential requirements for mounting, field of view and response time."
More information:
"REGISTRATION VERSUS CERTIFICATION"
CRASH Network, June 4, 2018
"Certification, Legislation Related to Non-OEM Parts Get Spotlighted at Convention"
Autobody News, June 11, 2018
"HUSHAN Autoparts demonstrates compliance with federal motor vehicle safety standards by earning first NSF registration for automotive rearview cameras"
NSF, March 22, 2018
NSF automotive part registration page
Images:
NSF-registered parts receive a blue rectangle stating "NSF REGISTERED PART" (or presumably "NSF REGISTERED PRODUCT," given NSF's other "registered" trademark). (Provided by NSF)
New NSF "registered" aftermarket parts meet a market demand for uncertified but still recognized parts, an NSF executive told the April Automotive Body Parts Association convention, according to a June 2018 CRASH Network report. (Provided by NSF)
Share This: