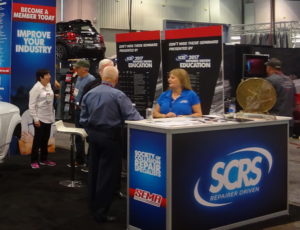 The Society of Collision Repair Specialists on Wednesday formally announced the start of early registration for its popular Repairer Driven Education and OEM Collision Repair Technology Summit at SEMA.
Classes and individual OEM Collision Repair Summit sessions are $75 now, $85 after the Oct. 12 early bird deadline.
"While continuing to pull in some of the nations' most sought-after subject matter experts, nearly half of the 20+ education sessions offered through Wednesday feature first-time RDE presenters; marking the continually refreshed curriculum offered by SCRS during SEMA week," SCRS wrote in a news release Wednesday.
The best deal is the full-series pass for $375, $400 after the deadline. It grants the repairer access to every RDE class, all three sessions of the Thursday, Nov. 1, OEM Collision Repair Technology Summit, the awesome Sky Villa afterparty in Elvis' old Westgate penthouse that night, and the brand new IDEAS Collide TED-style event Friday, Nov. 2. (Have a provocative new collision repair proposal or solution to an existing problem? Submit your IDEAS Collide video pitch to SCRS by July 31.)
Monday RDE classes return this year as well — late enough in the day that a repairer can fly to Vegas, check in, lose $20 at the tables, and still make the 3-5 p.m. sessions.
SEMA show passes much be purchased separately, but registering for Repairer Driven Education through www.scrs.com/rde will allow repairers to but a show pass or link RDE to their existing show registration.
Here's highlights from the course descriptions to help you plan your itinerary:
Monday, Oct. 29
3-5 p.m.: "2025 The Millennial Takeover – How to find, train & pay qualified people"
"Fast-forward to the year 2025 and beyond. What will it be like? What will be the same 7 years from now? What will be different? What trends might there be? What challenges and obstacles will our industry face? What sectors of staffing will likely be "hot" and not so hot?  Prepare your business for a mobile, educational and flexible workforce.  Where Will You Be?"
Mike Lanza, Sherwin-Williams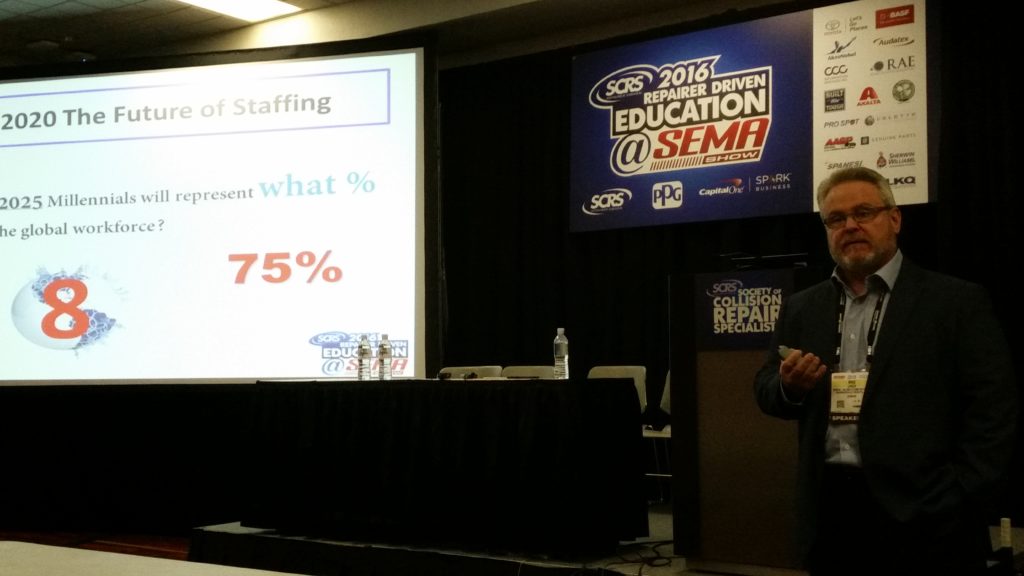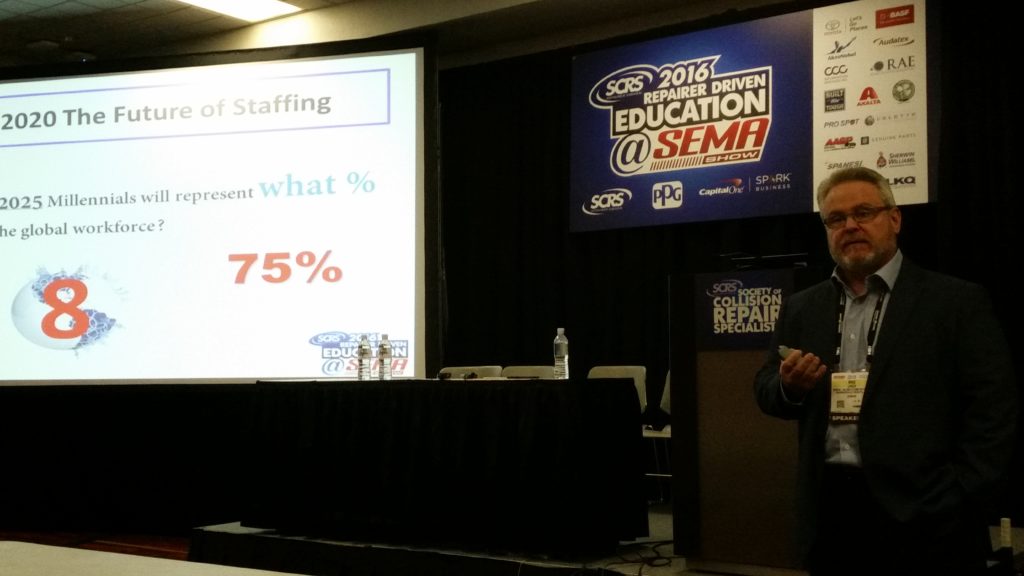 3-5 p.m.: "Corrosion Protection: Is your shop ready for the post repair inspection era?"
"This session is designed to educate repair facilities on the proper application of corrosion protection to protect the vehicle, and eliminate "red flags" during a post repair inspection or customer examination. Surveys have shown that many technicians fail to use enough, or any, corrosion protection products leading to diminished value claims and exposing the customer to safety concerns. We will show how the vehicle manufacturers apply corrosion protection on the assembly line, and how the shop must take extra precautions once a repair has been performed. We will discuss various quality control options and tips for sustaining a QC process. We will reference OEM corrosion protection guidelines and documents and discuss where shops can acquire them."
Shawn Collins, 3M
3-5 p.m.: "Gauges of Your Business: Maximize Profits in Your Collision Shop"
"Is your shop busy but not necessarily profitable? This informative and highly interactive class will give you a deep insight into the measurable components of your business. In this in-depth self-analysis of your numbers, you'll discover what actions could be taken to take your business to the next level."
Jim Anderson, DRIVE
Tuesday, Oct. 30
9:30-11:30 a.m.: "Auto Body Growth Hacks"
"Traditional marketing really doesn't work well for Body Shops…  If Yellow Pages are bringing you all the work you could hope for… then this class is not for you!
"Modern shops need to adapt to a changing market place. If you would like to know how to attract more and higher paying work then this class is for you. We will be showing attendees real life growth strategies. This class is Guerrilla Marketing designed for Body Shops."
Ryan Taylor, Bodyshop Booster; Mathew McDonnell, Big Sky Collision
9:30-11:30 a.m.: "Preparing for Negotiations"
"Could you imagine repairing a vehicle without knowledge of the processes and methods required to complete the repairs? Of course not. Then why do 80% of people engage in negotiations without a true underlying method? This will be a "grass roots" session on how to prepare for negotiations. This session is perfect for both experienced negotiators that do not operate with a set process and beginners with little to no negotiating experience. This session includes a proven step-by-step approach for gathering information and preparing for negotiations that can be duplicated time and time again, creating instant value in your business.  We will apply these skills to four different real-world scenarios that you are likely to face in your market."
Eric Newell and Andy Tylka, Tom & Ed's Autobody
9:30-11:30 a.m.: "Understanding Shop Liability in this new Era of Diagnostics, Calibrations and Programming"
"A Panel Discussion preceded with a presentation of how we got here regarding position statements, OEM service Information requirements, liabilities, and performing diagnostic and calibration procedures in a collision shop vs subletting."
Michael Quinn Sr. and Chuck Olsen, AirPro; Aaron Clark, Assured Performance; Scott Kaboos, Honda; Nick Notte, I-CAR; Jack Rozint, Mitchell; Todd Tracy, Tracy Law Firm
12:30-2:30 p.m.: "Visually Managed Collision Repair"
"Do you ever wish there was a way to implement more effective processes and procedures to help make your shop great? What about an effective way to constantly keep your team engaged and up-to-speed with these processes.  If you have these types of questions, 'Visually Managed Collision Repair' can help your shop achieve and maintain a leading edge.
"By providing the participant with the operational tools necessary to implement 'Visually Managed Collision Repair' this course will address the aspects of "visual management" in a collision center."
Lee Rush, Sherwin-Williams
12:30-2:30 p.m.: "Building your business to meet the direction of the OEM"
David Gruskos, Reliable Automotive Equipment
12:30-2:30 p.m.: "Facing Increased Complexity and Liability – How to Protect Your Collision Repair Business!"
"Utilizing real examples of where proper repairs saved liability (bodily injury and property damage) for the Body Shop.  Then to add interests and perspective, we will simultaneously make the case for an automotive aftermarket industry that is thought to be a higher hazard – tire retreading.  We will show parallel lessons of loss prevention and proper techniques that transfer the majority of the liability on retreading tire casings to the OEMs. Then our focus will be Collision Repair Loss Prevention which will include the following points from the following: cameras showing your work; critical safety components and structural work; certifications; OEM costs; remembering who the customer is; assistance that an insurance professional should provide; not settling; merits adopting operation procedures with language similar if not identical to the SCRS position statement; technology challenge; talent acquisition/development and to grow margins.

David Willett, Intrepid Direct; Ron Reichan, Precision Body and Paint; Shaughn Kennedy, Intrepid Direct; Bill Eveland, Eveland Brothers
3-5 p.m.: "The Imperative of Accessing and Retaining OEM Repair Information on every Structurally Repaired Vehicle"
"The session will explain the three critical reasons; why, when and how to use OEM repair information to achieve optimization of the repair estimate as well as the repair itself. By not accessing the manufacturer repair procedures the estimate does not reflect the procedures that the shop is to be paid for. Also, a shop can no longer assume what components are structural, what vital repairs are to be included and the manufacturer's position statement(s). Finally, a shop must maintain an accurate record of what information was available, what information was accessed and have a verifiable record for future reference in the event of a subsequent loss to the vehicle and any potential legal implications."
Pete Tagliapietra and Wil Peck, NuGen IT
3-5 p.m.: "4 Steps to Set Proper and Profitable Labor Rates for Your Individual Shop"
"(C)ollision repairers are faced with the reality of a substantial immediate and future investment in training, tooling, equipment, facilities, and certifications necessary to repair these advanced vehicles properly, for the ultimate safety of consumers.
"For many shops, their current labor rates are not priced to include these new investments and regrettably have not even kept up with general consumer price inflation over time or increases in their cost of doing business.  It is now more critical than ever for collision centers to find and maintain the right prices for their individual shop, to sustain long-term profitability well into the high-technology future.
"This very practical session will help collision center owners and managers find the right rates for their shop through interactive workshop activities on inflation, cost of living indexes, differentiation among body shops, and planned investments.  The session will also include a current readout of independent data on posted and collected labor rates."
Sam Valenzuela and Richard Valenzuela, National AutoBody Research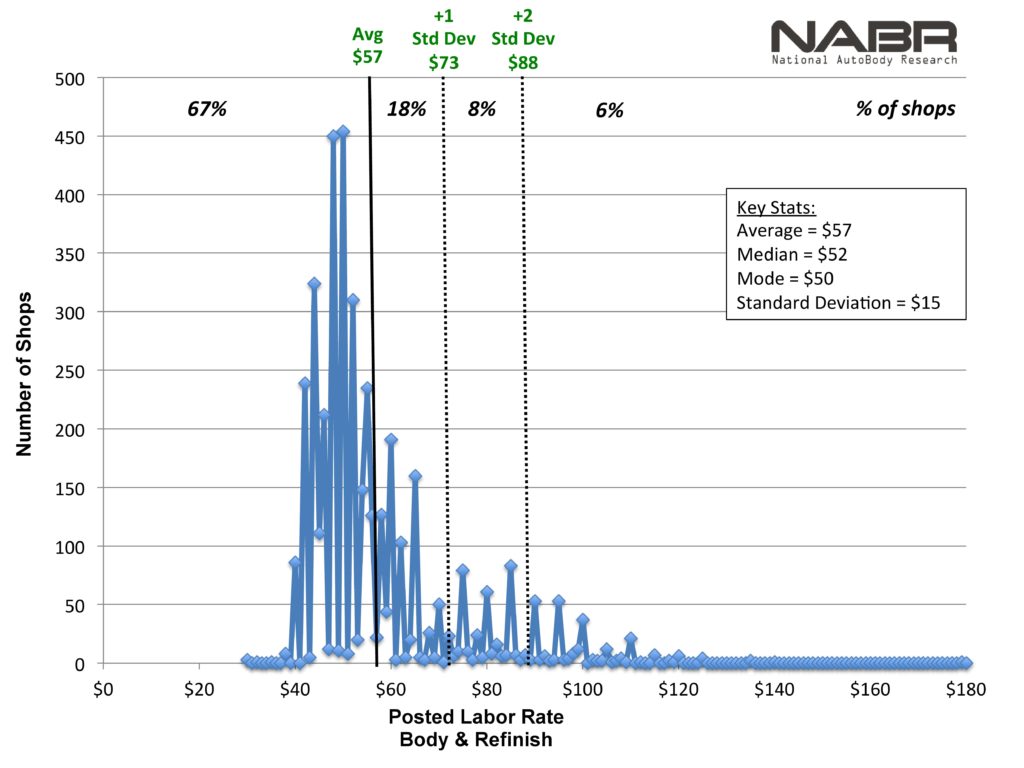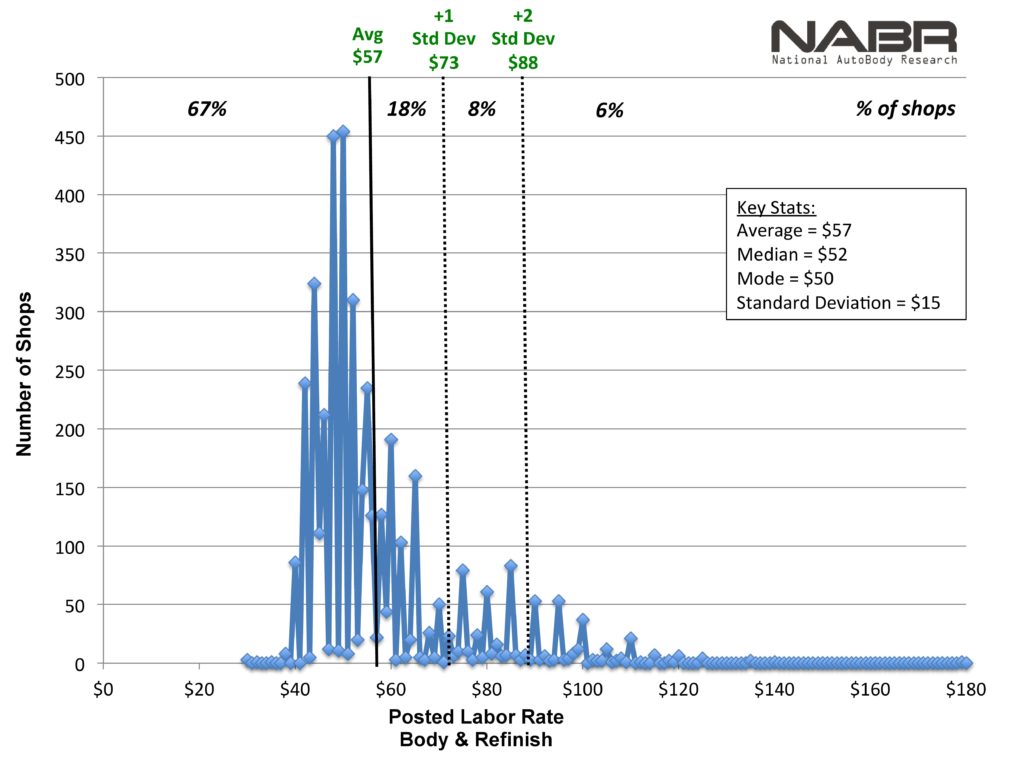 3-5 p.m.: "Current and Future OEM styling trends and the Impact on Refinish"
"(A) repair is no longer just about the pigment and color – the specific formulation and repair process is becoming an even more important factor in achieving an excellent match to the car. Many refinish repair processes differ from the OEM paint process and we can shed light on why."
Jennifer Boros, Frank Jemiola, John Thomas and Darin Poston, PPG
Wednesday, Oct. 31:
9:30-11:30 a.m.: "The importance of ADAS system resets when performing wheel alignments during the collision repair process"
"The program is designed to help promote knowledge regarding how to obtain system repair information across vehicle platforms, and offer insight into recent advances in ADAS technology as well as future enhancements. As one of the most commonly performed operations in a collision repair, repair professionals need to know the necessary steps to restore functionality before returning the vehicle to the consumer."
John Shewbridge, Hunter Engineering
9:30-11:30 a.m.: "Why you should embrace Post repair inspections"
"Shops repair and deliver hundreds if not thousands of vehicles a year, but how many of your repairs would you want your competitor to inspect? We have a saying at ADE 'if you knew that half of the repairs you completed would undergo a post repair inspection (PRI), but didn't know which half, how would that change the way your shop performs repairs?' …
"We will discuss what benefits PRI's offer the quality-oriented repairer and how you and your shop can benefit by improving the overall quality and service that you provide your customers while protecting your company and technical staff while improving the bottom line."
David Smith, Auto Damage Experts
9:30-11:30 a.m.: "Leading the OEM Transition"
"Explore new vehicle technology and the impact on collision repair.  This session will explain what it means for your shop and how you can be a leader."
Jeff Wildman, BASF; Steve Feltovich, SJF Business Consulting
12:30-2:30 p.m.: "OEM Repair Procedure Best Practices"
"(T)his newly created course from Mike Anderson will give an overview of some of the most important features of the OEM's repair procedures to include but not limited to how to navigate Toyota, FCA, Nissan, Infiniti, GM and other OEM websites. Learn how to identify and document integral information such as if a bumper cover can be repaired, OEM welding precautions, and more."
Mike Anderson, Collision Advice
12:30-2:30 p.m.: "You Schedule How?"
"In today's collision shop we are experiencing an increasing pressure to reduce cycle time be it to satisfy the demands of our DRP or just having the need to serve the customer more efficiently. Often time we look to the back of the shop at our technicians' efficiencies or even writing a better sheet as the answer.  However, scheduling is a topic that is often times overlooked as relevant to the outcome of the shop's overall performance; yet it's a large contributor to your shop's efficiency and cycle time.  Through this presentation, we will discuss the importance of scheduling, the effect it has on your production, and the bottle necks it creates.  More importantly, we will discuss methods to analyze your shop so that you can understand your shops resource capacity and staffing needs."
Charlie Whitaker, AkzoNobel
12:30-2:30 p.m.: "Damage Assessment Documentation: Key Steps for Maximum Reimbursement"
"This session is a follow on to my Effective Estimating and Basic Blueprinting courses and covers step by step documentation tips to gain maximum reimbursement on scanning, associated/related damage, measuring and structure repair time, adhesives and corrosion protection, mechanical repairs, interior paint, tire documentation requirements, and refinish operations such as; four-stage paint.  Using OEM position papers/repair procedures, recognized SOP's from 3M, information from DEG inquiries and missed operations identified in the SCRS Guide to Complete Repair Planning and other resources, I will show the attendees how to use estimate lines, line notes and photos to effectively document their repair process. …
"This course was developed based on common questions that arise from other courses are about documentation."
John Shoemaker, BASF


3-5 p.m.: "More than Just a Hand Shake: The Professional Administrative (legal) Documents You Really Need to Operate a Successful Shop"
"Session participants will be guided through a series of documents, hand-crafted by Attorney Erica Eversman that are designed to ensure repairers are complying with federal and state consumer protection law requirements and that will provide powerful offensive and defensive counters to insurer interference and lawsuits.  By learning to utilize these documents during an interactive exchange with the presenters and participants, shops will be better able to establish with customers and insurers the proper role of the professional repairer as the sole determiner for the safe and proper repair of any vehicle."
Erica L. Eversman, Auto Education Policy Institute; Wade Ebert, American Auto Body
3-5 p.m.: "Developing an Effective Digital Marketing Strategy in Collision Repair"
"This presentation will educate body shop owners and managers on successfully reaching today's online consumers. There's a big opportunity with over 117,000 searches for collision repair services monthly on Google, yet many shops are still not comfortable in the digital marketing space and indecisive about how to be successful. Looking ahead, if your shop's not reaching online consumers today, the gap becomes even larger when considering the next generation of tech savvy consumers. Next, we identify the components and platforms of a successful digital marketing strategy that work best with examples, consumer research, and behavior statistics. We also share in-depth case study results from body shops growing their gross revenue by 20-35% annually."
Lee Emmons and Brent Betts, AP Digital
3-5 p.m.: "Know Your Score"
"Understand and know your "score" within your market.  Do you know where you stand in your market?  Do you know the impact of your "score" on your business?  Join us for an interactive discussion on how to take this data and turn it into actionable steps to improve your business."
Jennifer Hubbard and Ray Chew, CCC
Thursday, Nov. 1: OEM Collision Repair Technology Summit
9-10:30 a.m.: "The Rules – and Challenges – of Structural Repair on Modern Vehicle Architecture"
11 a.m.-12:30 p.m.: "The Evolution of OEM Network and Expectations"
3-5 p.m.: "The Future of Telematics, Technology and Transportation and the Collision Industry"
Friday, Nov. 2
10 a.m.-noon: "IDEAS Collide Showcase (IDEAS Collide), Visionary Disruption and Solution in the Collision Repair Industry"
Speakers TBA
More information:
Register for 2018 SCRS Repairer Driven Education series
Images:
A display at the Society of Collision Repair Specialists booth at SEMA 2017 promotes the Repairer Driven Education series. (John Huetter/Repairer Driven News)
Mike Lanza of Sherwin-Williams talks about employing Millennials at the 2016 Repairer Driven Education series. (John Huetter/Repairer Driven News)
National AutoBody Research in early 2018 presented this chart of labor rate survey results from about 4,650 collision repairers nationwide. (Provided by National AutoBody Research)
Share This: