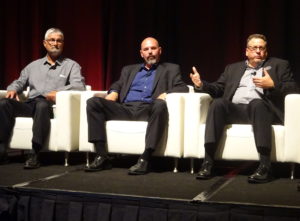 An auto body shop's wish for OEM standardization of pricey collision repair equipment might butt up against the reality of OEM global businesses and equipment with an identical spec that might still be insufficient, panelists from the auto, certification, and equipment industries indicated last month.
The Aug. 9 NACE MSO Symposium panel featuring Mark Allen (Audi), John Eck (General Motors), Aaron Clark (Assured Performance), Ron Olsson (Pro Spot) and Nick Notte (I-CAR) focused on the equipment redundancies automakers seem to impose on shops and the possibility of standardization.
Fixed Ops Journal engineering and technology reporter Richard Truett criticized OEMs for having different tools in the August issue of Fixed Ops Journal, probably echoing the sentiments of some auto body shops and equipment manufacturers.
It's time for automakers to stop requiring dealerships to buy different brands of tools that perform the same functions in the same ways.
Say a rivet gun can insert a self-piercing rivet at a depth of 40 millimeters at 4,400 pounds of force and meets an automaker's repair requirements. A dealership should not have to buy another rivet gun of a different brand — at a typical cost of $8,000 to $12,000 , depending on manufacturer and capability — to meet another manufacturer's certification standards.
Yet that often happens. It's the same with scan tools.
Look at the approved tool repair catalogs of Mercedes-Benz, Audi and Jaguar Land Rover. Each luxury automaker requires different brands of the same basic tools. Welders, scanners, glue guns — they all do the same essential jobs.
However, the realities can be more nuanced, tool experts and OEMs demonstrated during the 2015 and 2016 SCRS OEM Collision Repair Technology summits, and the discussion at the 2018 NACE offered additional perspective.
Allen called standardization a "great thing" from Audi's perspective, but his company used different materials and produced a different type of vehicle than a competitor like GM.
Audi applies a "high level of testing" to assure a repeatable outcome, and the equipment it requires does meet that goal, according to Allen. Not all welders or rivet guns are the same, he said.
He called standardization a "tough nut to crack," describing it as making sense for some areas but an automaker becoming more unique in other aspects.
Eck said GM tried to standardize tools as much as it could. However, while he said "we tried them all," GM found only one rivet gun sufficient for certain parts of its aluminum-and-steel 2016 Cadillac CT6: the Wielander & Schill Xpress 800.
Olsson pointed out that the metal his company's equipment welded had changed a great deal, which could make standardization "a challenge."
Ducker Worldwide research found the 110.3 pounds of mild steel lost on the average American light vehicle between 2010 and 2013 gave way to 63.2 pounds more bake-hard and high-strength steel (a mix which kicks in around 210 MPa), 15.7 pounds more advanced high-strength steel, and 16.1 pounds more ultra-high-strength steel. Between 2013 and 2018, OEMs were cutting the more basic of the higher-strength steels as well, according to the Ducker research. High-strength steel content fell by 36 pounds, and automakers cut 70 pounds of bake-hard steel. However, advanced high-strength steel content rose by 70 pounds, and OEMs added another 19.9 pounds of ultra-high-strength steel.
Auto/Steel Partnership Executive Director John Catterall told the 2017 Center for Automotive Research Management Briefing Seminars that more than 200 grades of steel were available for car bodies. "Fifteen years ago, there was half that," he said then.
Moderator Lou DiLisio (Automotive Industry Consulting) said he learned some "eye-opening" facts while working on the panel. He noted that to a repairer, it might seem like meeting a specification like 12,000 amps would render a welder sufficient. But that might not be the case, he said.
---
Learn more about syncing your shop to the OEM during Repairer Driven Education
Learn more about meeting OEM requirements during the SEMA Show at "Building your business to meet the direction of the OEM" with Dave Gruskos of Reliable Automotive Equipment. The session is part of the Society of Collision Repair Specialists Repairer Driven Education Series Oct. 29-Nov. 2. Register here for individual RDE classes or the series pass package deal.


---
A consideration for Audi is the horizontal overhead weld, according to Allen. Audi isn't content to merely have that weld look nice, for many of those seemingly adequate welds might look like maltballs when viewed under an X-ray, he said. He said we needed to move away from the perspective that all welders were identical. He said producing an adequate weld requires a lot of programming, and the work is very "software-driven."
Olsson said a concern arose with ultra-high-strength steel, a "wonderful, wonderful metal" but one that "needs to be replaced." A shop might think its weld held, but in reality the heat-affected zone might have become brittle, he said.
Pro Spot had to make sure the metal didn't get too hot, and some welds which applied too much heat might produce a breakdown in the middle of the weld, according to Olsson.
A welder able to deliver the same amount of pressure as an approved one might still come up lacking, according to Olsson. Pro Spot has tested this, and squeeze pressure wasn't "'it' by itself," he said. He described being able to achieve the same weld with two different pressure settings
"It's the whole recipe" of pressure, resistance, timing of energy release and cost, according to Olsson. Olsson said a welder also might be designed to clean the surface a little before the weld.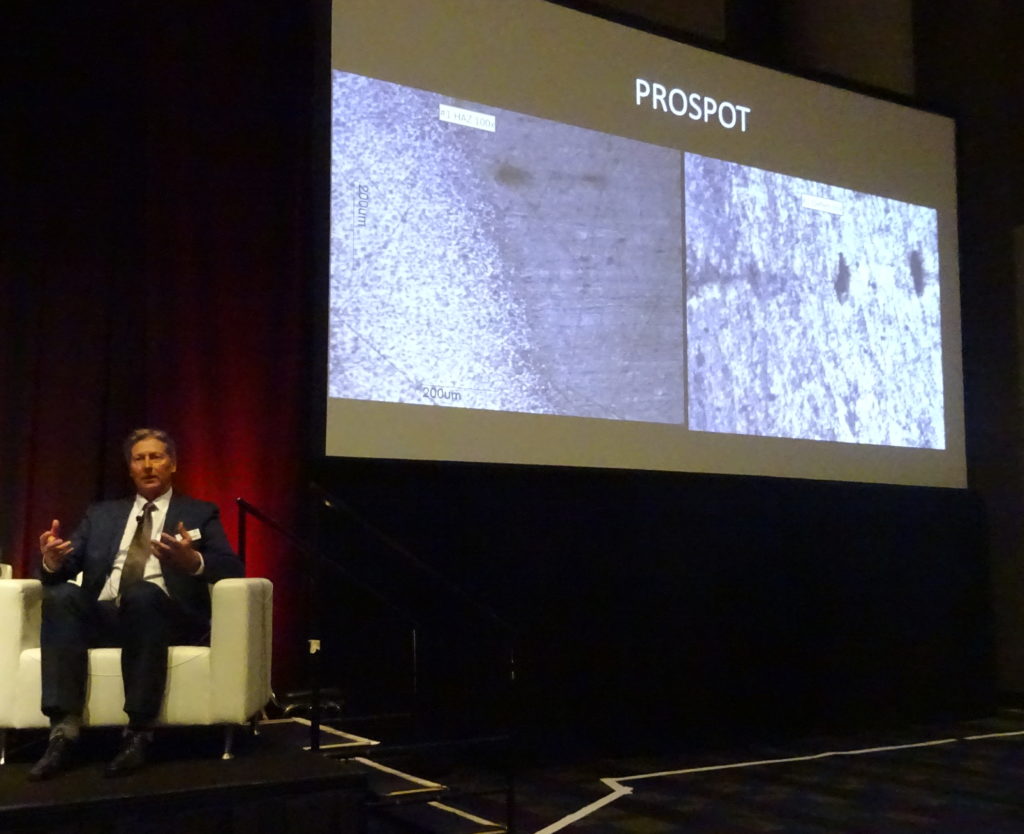 Assured Performance's program allows a participating shop with a single set of gear to achieve certification with multiple partner OEMs. Clark said this involved developing previously nonexistent standards, and he had poured hundreds of hours into determining the equipment for Assured Performance's equipment matrix.
"I constantly run into shops that want to know why" a particular piece of equipment wouldn't meet Assured Performance's standards, Clark said.
He echoed Olsson's assessment that different squeeze-type resistance spot welders inputs can affect the outputs.
He also noted that while a machine might be able to tell the number of layers being bonded, it might fail to recognize that two of them are thicker than the third. The device might "blow out" the thin layer, he said.
Clark said he saw a future in which advances in technology reduce the number of specification-only requirements in favor of specific pieces of equipment.
OEMs also compete globally, Eck noted at one point, and Allen said Audi's equipment choices could be affected by this international scope, such as a piece of technology able to work in multiple companies.
Allen said Audi also tries to pick equipment that is well supported by a distributor. "There's a lot of complexity" in vetting equipment but also its logistics, according to Allen.
Some areas of commonality might remain.
Notte said both Allen and Eck had been active I-CAR board members and can help the organization tie training to repair procedures. Eck said "it's no coincidence" that GM's requirements for ProLevel 2 shops echo I-CAR's recent Gold Class revamp.
Eck said it was a "great signal and sign" for the industry to know I-CAR was working with automakers. He also predicted repairers would see more collaboration, such as how GM worked with Audi and Mercedes while developing its certification program for the CT6.
Like Eck, Allen mentioned the OEM Collision Repair Roundtable, stating that it evolved from market conversations to technical ones. "We really don't compete with each other" on collision repair, he said, a sentiment Eck mentioned during his discussion of the CT6 talks.
More information:
Fixed Ops Journal, August 2018
Images:
An Aug. 9, 2018, NACE MSO Symposium panel including, from left, Mark Allen (Audi), Aaron Clark (Assured Performance) and John Eck (General Motors) focused on the equipment redundancies automakers seem to impose on shops and the possibility of standardization. (John Huetter/Repairer Driven News)
Pro Spot President Ron Olsson on Aug. 9, 2018, discussed how a heat affect zone could be rendered too brittle by a welder. (John Huetter/Repairer Driven News)
Share This: