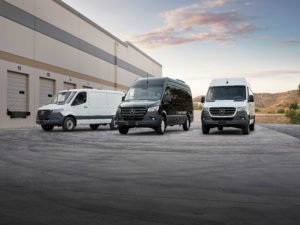 The Database Enhancement Gateway, which allows repairers and insurers to make inquiries and suggestions of the estimating providers at no cost, offers weekly tips for repairers on the Audatex, Mitchell and CCC programs online and through the Society of Collision Repair Specialists' email list.
If you haven't used the free service before to submit questions about estimating collision repair work or just browse responses to other carrier and shop questions, check it out. It's a good way to find IP best practices and help write the most accurate estimates or appraisals possible.
Here's our latest monthly roundup of areas spotlighted as tip-worthy by the DEG. To receive the tips as soon as DEG releases them, like/follow the DEG's Facebook and Twitter feeds. (It also posts videos to a YouTube channel once in a while.) Or just browse the more than 13,000 inquiries and responses in the database and see what else you learn.
Mirror overhauls in Audatex
A January Database Enhancement Gateway tip reveals Audatex had begun supporting some mirror overhaul operations with times.
The decision seems like a natural extension of the kind of technology being packed into what used to be a relatively simple part.
"Mirror overhaul applies when a mirror assembly consist of many individual parts, i.e. side markers, cameras, puddle lamps, motors, sensors, etc.," Audatex wrote. "The overhaul operation includes the labor time to transfer individual mirror components from the damaged mirror to a new one. This new operation eliminates the need to search and add R&I for each mirror component, which in turn saves time and increases accuracy."

The first wave of files with the new mirror information include various years of the Honda Accord, Nissan Altima, Ford Escape and the Ford F-150 Super Crew and Standard Cab. Audatex will add mirror overhauls to relevant new or updated files going forward.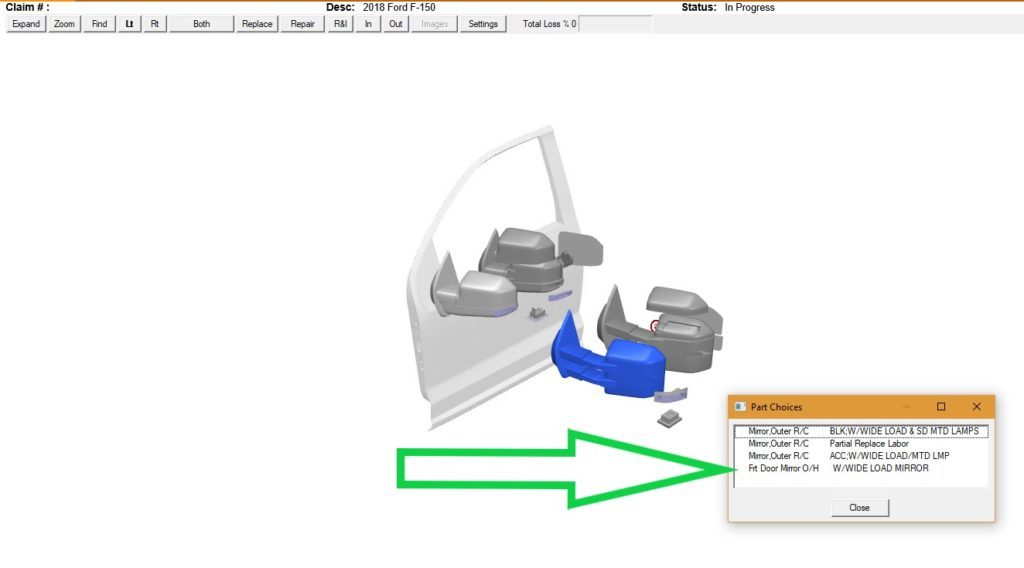 CCC 'estimate sequence' video
The DEG last month offered estimators and adjusters a handy video with information about managing one's estimate sequence in CCC.
"It is important for estimators to use the database with 'estimate sequence' in mind, which is the order that the repair plan is developed: front to back or back to front," the DEG wrote in a January tip. "Following the sequence provided by the database will also allow the database to properly calculate any overlap for adjacent panels for both refinish and panel replacement procedures."
As CCC explains in its P-pages:
Listed under each basic assembly are the related and component parts. List the damage according to the basic assembly, taking the basic item first. Then, starting from the outside of the vehicle and working inward, list everything attached to it which is damaged. By following this procedure, you will make a more thorough inspection.
For instance, on an estimate involving front fender damage, inspect as shown:
Fender
molding
nameplate
emblem
Fender Liner (Minor formatting edits.)
Mitchell parts schematics
The CCC video was one of two films released by the DEG last month on its YouTube channel.
The other video, posted Jan. 31, taught Mitchell users about how to quickly find out about and navigate to multiple schematics within a single system. It illustrated this with a pickup bed and rear suspension.
"Mitchell users may find that not every part is shown when selecting a vehicle part group, and will have to go down the list of part descriptions to see if additional parts exist," the DEG wrote. "Users can quickly identify if multiple parts schematics exist for that group by locating a page number in the schematics screen menu."

Cheat sheet: Moldings, decals
The DEG in February provided a cheat sheet covering which operations were included when a repair involved work related to items like moldings and decals.
As tends to be the case, odds favored the work being a not-included operation.
All three estimating services' labor times for adhesive moldings, trims and badges include aligning and positioning the item and cleaning, preparing and heating the panel, according to the DEG. CCC's time doesn't include removal of the old molding, trim or badge, while Audatex and Mitchell's times do, according to the DEG. However, it observed regarding Mitchell's time: "On attaching panel r/r procedure, adhesive trim labor "deduct one-half of r/r time" for install only.
For decals, stone guard, blackout tape and overlays, the alignment and positioning related to an installation isn't included in Audatex but is included in the other two. Audatex also differs in that decal removal is included, but the DEG offers the same caveat as it did on the removal time for moldings in Mitchell.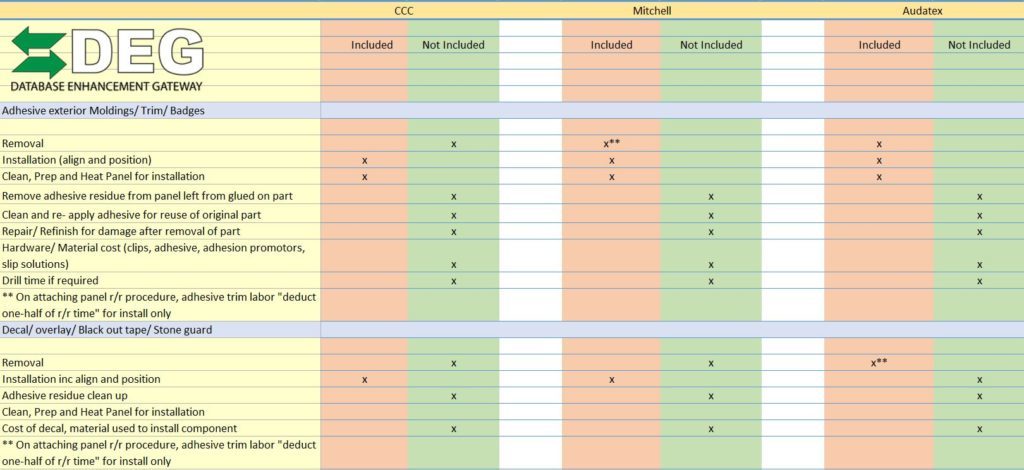 Nothing else is listed in the chart as included.
The DEG continued the tip to note that automakers designate certain parts as non-reusable, and all three estimating services recognize this fact. It provided quotes from all three sets of P-pages on such one-time-use parts.
Section 4-3 of Audatex's P-pages offers the "Important Reminder" that "Adhesive mouldings may not be reusable."
(Audatex also notes earlier in the Database Reference Manual: "Some fasteners may or may not be suitable for reuse. Some may be designated for one-time use only. It should be agreed which fasteners may require replacement even though they may not appear to be damaged.")
"Some moldings may be damaged or broken during normal R&I procedures," CCC states. "Additionally, some plastic or metal fasteners may be damaged and their ability to be reused jeopardized because of single-use design, age or exposure to the elements. Moldings, emblems and trim attached using a heat stake method are considered to be non-reusable. Caution should be taken while removing all fasteners, both metal and plastic. MOTOR recommends these factors be considered and mutually agreed upon before finalizing any repair cost estimate."
"Some attachment components may not be suitable for reuse (examples: plastic clips, fasteners, suspension bolts)," Mitchell states. "Caution should be taken when estimating removal and/or replacement. It should be agreed upon as to what parts may require replacement even though not noticeably damaged."
Oversized vehicles in CCC
Sometimes you get a Miata in the shop, and sometimes you get a Sprinter. If it's the latter, the repairer might need devote labor hours to setting up a means of reaching the necessary working height.
This issue arose in a Feb. 11 inquiry regarding estimating a 2012 Mercedes Sprinter high-top in CCC, and it was the subject of a February DEG tip.
"Various type of vans, trucks or commercial vehicles may require repairs done above ground level, additionally requiring various types of tooling and equipment to be brought up to a safe working height," the DEG wrote.
"When performing repairs on oversized vehicles … repairers should take into consideration the extra work required when utilizing scaffolding, ladders, lift-type equipment for both the technician and tool."
A DEG user had complained that CCC's "2 hrs to refinish the roof is not sufficent."
"No way to properly refinish a large panel so high off the ground in 2.0 hrs," the user continued. "(The) roof panel is larger than the HOOD for this vehicle. Increase Refinish to be higher than the UNDERSIDE 3.8 hrs since the exterior requires more (preparation) as well as having to go up and down ladders and stairs as well as consideration to prep this panel up high."
The user didn't provide the exact height. But Mercedes spec sheets published in 2012 for unspecified model years of high-roof Sprinter passenger and cargo vans list their heights as 107.5 inches — just shy of 9 feet — off the ground with the wheels on. The standard-roof versions were 96.3 inches, which is still slightly more than 8 feet.
The user had asked that CCC to "define if any scaffolding/ ladder set up is included with repair/ refinish times."
CCC said it would increase the high-roof refinish time to 2.5 hours, and it clarified "Set up of scaffolding/ladders is 'Not Included' and would be an 'On the Spot Evaluation.'"
CCC also addressed another complaint by the user that "9 hrs to replace front roof panel, including the front headliner/ windshield/ interior trims in area" was too low.
The user wrote that that the panel needed both MAG plug welding and squeeze-type resistance spot welding and had 78 spot welds.
"Additionally, panel require seam seal to replicate … OEM Appearance on stop section," the user wrote. "This is a high build product and not a brush seam sealer."
The user had suggested 11 hours instead of nine. CCC ultimately said it would update its software to give 10.5 hours.
Bonus tip: Toyota, DEG partner on March giveaway
The previous tip highlighted a great example of a user pointing out an issue to an estimating service via the DEG and the information provider taking action upon the feedback from the field.
Any such inquiries filed throughout the month of March will earn the DEG user a ticket into a raffle for a free year's standard subscription to Toyota's Technical Information System (TIS), which ordinarily costs $480. Users submitting multiple inquiries can earn multiple tickets.
The drawing will be held April 1 at 10 a.m. Mountain Time. Toyota graciously donated the grand prize, the DEG said.

Repairers and insurers also can enter the drawing by donating to the DEG. A donation of $20 yields two tickets, while a $50 donation provides 10 tickets. There is no limit on this type of entry either.

The monthlong March promotion honors DEG inspiration March Taylor, a Hall of Eagles member and the late owner of Auto Body Hawaii. Taylor's work with the estimating services laid the foundation for the free resource for repairers and insurers, and the DEG is dedicated to him.
Learn more about the contest rules and TIS here.
Have a question?
Have a question about AudaExplore, Mitchell or CCC? Submit inquiries to the DEG here. Inquiries, like answers, are free.
More information:
Database Enhancement Gateway homepage
Images:
Next-generation 2019 Mercedes Sprinters are shown. (Provided by Mercedes)
Audatex has begun supporting some mirror overhaul operations with times. (Audatex screenshot provided by the Database Enhancement Gateway)
The DEG in February provided a cheat sheet covering which operations were included when a repair involved work related to items like moldings and decals. (Provided by the Database Enhancement Gateway)
Share This: