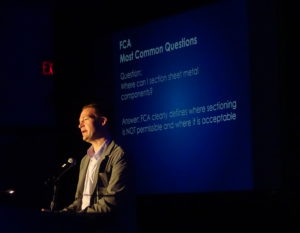 Responding to what he said was a common question from the industry, FCA advanced body development and collision repair manager Dan Black demonstrated earlier this month that sectioning locations could easily be found in the OEM's repair procedures.
"At that point I ask them to look at the repair procedures," Black said he responds when asked about FCA sectioning locations.
A specific part of the procedures identifies where both structural and exterior metal can be cut, according to Black.
"All those are identified in areas or specific spots where they must be sectioned, but also more important, where not to section," he told the SCRS Collision Repair OEM Technology Summit Nov. 7, 2019, at SEMA. Some items which must be replaced at factory seams only are "clearly identified," he said.
A slide from Black's presentation showed a screenshot of FCA's Tech Authority OEM procedures for a 2017 Chrysler Pacifica. It shows a dedicated "SECTIONING LOCATIONS AND PROCEDURES" page within the Standard Procedure segment of the Collision Information section. (Collision Information >> Standard Procedure >> SECTIONING LOCATIONS AND PROCEDURES.)
The page also discusses welding in the context of sectioning.
"The described sectioning locations only explain joint location and type. All other welds along the sectioned portion of the component must be replaced," it states. "Squeeze Type Resistance Spot Welding (STRSW) is the method to be used. If accessibility prevents application of spot welds, MIG plug welds are to be used. Welding of structural panels through 3 or more tiers of panel stack ups will require 9.5 mm. plug welds. Exterior panels should be installed using 6 mm plug welds."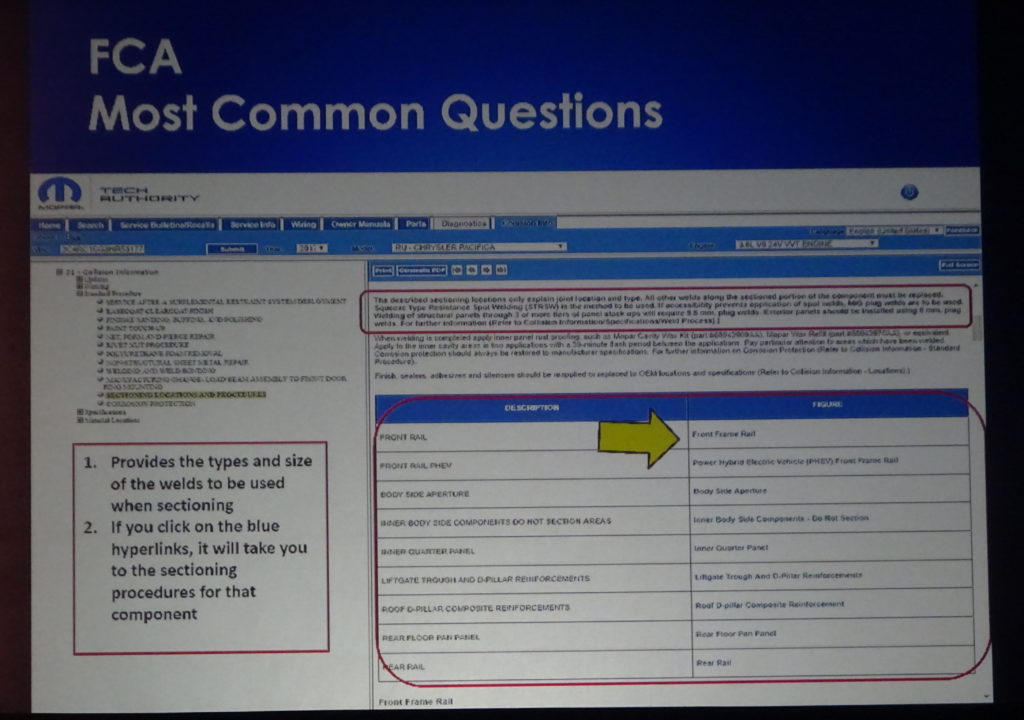 Black showed a diagram explaining where to section a front frame rail, calling it "imperative" that shops follow it.
"If cut at a different location, that repair, we cannot speak for how it will perform," he said.
He also showed another diagram of inner bodyside parts that must be replaced as a whole and not sectioned, with the unsectionable parts clearly marked in red.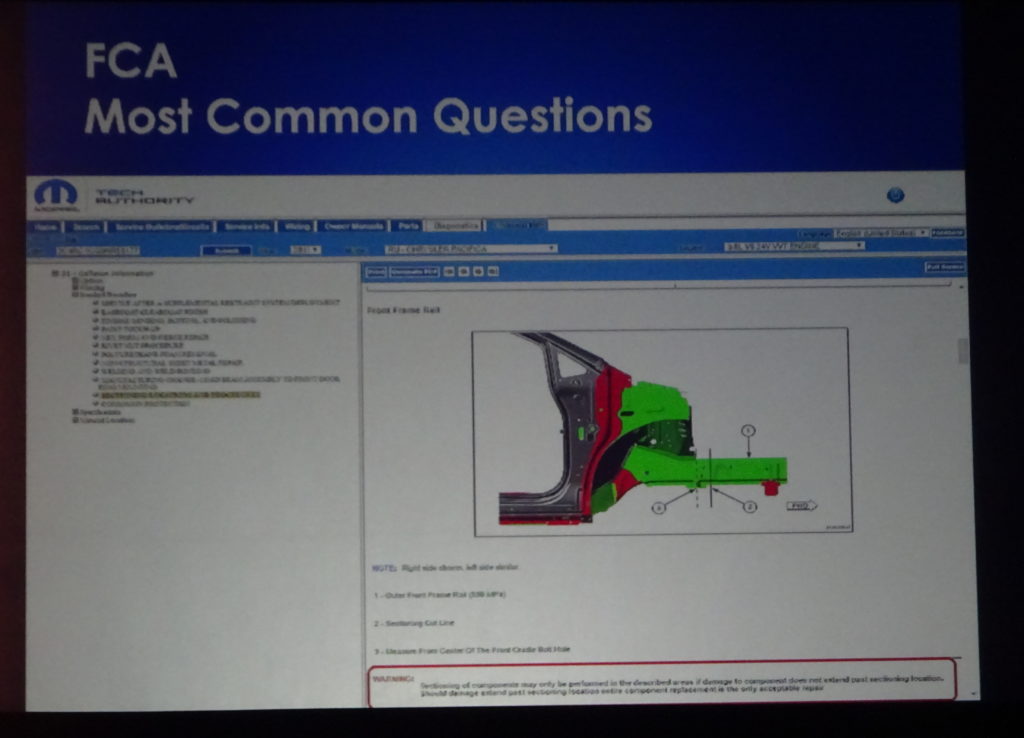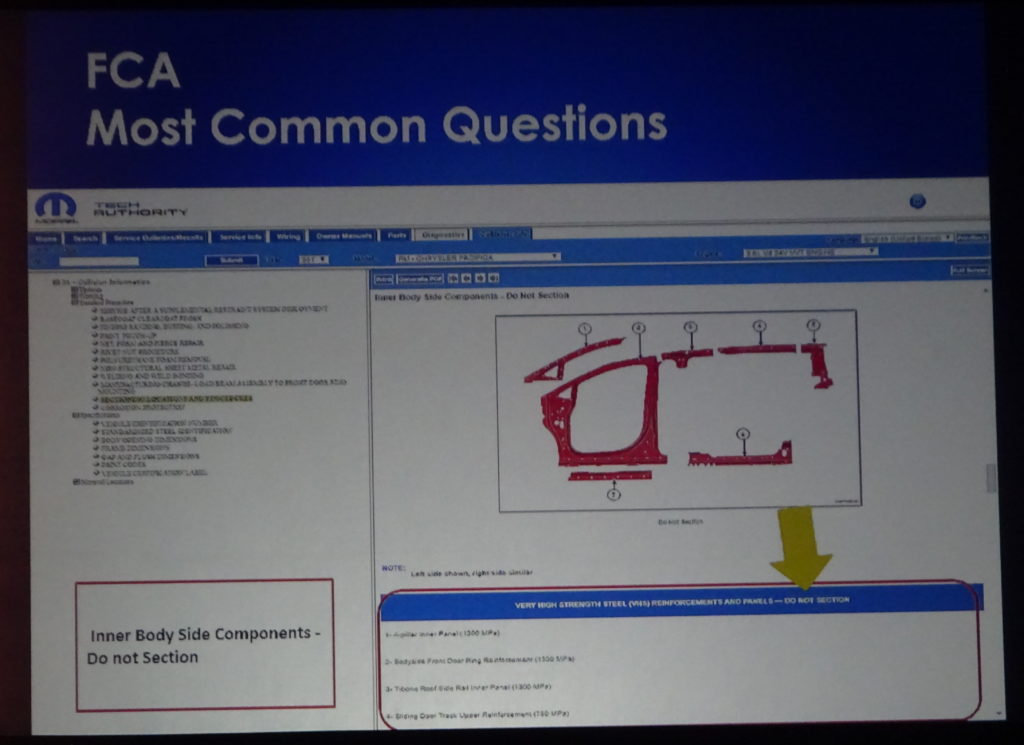 FCA's offical repair procedure site can be accessed at www.techauthority.com. (Certified shops get a year free and discounts after that.) One of Black's slides showed how repairers would found R&I instructions in the Service Information tab and the body repair information in the Collision Information tab. The website's search feature is also "pretty good," Black said.
The site works best with Versions 10 or 11 of the Internet Explorer web browser, according to another slide, which noted that "Other browsers may prevent Wiring Tab content and other data from displaying properly."
Other requirements include Adobe PDF Reader 8.0 or greater, Java 1.7.71 or greater, Adobe SVG Viewer 3.0 and Adobe Flash 9.0 or greater. FCA also recommends a window size of 1024×768 or larger.
Other FCA collision repair resources highlighted in the presentation include owner's manuals at www.mopar.com, FCA online classes through the Automotive Management Institute and the ability to buy approved tools at www.moparessentialtools.com (certified shops can get a discount on the MicroPod scan tool). FCA-specific training is also available through I-CAR.
Black said shops also could access marketing materials on www.moparrepairconnection.com, including a comparison of OEM and aftermarket parts.
More information:
FCA Tech Authority OEM repair procedure site
Mopar Essential Tools service tools site
Images:
FCA advanced body development and collision repair manager Dan Black demonstrated during the SCRS OEM Collision Repair Technology Summit on Nov. 7, 2019, that sectioning locations could easily be found in the OEM's repair procedures. (John Huetter/Repairer Driven News)
Sectioning information for a 2017 Chrysler Pacifica front frame rail can be seen. (FCA slide; photo by John Huetter/Repairer Driven News)
Share This: