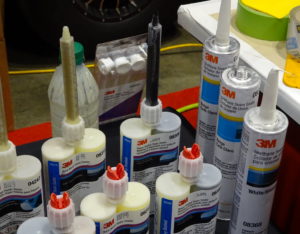 Major national insurers are willing to reimburse the costs of seam sealer in nearly all of the instances auto body shops bill for it, according to the latest Collision Advice and CRASH Network "Who Pays for What?" study.
The October 2019 study also examined how shows calculate their seam sealer charges, with notable drops in repairers answering "Educated guess" or "Flat fee" compared to the 2018 results.
"Many shops commonly charge a flat fee without researching how much seam-sealer they actually will be using," Collision Advice CEO Mike Anderson wrote in the latest report. "I recall a shop in Minnesota that was putting a rear body panel and a rear frame rail on a vehicle, and when they added it up, they had used more than $300 of corrosion protection items (such as seam-sealer, cavity wax, weld-through primer). At the end of the day, is the amount you are charging for these items adequate and appropriate? You have to keep in mind what type of seam-sealer you are using (self-leveling, two-part, sprayable, brushable, etc.) as well as how many tubes based on the length and bead size. … Keep in mind that all Toyota/Lexus hoods, doors and decklids (as well as the majority of those replacement parts from Nissan/Infiniti) do not come seam-sealed from the factory. That may be true of some other manufacturers as well."
About 93 percent of the more than 500 shops responding for each of the eight insurers studied reported insurers agreeing to cover seam sealer most or all the times the shop asked. More than 95 percent of the shops surveyed said they asked to be covered for the material. (The margin of error was 3.4 percent on questions receiving answers from all 805 respondents.)
Insurers also consistently paid for seam sealer regardless of whether the shop was a member of their direct repair program, the study found.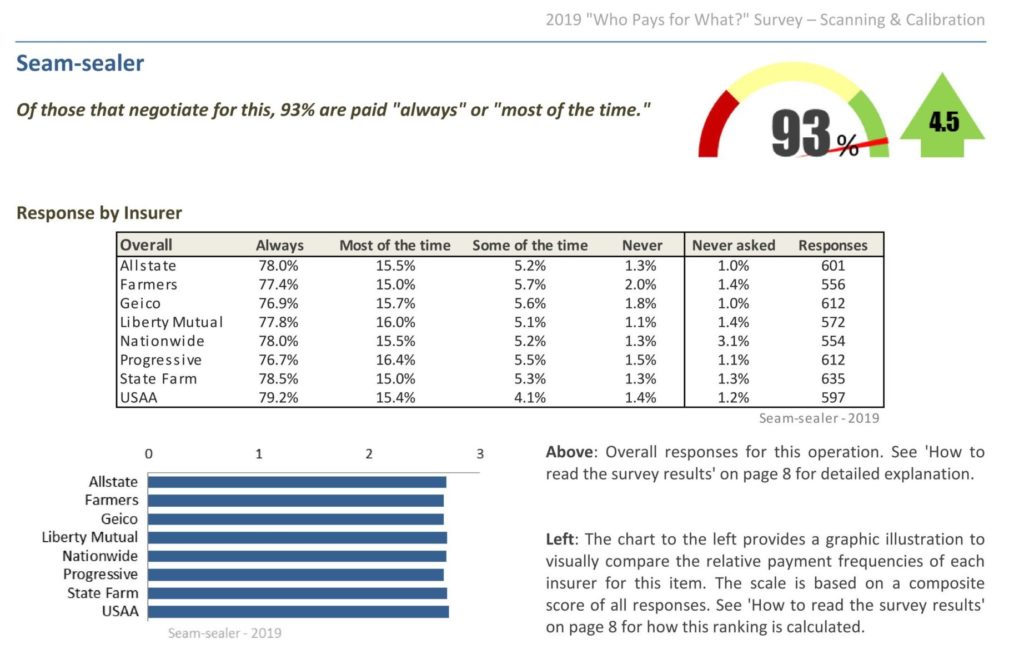 While repairers do consistently charge for seam sealer, more than a quarter of shops reported not asking for reimbursement on the mixing nozzles necessary to apply it and other products. 64 percent of those who did bill for the nozzles found insurers paying the charge "always" or "most of the time."
"When you buy a tube of seam-sealer or other foam/adhesive product, it often comes with a nozzle or tip," Anderson wrote. "But you may not use an entire tube on one particular job, so you likely will need a new tip/nozzle the next time. The size of the bead may be different, for example. Again, if you're using an invoicing system to track and bill for clips, fasteners and other items, you can add mixing nozzles or tips to this system."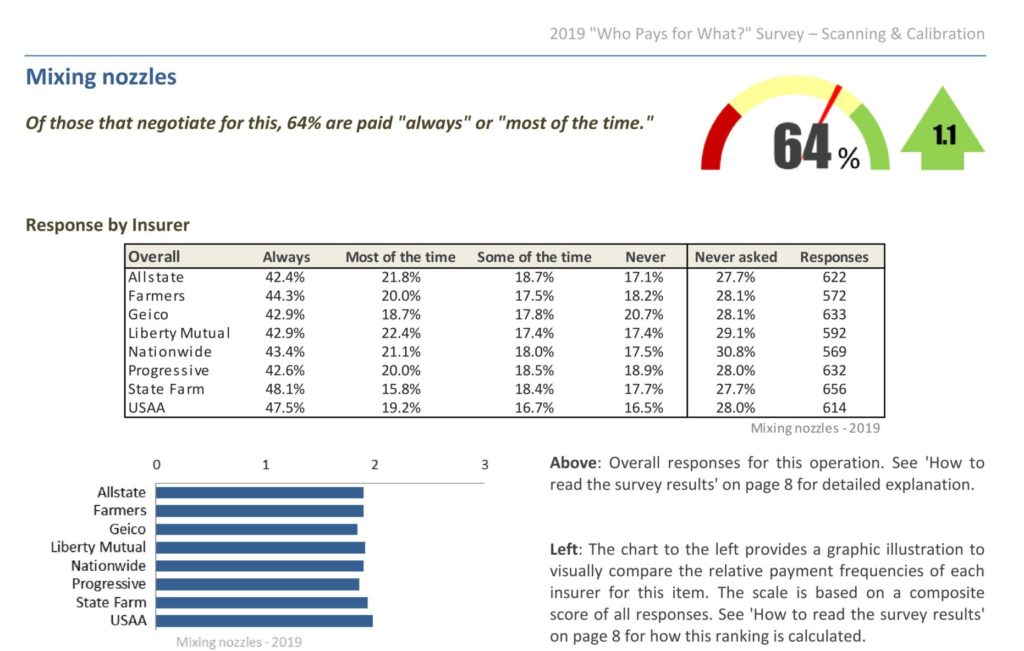 The "Who Pays?' studies are a useful tool for repairers — and consumers as well. After all, shops are in reality billing their customers, who in turn must pay the shops and seek reimbursement from insurers. The research can demonstrate to all three parties that an individual local adjuster is wrong when he or she insists "we don't pay for that."
Help the collision industry by taking the current "Who Pays for What?" survey focusing on refinish operations before Feb. 1. All answers are kept confidential; data is published only in the aggregate.
As referenced above, a separate poll question asked how shops worked out what to charge for seam sealer.

With repairers permitted to select multiple answers, the most common technique involved counting the number of tubes or cartridges, with nearly half of shops reporting doing so. The second-most popular consideration was the brand or type of sealer, with 33.7 percent of repairers picking that amount.
Nearly 29 percent of shops said they "use a materials calculator/invoicing system for this."
Some shops used seam sealer dimensions to estimate costs, with 26.9 percent using the length of the amount dispensed and 16.6 percent using the bead size.
Oddly, only 14.8 percent declared they "Bill for the precise amount used," which arguably could be calculated using some of the more popular methods.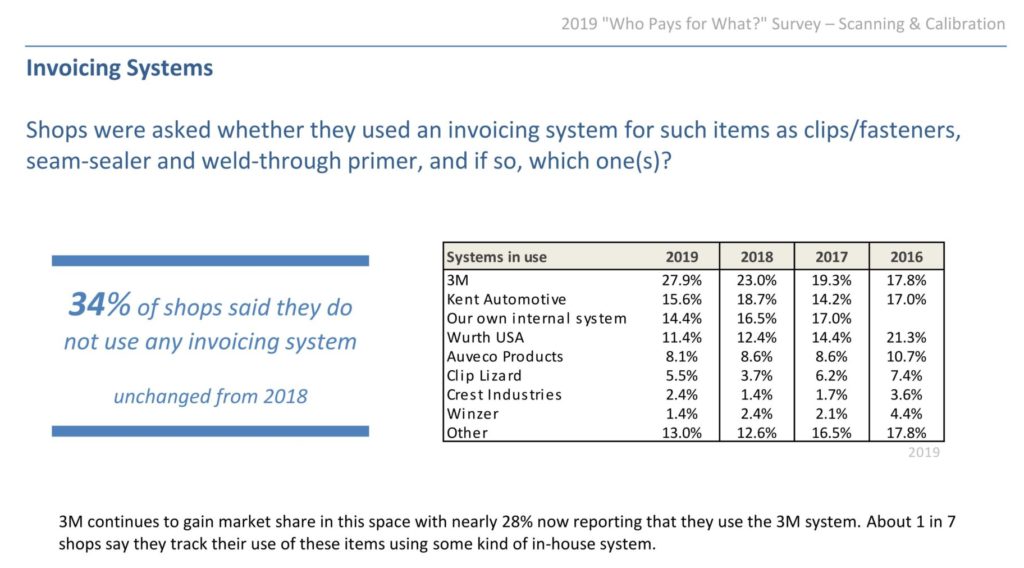 Another poll which drew 662 responses asked shops what they felt would work best to get shop supplies (not just seam sealer) covered.
Only 29.2 percent felt "an invoice from an aftermarket manufacturer / invoicing system" was the most effective way to obtain reimbursement. This was interesting given that a separate question found 66 percent of shops used an invoicing system, though in some cases this was an internal one. Another 3.3 percent felt buying the items from from a dealership and producing a dealership invoice would be best.
Instead, 39.7 percent of shops rated the ability to select supplies in an estimating system as the most effective way to secure payments for those materials.

In a separate question, 87 percent of repairers "agree it would it be beneficial to have items like seam-sealer, adhesives, etc., included by brand name in the estimating systems with a list price," according to the study.
The "Who Pays?" report noted similar results on this question over the past five years. It called the findings "a clear message to information providers and suppliers that perhaps they need to work together to include more of these products in the estimating systems to assist shops in charging appropriately."
More information:
Take the 2019 frame operations "Who Pays for What?" survey
April 2019 "Who Pays for What?" body operations results
Images:
Seam sealer nozzles can be seen at the 3M booth at NACE 2017. (John Huetter/Repairer Driven News)
Data from an October 2019 "Who Pays for What?" survey by Collision Advice and CRASH Network. (Provided by Collision Advice and CRASH Network)
Share This: