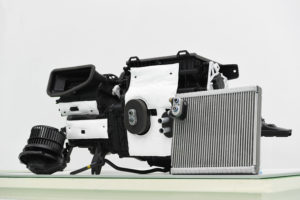 Hyundai last month announced three new vehicle systems aimed at softening or improving air within the cabin.
It'll be interesting to see if these features or other OEMs' competing systems affect collision repair procedures or severity, though a Hyundai video says at least one — the "After-Blow" feature — was "implemented without an increase in cost."
"After-Blow" activates itself about 30 minutes after the engine is turned off to prevent mold growth. It not only operates the HVAC system, it also monitors the vehicle battery, outside temperature, and air conditioner usage.
"After the engine is turned off and the condensate on the evaporator drains naturally for about 30 minutes, 'After-Blow' activates for 10 minutes to dry the evaporator and any condensate leftover in the air passage," Hyundai wrote. "The air-conditioning system automatically allows influx of outside air during this time to prevent humidity from building up.
"The technology uses an intelligent battery sensor (IBS) to monitor the battery and stops functioning when the battery is low, allaying any concerns about batter discharge. It also de-activates when the air conditioning system is not in use for a certain period of time, or when the outside temperature is low."
Another system checks the count of ultrafine particles inside the vehicle — color-coding the threat between 0-15, 16-35, 36-75 and 76+ micrograms per cubic millimeter — and acts accordingly.
Anything "orange" (36+ micrograms per cubic millimeter), triggers the "Fine Dust Indicator" to switch into cleaning mode, according to Hyundai.
"The air-cleaning system automatically sets the air volume between 3 and 8 and switches to air-recirculation mode and activates the air conditioning system to reduce indoor humidity," the OEM wrote. "If the air does not improve in air-cleaning mode, it can also serve as a reminder to the driver to replace air-conditioner filters or to clean contaminated seats and mats."
The third feature adds new dashboard "multi-air slots" peppered with numerous tiny holes.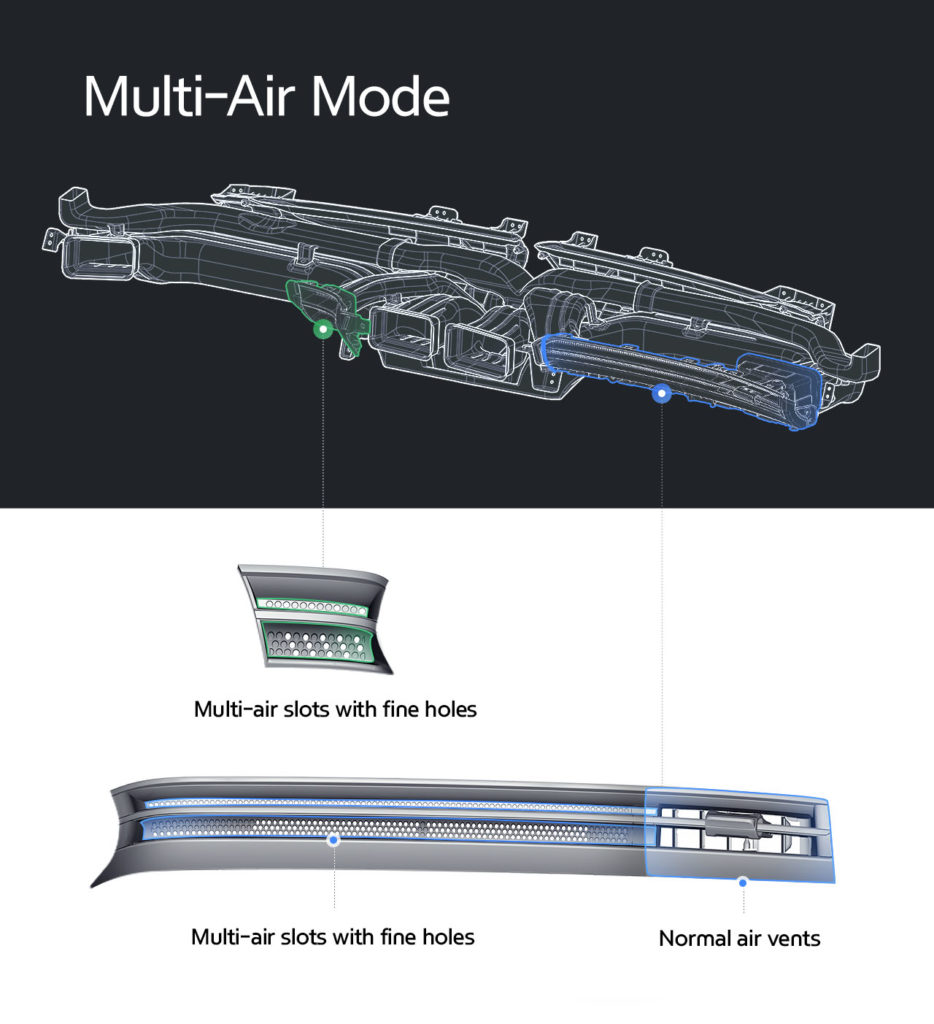 "When this mode is activated, the air is dispersed to the newly added multi-air slots in the driver and passenger seats in addition to the normal air vents,," Hyundai wrote. "The overall wind volume remains the same, but the dispersion of wind reduces direct air contact and softens the air."
The driver can switch off these "Multi-Air Mode" slots and go back to blowing air purely through the traditional vents if desired.
Hyundai said the three features would first appear in the South Korea market and spread to Hyundai, Kia and Genesis vehicles globally.
More information:
"Hyundai Motor Group Develops Air-Conditioning Technologies to Maintain Clean Air in Vehicles"
Hyundai, July 27, 2020
"Ventilate Your Vehicle, 'Quality Air' Climate Control Technology | Hyundai Motor Group"
Hyundai Motor Group YouTube channel, July 26, 2020
Images:
Elements of a Hyundai HVAC system are shown. (Provided by Hyundai)
Hyundai's new "Multi-Air Mode" uses tiny holes to produce a gentler air conditioning feel than forcing all the air through traditional vents would deliver. (Provided by Hyundai)
Share This: