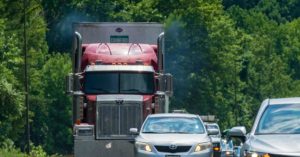 The Insurance Institute for Highway Safety on Thursday reported new data that large trucks with forward collision warning posted 22 percent fewer crashes, while trucks with autobraking saw 12 percent fewer crashes.
Rear-ending plummeted even further, with FCW causing a 44 percent reduction in such crashes and AEB producing a 41 percent decline.
IIHS statistical services director Eric Teoh studied about 2,000 crashes between 2017-19 involving trucks weighing at least 33,000 pounds. His research only tracked crashes resulting in injury or "significant property damage."
"This study provides evidence that forward collision warning and AEB greatly reduce crash risk for tractor-trailers and other large trucks," Teoh said in a statement. "That's important information for trucking companies and drivers who are weighing the costs and benefits of these options on their next vehicles."
Typically, an autobraking system also includes a forward collision warning feature, offering the driver a heads-up to take action before the vehicle itself hits the brakes. In theory — and seen in other IIHS research — autobraking should reduce crashes by a higher percentage than forward collision warning.
"We're a little bit puzzled," IIHS media relations director Joe Young said, calling FCW's better performance in this study "unexpected." He said that as far as he knew, all autobraking systems included forward collision warning.
The IIHS still felt AEB was a "better system" and was emphasizing it, he said.
"The similar benefits of forward collision warning and AEB that Teoh observed for rear-end crashes were unexpected, since studies of passenger vehicles have shown AEB to be much more effective than systems that only issue warnings," the IIHS wrote. "That could reflect differences in how and by whom trucks and passenger vehicles are driven, or it might be connected to variations among the specific systems used by each carrier."
Large trucks tend to crash less on the whole, according to the IIHS.
Regardless, the data shows the effectiveness of two ADAS technologies on significantly larger vehicles and suggests a reduction in crashes for both regular and heavy-duty repairers to fix.
Similar to traditional vehicles' ADAS, the IIHS found the collision warning and autobraking features also knocked significant speed off the truck crashes which did occur.
Teoh also found both systems cut the speed at which the truck rear-ended the other vehicle by more than 50 percent.

"The potential benefits are great enough that these crash avoidance systems should be standard equipment on all new large trucks," IIHS President David Harkey said in a statement.
Heavy-duty vehicle crashes have risen "by nearly a third" since an all-time low in 2009. However, the U.S. hasn't mandated or secured a voluntary commitment for truck autobraking the way it had with the 2022 AEB deadline for regular cars. (The European Union has made truck autobraking mandatory since 2013, in case you were curious.)
The speed reduction success seems like it could go one of two ways for the collision repairers fixing traditional private passenger vehicles.
Considering that large trucks can weigh 20-30 times passenger vehicles, physics would seem to imply that their crashes into regular cars yield more totaled victim vehicles. By reducing the truck's speed prior to impact, the ADAS could diminish the crash severity enough that a vehicle that would have been a total flips over to the repairable category. Crash frequency falls, but repairable vehicle volume rises enough to offset it.
On the other hand, it's also possible that this increase in volume isn't enough of a gain to compensate for an overall loss of severity ensuing after the ADAS cuts crash speeds. This would be the worst of both worlds: Less work (lower frequency) and lower revenue on the volume you do get (lower severity).
More information:
"Study shows front crash prevention works for large trucks too"
Insurance Institute for Highway Safety, Sept. 3, 2020
"Effectiveness of front crash prevention systems in reducing large truck crash rates"
Eric Teoh, IIHS, September 2020
Images:
The Insurance Institute for Highway Safety on Sept. 3, 2020, reported new data that large trucks with forward collision warning posted 22 percent fewer crashes, while autobraking led to 12 percent fewer crashes. (Provided by Insurance Institute for Highway Safety)
The Insurance Institute for Highway Safety's most recent estimates on the success of various advanced driver assistance systems. (Provided by IIHS)
Insurance Institute for Highway Safety research published in September 2020 found both autobraking and forward collision warning led to significantly reduced speeds in crashes where the truck rear-ended another vehicle. (Provided by Insurance Institute for Highway Safety)
Share This: