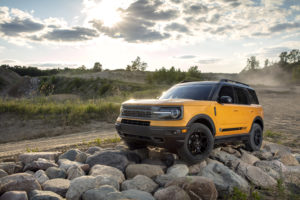 'On Target' takes a deeper look at the structure of the Ford Bronco, Bronco Sport
By on
Announcements
Repairers interested in understanding the structure of the full-size 2021 Ford Bronco, or learning more about the Bronco Sport, will want to be sure to download the latest issue of Ford's free, digital "On Target" magazine.
As repairers have come to expect, the quarterly "On Target" provides many opportunities to become familiar with the Blue Oval's vehicle technology and procedures.
The publication's peek beneath the skin of the 2021 Ford Bronco reveals the following:
• A fender apron brace (upper and lower) constructed of high-strength low-alloy (HSLA) 340 steel
• A body structure constructed of boron, dual phase (DP) and high-strength steels
• Roof panel reinforcements constructed of high-strength low-alloy (HSLA) and bake-hardened (BH) steel
• Bolted, removable front fenders, hinged doors and hood
• Body-side outer panels constructed of aluminum and bake-hardened steel
The vehicle's bumper beams come in for special attention."On Target" notes that, because such components are typically made from high strength or stronger class steel, they are not reparable if kinked or torn, and must be replaced.
The use of heat to make repairs is not allowed, and will result in weakening the component, Ford warns. Still, it adds, cold straightening only can be employed to correct minor damage.
"On Target" plans to include more construction details on the Bronco Sport in future volumes, including sectioning guidelines.
Ford Bronco Sport
This issue of "On Target" also continues its series on the Ford Bronco Sport, previously treated in the 2021 – Volume 1 and 2021 – Volume 2. This time, the focus is on vehicle-specific details of the vehicle's roof and body-side outer panels.
Note that the roof bows are made of "Smart Steel," a material Ford introduced on the 2020 Ford Escape. Smart Steel, Ford said, consists of two thin steel outer layers sandwiching a steel-fiber-reinforced composite. Developed by the Material Science Corporation, the material is 40 percent lighter than standard steel, and permits traditional resistance spot welding, Ford has said.
Ultra High Strength steel (UHSS) is used for the windshield header assembly (dual phase steel) and rear header assembly (boron steel).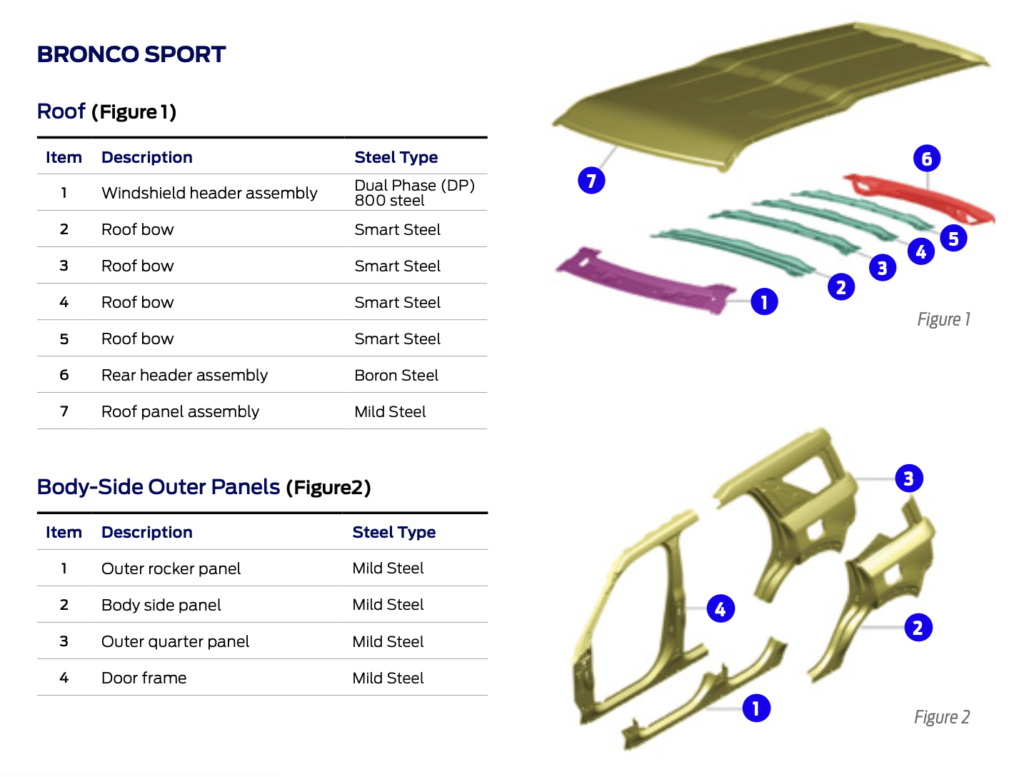 UHSS is employed for several components of the lower body as well.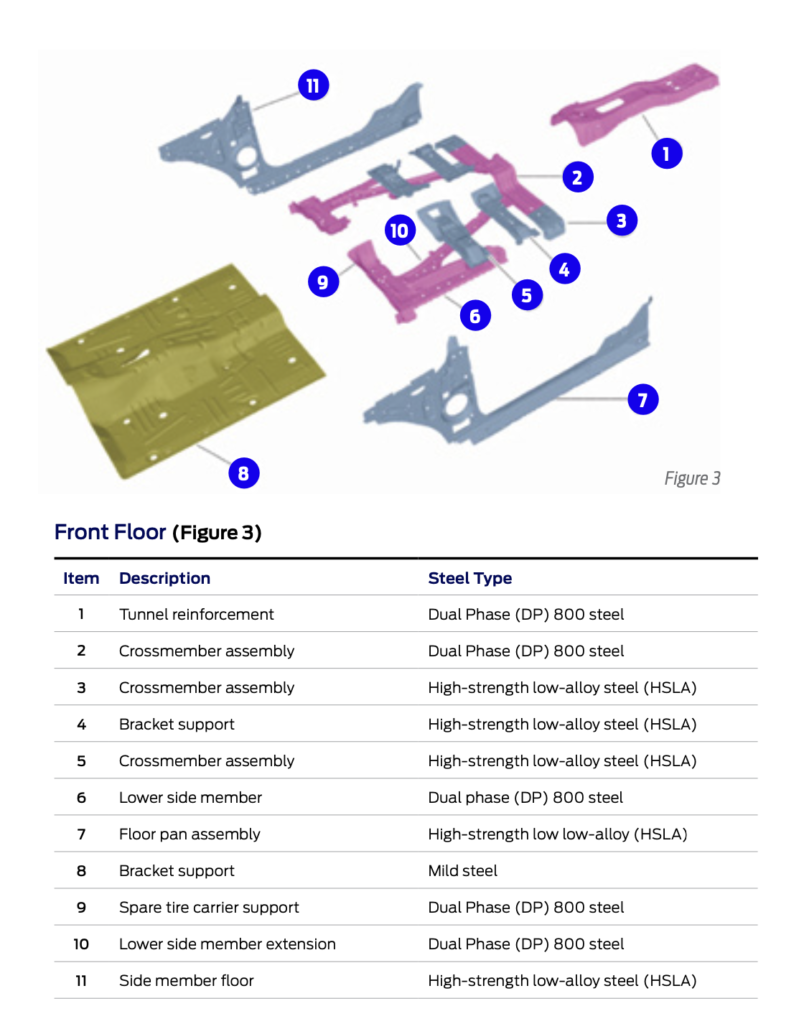 As with the Bronco Sport, "On Target" intends to "On Target" plans to continue its examination of construction details of the Bronco in future volumes.
This issue of "On Target" features much more collision repair material as well, including:
New updates to the Ford Certified Collision Network (FCCN) with State Farm;
Camera calibrations for Blind Spot Information Systems;
Continued overviews of the SRS systems;
Updates on the growth of I-CAR's RTS portal; and
A look Inside the Industry.
As always, the editors caution that none of the content should be taken as a substitute for the official Ford and Lincoln OEM repair procedures.
Images:
Featured image: The 2021 Ford Bronco Sport First Edition series in Cyber Orange Metallic Tri-Coat. is shown. (Ford Motor Co.)
Illustrations of construction details of the Ford Bronco. ("On Target"/Ford Motor Co.)
Share This: