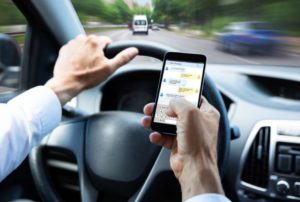 AAA study finds all ADAS-equipped vehicles should have driver-facing cameras for distraction detection
By on
Announcements
A newly released 27-page American Automobile Association (AAA) study on the effectiveness of driver monitoring systems in vehicles equipped with advanced driver assistance systems (ADAS) found that direct systems with driver-facing cameras to detect driver distraction or disengagement are most effective over those that only monitor steering wheel use.
On average, the percent of time drivers were engaged was approximately five times greater for direct systems compared to indirect systems.
Three 2021 model year vehicles, the Cadillac Escalade, Subaru Forester, and Hyundai Santa Fe, and the 2020 Tesla Model 3 were tested by AAA over two days for 10-minute segments along a 24-mile loop of a limited-access toll road in California.
The Escalade, equipped with "Super Cruise," and the Forester with "EyeSight" and "DriverFocus" are categorized by AAA as direct ADAS with driver-facing infrared cameras. The Santa Fe, with "Highway Driving Assist," and no driver-facing camera as well as the Model 3 with "Autopilot" and a cabin camera not used for driver monitoring are categorized as indirect ADAS.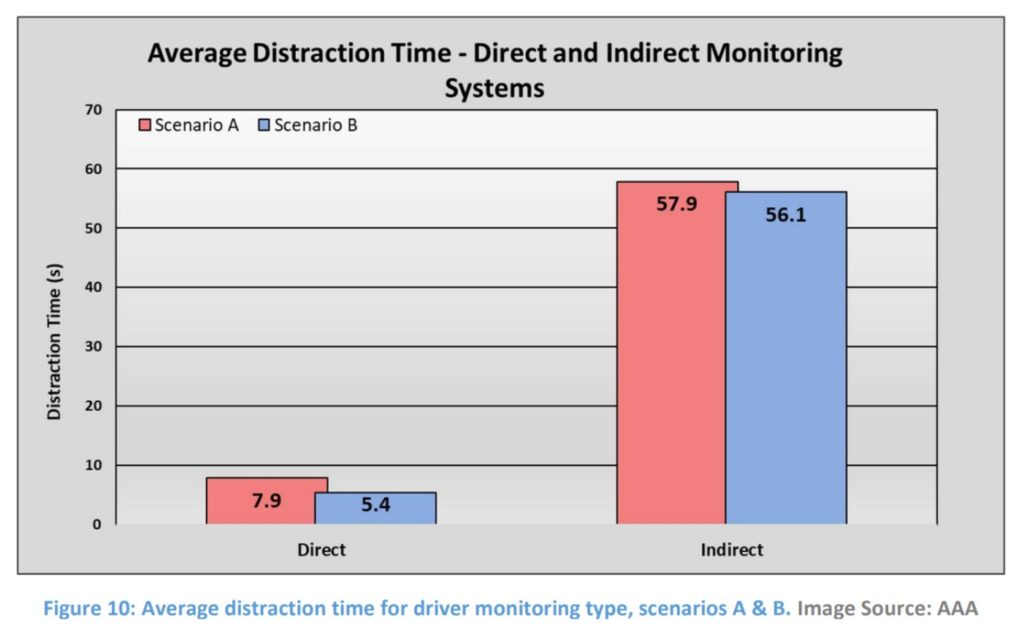 A Feb. 1 Consumer Reports article states that it along with the National Transportation Safety Board, the Insurance Institute for Highway Safety (IIHS), and the European New Car Assessment Program have found that when automation, such as adaptive cruise control and lane assist, are engaged at the same time drivers are more likely to not pay attention to their surroundings. About 50% of new vehicle models allow drivers to engage adaptive cruise control and lane-centering at the same time, according to an analysis by Consumer Reports last fall. Because of that correlation, they believe ADAS features should always be paired with driver monitoring using computers and cameras to keep an eye on attentiveness.
Consumer reliance on technology, and its effect on their diligence while driving is yet another reason that collision repair businesses need to be exceptionally cognizant of restoring safety systems through strict adherence to documented OEM repair procedures. Proper calibrations of cameras, lidar, sensors, and safety technology have a direct correlation to consumer safety – especially in instances where the driver is less engaged because of their reliance on such features.
OEM ADAS names developed specifically for marketing purposes can cause consumers to overestimate the capability of the systems, which actually require constant driver supervision regardless of the driving environment, according to the AAA study. A 2018 survey, also conducted by AAA, found that 40% of Americans expect ADAS with names like "Autopilot" or "Pilot Assist" to drive the car unassisted "indicating a discrepancy between consumer understanding and reality."
"With constant driver engagement as a prerequisite to the safe operation of ADA systems, a robust driver monitoring component is imperative to mitigate system misuse," AAA stated.
Both the direct and indirect system types were susceptible to active circumvention attempts. Indirect systems allowed, on average, over five minutes of simulated driver disengagement and direct allowed over two minutes. Driver disengagement was acted out by texting, reading, watching videos, or with the general use of a mobile device – all common distracted driving behaviors, according to AAA.
"At 65 mph, this translates to approximately six miles of driver disengagement for indirect and two miles of driver disengagement for direct systems," AAA stated.
Two scenarios were simulated. One where the drivers had their hands off the steering wheel, heads up and were facing toward the road ahead with their gaze directed downward. During the other, called scenario B, drivers had their hands off the steering wheel with their head and gaze directed downward to the right and toward the center console. Both scenarios were conducted during the day and at night.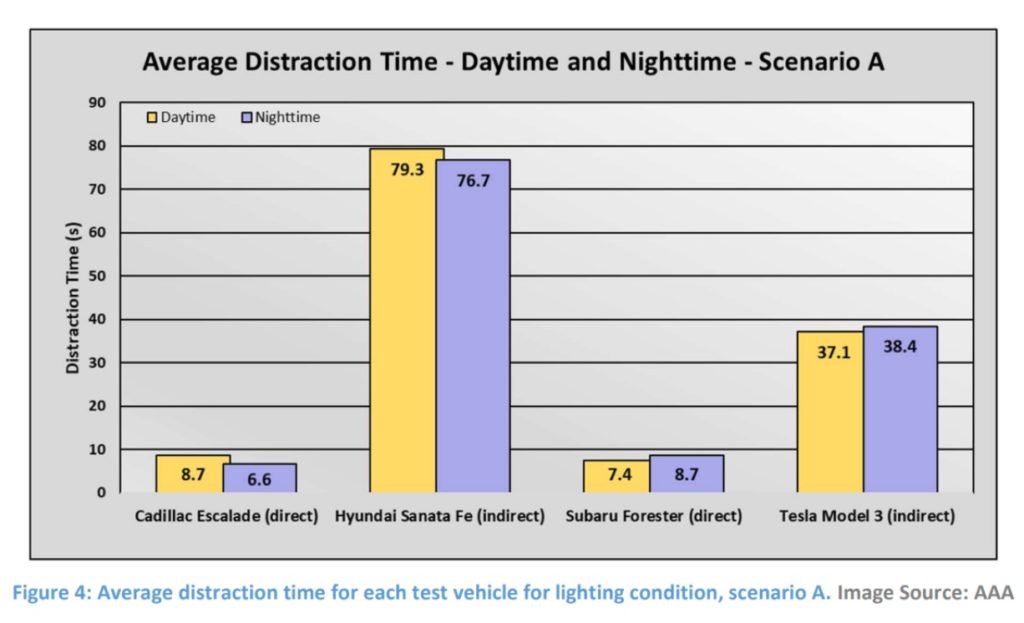 AAA determined scenario A in nighttime lighting conditions was challenging for the driver monitoring system because the gaze direction served as the only system input with little to no ambient lighting. Due to the integration of an infrared camera in both the Escalade and Forester, the impact of low ambient lighting conditions on system performance was minimized.
During scenario B and among all test vehicles, there was no significant difference in the average distraction times with regard to lighting.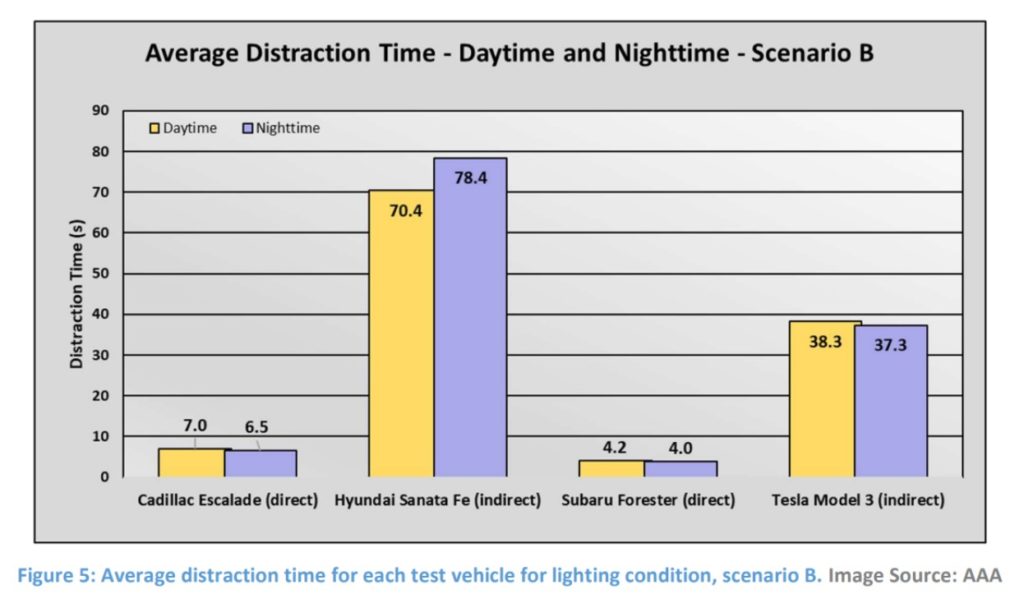 In both scenarios, the indirect systems in the Santa Fe and Model 3 exhibited significantly higher average distraction times and lower corresponding percent engagements relative to both direct driver monitoring systems integrated within the Escalade and Forester, according to AAA. Regardless of disengagement mode or lighting conditions, the direct driver monitoring systems significantly outperformed the indirect driver monitoring systems.
During both scenarios, indirect driver monitoring systems allowed over 50 more seconds of simulated driver disengagement between alerts than direct driver monitoring systems.
In 2020, AAA found that throughout 4,000 miles of real-world driving, five test vehicles equipped with an ADAS experienced some type of issue, on average, every eight miles.
"If a driver remains disengaged between alerts from an indirect driver monitoring system, a problem with ADA system performance will likely
occur while the driver is disengaged," AAA stated. "Depending on the severity of the issue, a driver may be unprepared to take adequate corrective action, possibly resulting in a crash."
ADAS misuse
Both direct and indirect system performance was significantly impacted by active circumvention attempts, but test drivers generally found it more challenging to evade detection on a prolonged and consistent basis, according to the study.
"Actual owners could be expected to become attuned to system characteristics over time," AAA stated. "This familiarity will facilitate more effective circumvention techniques if drivers intend to utilize an ADA system while disengaged and unaware of their surroundings."
AAA recommends ADAS include a direct driver monitoring component to mitigate system misuse more effectively and disablement of ADAS after some initial driver monitoring alerts are issued within a defined period of time without reaction. AAA also thinks automakers should "continually refine the direct driver monitoring system functionality to minimize distraction to the greatest extent possible."
IMAGES
Featured image credit: AAA
Share This: