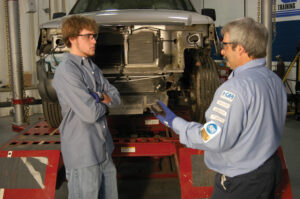 Industry groups call for more collision repair education involvement
By on
Education
As the nationwide automotive technician shortage continues, both in collision and mechanical repairs, some say the collision industry needs to get more involved with educational programs.
Collision Engineering National Program Director John Helterbrand told Repairer Driven News he's seen an uptick in technical trade secondary high school program interest due, at least partially, to COVID-19 lockdowns, especially by parents.
"People are looking at the earlier they can get their students into something, the better they are to be led to their future to something that will pay more or something that they can build on," he said.
Ron Moore, an auto body course instructor at Charlottesville-Albemarle Technical Education Center (CATEC), told Virginia Public Radio the move toward a preference for high school technical training from post-secondary experience or education is a change brought on by a tight job market.
"The job market is wide open," Moore said. "I've got shops every day, calling me, wanting people, needing people desperately. A few years back, there were enough people in the job market, with five, six, seven years experience, they weren't needing the entry-level technicians."
According to Virginia Public Radio, enrollment at CATEC increased 40% over the last two years, and Virginia high school graduates who completed at least two technical education courses increased by nearly 14% between 2017 and 2020.
Students told Virginia Public Radio that learning a trade can add to their college education, serve as a backup plan, and help them avoid student loan debt. The news outlet noted that starting pay for automotive technicians can be as much as $40,000 and eventually, with commission work, reach six figures. Helterbrand and Collision Repair Education Foundation (CREF) Managing Director Brandon Eckenrode told Repairer Driven News amounts vary by location and getting into a trade shouldn't just be about the money. Eckenrode noted collision repair technicians could start out making less than a Starbucks employee and then work their way up to six figures. 
"There's been an understanding from people that maybe there's another path, and maybe it doesn't outright require a four-year degree, but there are skills that are needed," Virginia Department of Education Career, Technical, and Adult Education Director David Eshelman told Virginia Public Radio.
Helterbrand told RDN that many high schools, unfortunately, have done away with shop classes, which were ways for students to find out their interests. "We're educating at graduation and that's not the way you should be doing things."
"Look at the interest of the student and give them more opportunity to explore things," he said. "I would definitely encourage if students are interested in cars, go to car shows. Or maybe the students just like putting puzzles together if they like taking things apart and putting them back together. Notice what videos they're watching. Are they intrigued at how things work or not work? …I tell parents all the time, go to body shops."
Employer competitiveness stems from the technician shortage, he added. To fulfill the current shortage, 20,000-25,000 collision technicians are needed every year based on TechForce Foundation's surveys, according to Eckenrode.
TechForce's "2021 Transportation Technician Supply & Demand Report" states demand for collision, automotive, and diesel technicians is strong with 797,530 needed through 2025 but the shortage continues to worsen. Eckenrode surmised the shortage will likely increase as technicians get closer to retirement with the average age now at 50 or older.
While collision repair education interest hasn't changed much, due in part to a lack of awareness of programs, there has been more of a spotlight put on what getting into the industry would be like, according to Eckenrode. He said CREF has observed more discussions about trades being a viable career path versus the traditional four-year college route.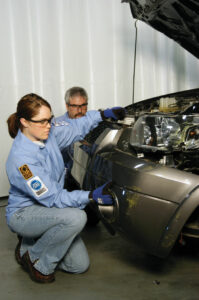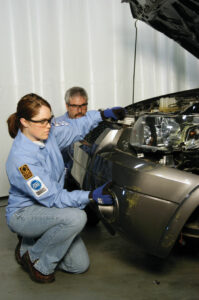 "I think it's an opportunity for the industry to take advantage of making sure that their local schools are well-equipped, well-supported so that if there is a renewed interest in the trades that …the local high school and college collision repair programs are attracting the best students," Eckenrode said, adding that the earlier students have the opportunity to get into a collision repair program, the better. "We'd like to be top choice but that's on the industry. It comes to actually getting involved, helping out these programs, working with the instructors, getting on their advisory boards."
Eckenrode welcomes anyone in the collision industry to reach out to CREF to work together to help schools with their programs. CREF is currently working with high school counselors to educate them on what the industry is and what the career pathways are so they can pass the information along to students and their parents. Part of the foundation's outreach includes its PSA campaign Operative Talent to attract a new generation of collision repair technicians.
Helterbrand also encourages repairers to get involved with education. "Everybody needs to get involved in some way, even if you don't think it means anything to you, you need to," he said. "The first thing you do is you get on the advisory board and you stop complaining [without action] and then you start to make change; you start asking questions."
For students who graduate with collision repair certifications, employers and colleges should work to complement what they've already learned to help them succeed in furthering their education or in their first job, Helterbrand said.
IMAGES
Collision repair photos provided by Collision Repair Education Foundation.
Share This: