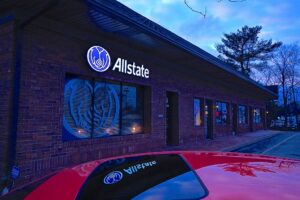 Allstate has agreed to make payments to thousands of its insureds in Pennsylvania to settle a class action lawsuit alleging that the carrier violated state law by failing to include full sales tax in settling total loss claims on leased vehicles over the past 10 years.
The class includes anyone who submitted a damage claim for a leased vehicle between January 1, 2012, through April 29, 2022 and was not paid full sales tax when Allstate adjusted their claim as a total loss, according to the settlement agreement filed in the U.S. District Court for the Eastern District of Pennsylvania.
Under the terms of the proposed settlement filed Sept. 1, Allstate agrees to pay class members the difference between whatever sales tax they were reimbursed for, and what the total reimbursement should have been. The state's sales tax is 6%, with some counties adding an additional 1% or 2%.
The complaint was filed Jan. 18, 2019 by Michael Erby, a Pennsylvanian whose 2014 Honda Accord sedan was struck on Aug. 25, 2016 by a Cadillac Escalade driven by a third party, who was insured by Allstate.
Erby said that Allstate deemed the vehicle a total loss, and offered Erby $19,104.50. That sum included the CCC ONE Market Valuation of $18,144.50, a DMV fee of $60, and a negotiated adjustment of $900. Not included, he said, was the Pennsylvania sales tax.
"Since Plaintiff's vehicle was totaled, Plaintiff accepted Defendant's offer of $19,104.50, rather than suffering a total loss of his vehicle without payment," the complaint states, even though "Pursuant to Pennsylvania law, an insurer or a carrier must reimburse the applicable sales tax to a party when reimbursing that individual or entity for the total loss of his vehicle."
The complaint cites Pa. Code § 62.3(e)(4), which states, "Applicable sales tax on the replacement cost of a motor vehicle shall be included as part of the replacement value."
"When settling a total loss claim, an insurance carrier is required to reimbursed (sic) for the sales tax on the replacement vehicle," the complaint states. "Failure to do so is a per se violation of Pennsylvania law and/or the insurer's contractual obligations."
In seeking class certification for the suit, the complaint said the plaintiff believes the class "consists of thousands of insureds statewide," although "The exact number of class members is unknown as such information is in exclusive control of Defendant."
The complaint accused Allstate of breach of contract, unjust enrichment, violation of Pennsylvania's Unfair Trade Practices Act and Consumer Protection Law, and breach of the Motor Vehicle Physical Damage Appraiser Act.
In the agreement, all parties stipulate that Allstate denies "wrongdoing of any kind," and has agreed to the settlement to "avoid further burden, expense and risk of protracted litigation."
Images
Featured image: An Allstate office in New Castle, Pa. (Murat Tanyel/Wikimedia Commons)
Share This: