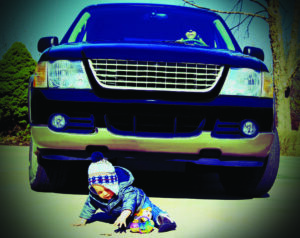 The National Highway Traffic Safety Administration (NHTSA) has agreed to look into concerns raised by a U.S. senator over "frontovers," accidents involving blind zones of as much as 16 feet directly in front of large SUVs.
"I am extremely troubled that large blind zones in front of SUVs are reportedly causing senseless deaths of children. In such instances, called 'frontovers,' tragedy strikes because a child in front of the car is not visible above the car's hood and no warning occurs," Sen. Richard Blumenthal, D-Conn., wrote in an Aug. 5 letter to NHTSA Administrator Stephen Cliff.
In his letter, Blumenthal calls for the adoption of front visibility standards, and for requiring that all SUVs be equipped with technology that could prevent such accidents.
The senator, who sits on the Committee on Commerce, Science and Transportation, asked Cliff to detail what steps NHTSA has taken toward reduction and prevention of frontovers, adding, "If none, please explain why not."
In his response, Cliff wrote, "I share in your concern about frontover crashes resulting in injuries and fatalities, especially among children. NHTSA is committed to investigating these circumstances and is dedicated to promoting vehicles, technologies, and behaviors that keep our children safe."
"[T]he danger of blind zones remains valid and must be addressed," Cliff said. "I am pleased to report that, given the risk presented by blind zones and our overall focus on vulnerable road user safety, NHTSA will initiate a review of the size and scope of frontover crashes, beginning with collecting more data."
He said the agency is considering adding two new non-traffic crash data elements related to backovers and frontovers for every Non-Traffic Surveillance [NTS] System non-specific crash in the coming data collection year.
According to the safety organization Kids and Car Safety (https://www.kidsandcars.org/), there are on average 50 backover accidents each week in the U.S., with two of those resulting in a child's death. In 2015, the organization said, NHTSA reported 284 fatalities and 12,000 injuries in connection with frontovers.
"Neither frontover dangers nor possible solutions are new," Blumenthal wrote. "A 2019 demonstration found the blind spot in front of a large SUV to be fifteen feet; another demonstration publicized last week found a comparable blind zone of sixteen feet. A blind zone of this size is simply astonishing."
In the recent demonstration Blumental cited, reporters with WTHR in Indianapolis conducted a test with volunteer Haven Hutchens and her 2011 Chevrolet Tahoe. As Hutchens sat in the driver's seat of the parked SUV, WTHR lined up children in front. It wasn't until a ninth child joined the lineup that she could see the very top of the child's head. The blind zone in front of her SUV extended nearly 10 feet from the front bumper.
Blumenthal noted that technology that could prevent such accidents is already available, and argued that it should be universally adopted, rather than offered only on more costly models or as an extra-cost option. "Safety is not — and never should be — a premium feature only available at extra cost; it should be the default," he said.
"[S]everal solutions to mitigate this blind zone have been suggested over the years, including front cameras or other detection technologies," Blumenthal wrote. "When confronting a rear blind zone that caused countless, tragic backover incidents, Congress mandated in 2007 that NHTSA issue a rule on rear visibility standards with the intention of decreasing backover deaths. A similar, simple solution of front visibility standards could help prevent these deaths."
Kids and Car Safety also encourages a technological solution. "Available on select vehicle makes and models is technology that uses a series of cameras and sensors to allow the driver to see all sides of the vehicle prior to moving. This referred to as birds-eye or 360° view technology. Just like backup cameras, all vehicles should come with visibility around all sides of their vehicle because you cannot avoid hitting someone you cannot see," the organization says on its website.
"Automatic emergency braking technology is now available in select vehicle makes and models. Drivers should be cautioned that not all forward collision avoidance technologies have the ability to sense the presence of a very small child."
In his letter to Blumenthal, Cliff said that frontover crash counts are "difficult to confirm" because of the challenges of distinguishing these crashes from other forward-moving vehicle impacts with people. In addition, none of the state crash reports that NHTSA receives has a data field for identifying frontovers.
The 2016-2020 NTS non-traffic crash injury and fatality data are now being processed, and will be released later this month, Cliff said.
More information
Letter from Sen. Richard Blumenthal
Response from NHTSA Administrator Stephen Cliff
"Federal Agency to Review 'Frontover' Blind Zone Crashes After I-Team Report"
https://www.nbcwashington.com/news/local/federal-agency-to-review-frontover-blind-zone-crashes-after-i-team-report/3145408/
Images
Featured image: Photo illustration provided by Kids and Car Safety. In 2015, the organization said, NHTSA reported 284 fatalities and 12,000 injuries in connection with frontovers.
Share This: