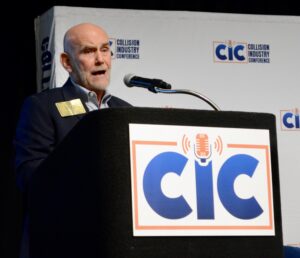 Telematics has a long way to go before it can live up to some of the hype surrounding it, members of the Collision Industry Conference's Future Disruptions committee agreed during a recent presentation.
Panelists Frank Terlep, the founder of Auto Techcelerators; Jake Rodenroth, North American body repair program operations manager at Lucid Motors; and Jimmy Spears, head of automotive for Tractable, agreed that telematics holds promise for insurers, OEMs, consumers, and even body shops.
During the 45-minute session, titled "Myth Busters: The Real Truth about Telematics Today," they also agreed that the data that's collected, through smartphones and the vehicles themselves, is of great value to carriers, and can be especially helpful in making decisions at the beginning of the claims process.
Terlep began with a promotional video, in which a driver is involved in a one-vehicle crash. Within moments, a service contacts him to confirm the collision, offer to send medical help, and make arrangements to deal with the damage. The service determines that the vehicle is non-drivable, makes arrangements for a tow truck and a rental car, offers the driver a choice of certified collision centers nearby, and even pre-orders parts that it has determined will be needed.
Today, panelists agreed, this is the stuff of fantasy.
"We worked with an OE when I was with a carrier," Spears said. After an accident, "we would listen to these phone calls. And we would try to be as real-time as we could be… [E]very one of [the calls] was somewhat of a disaster. And what I mean by disaster was that it never fulfilled what you wanted."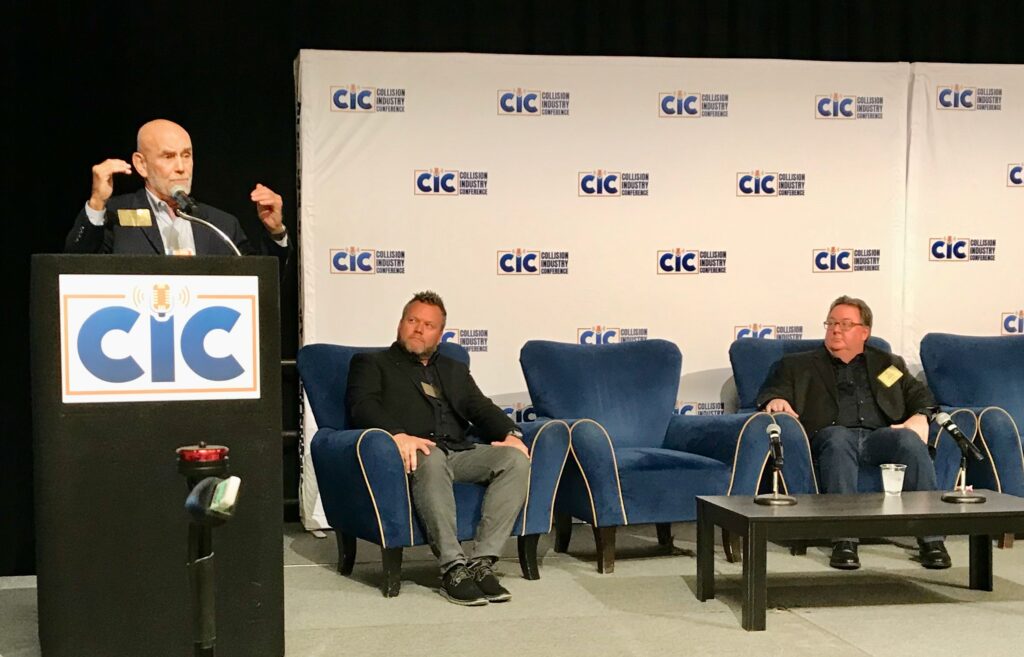 "In real life, you're not going to be having a conversation with your mirror with somebody banging on your window trying to get your insurance information," Spears said. "The calls that I were on, kids were screaming in the back [seat]… nothing good got done. Nothing."
He suggested that there is some advantage for insurers, in that they know an accident has occurred, they may know the vehicle is not drivable, and they may be able to offer their customer a "concierge" way of handling the claim.
"But I'll tell you, that's what I would call a myth. I think that the video does a great job of showing all of what can happen. But what really does happen is a completely different reality," Spears said.
Prompted by Terlep to rate on a scale of one to 10 how much telematics is engaged in the claims process, Spears responded with, "a solid three."
Where telematics best serves carriers, Terlep said, is in assessing individual drivers' risk factors in setting premiums, and in receiving first notice of loss (FNOL), which can expedite the claims process.
"When it comes to insurers, the more data they can get, the better decisions they can make, while for all of us… the more data we can get that we can apply to our companies and our businesses, the better we can make decisions," he said. "So again, number one, I think data is critical from a telematics perspective for insurers."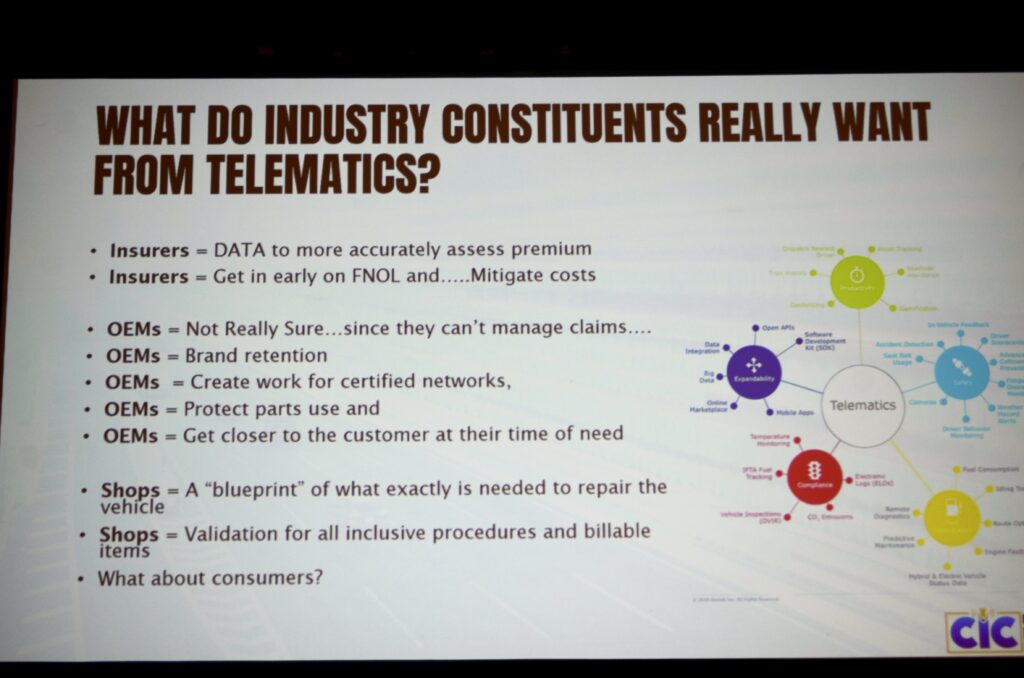 Body shops, on the other hand, are not seeing much benefit from telematics, although they someday might be, Terlep said.
"What can telematics do? What is it doing for shops today? Well, not much, in my opinion, not much at all," he said. If he ran a shop, and telematics could tell him "exactly what's wrong with that vehicle before it shows up at my facility, that'd be pretty cool," he said. Technology might also provide the shop with all of the OEM information needed to carry out the repairs, he added.
But "that's not here today, [and it's] probably a long way away," he said.
Telematics could be particularly helpful for a shop that has an electric vehicle (EV) coming in for repair, Rodenroth added.
While internal combustion engine (ICE) vehicles often can move under their own power, or can at least be moved around, that's not always the case with an EV, he said.
"It may be that the system shut everything down to keep everybody safe, locked up the parking brake, and now you've got a 5,000-pound paperweight that people are trying to figure out what to do with it," he said. "So having those insights from a shop perspective on the state of charge before the vehicle got there would be huge."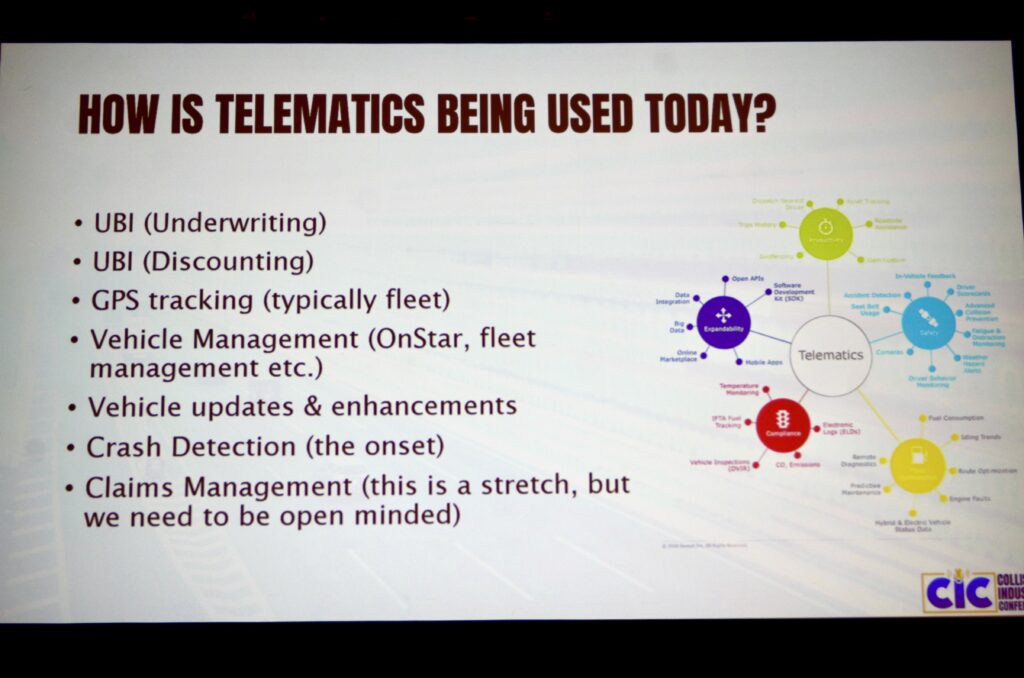 With existing technology, Rodenroth said, shops should be aware that some savvy EV owners may have ways to check up on their vehicles while they're in for repair — in a sense, looking over a shop's shoulder.
"I'm guilty of it because mine was in the shop for a week. And I was checking that thing every couple of days" through the mobile app, he said. "When you have the ability as a vehicle owner, trust me when I say you will check the app. Your car's in somebody else's care. You will check the app to see where it is and what they're doing to it. And did they change your radio station, and all those kinds of things."
OEMs, which have a built-in opportunity to collect data through vehicle telematics, have the potential to do much more than they have to date, Terlep said.
For instance, OEMs will now have the opportunity to communicate directly with their customers, which could be used to feed repair and service opportunities to their repair networks and build customer satisfaction and brand retention.
Spears said manufacturers are missing a significant opportunity to be in contact with their customers after they've experienced a total loss and are shopping for a new vehicle that meets their current needs.
As an example, he said, consider a customer whose seven-year-old Honda Odyssey has been declared a total loss. "It's never replaced again with another seven-year-old Honda Odyssey, even though you've been compensated for that," he said. "Seven years later, the kids are graduating high school, [and] now you're looking at a completely different type of vehicle. That's when people go shopping."
Despite having this "amazing ability" to offer incentives to remain loyal to the brand, he said, "we're not seeing them do it. I think they do a horrible job at it."
However, OEMs are increasingly levering their access to telematics by launching their own insurance, as Toyota and Tesla have done, or are seeking to separate from carriers with whom they now partner, Spears said.
"We're going to have to get this new category where it's like OEM/insurance company," he said. "Imagine being able to at the time of sale, time of purchase, being able to just slide them right into the insurance product, maybe even financing that as a great experience; say that we'll know a lot about you, we can provide you discounts. I think that there's a lot of good to be done there," he said.
"But I do know that we're going to have to really start to think about — particularly the independently owned shops — where do you start to align yourself with first notice of loss? I think that these programs, such as an Audi-type program, where you are a certified store, I think those are going to become more and more important in the whole chain of things," he said.
Images
Featured image: Frank Terlep, the founder of Auto Techcelerators and co-chair of the CIC Future Disruptions committee, addresses the audience. (Dave LaChance/Repairer Driven News)
CIC Future Disruptions committee members, from left, Frank Terlep, the founder of Auto Techcelerators; Jake Rodenroth, North American Body Repair Program Operations Manager at Lucid Motors; and Jimmy Spears, head of automotive for Tractable, dispel myths surrounding telematics during a CIC presentation on Nov. 1 in Las Vegas. (Dave LaChance/Repairer Driven News) 
Share This: