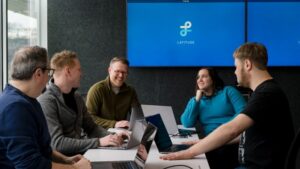 Ford Motor Co. has established Latitude AI, a wholly-owned subsidiary focused on developing a hands-free, eyes-off-the-road automated driving system for millions of vehicles. Meanwhile, Waymo and General Motors' Cruise just recently reached 1 million driverless miles.
To form Latitude, Ford put together a team devoted to machine learning, robotics, software, sensors, systems engineering, and operations. Advancement in its autonomous vehicle (AV) tech includes Ford BlueCruise, which has accumulated more than 50 million miles of hands-free driving.
Ford says Latitude is a reimagining of the customer experience through the elimination of tedious driving tasks like bumper-to-bumper traffic or on long stretches of highway. The average driver in the U.S. spends nearly 100 hours a year sitting in traffic, according to the transportation analytics firm INRIX.
"We see automated driving technology as an opportunity to redefine the relationship between people and their vehicles," said Doug Field, Ford's chief advanced product development and technology officer. "Customers using BlueCruise are already experiencing the benefits of hands-off driving. The deep experience and talent in our Latitude team will help us accelerate the development of all-new automated driving technology – with the goal of not only making travel safer, less stressful and more enjoyable, but ultimately over time giving our customers some of their day back."
Establishing Latitude supports Ford's strategic shift last year to focus on automated driving technologies for personally owned vehicles. Ford hired about 550 employees, formerly of driverless car startup Argo AI, across machine learning and robotics, cloud platforms, mapping, sensors and compute systems, test operations, systems and safety engineering. The Latitude team brings with them experience not only in automated driving but also software development tools and infrastructure and advanced driver assist systems (ADAS).
Five months ago, Ford pulled its investments from Argo AI, which was located in Pittburgh's Strip District, according to the Pittsburgh Post-Gazette. Latitude will be housed in the 6-year-old Argo headquarters, which closed after Ford and Volkswagen pulled their investments. Ford said additional Latitude engineering hubs will be located in Dearborn, Michigan and Palo Alto, California. The company will also operate a highway-speed test track facility in Greenville, South Carolina.
Sammy Omari, Ford's executive director of ADAS Technologies will also serve as the CEO of Latitude. Peter Carr has been appointed chief technology officer to oversee Latitude's product and technical development, and David Gollob as president to handle business operations.
"We believe automated driving technology will help improve safety while unlocking all-new customer experiences that reduce stress and in the future will help free up a driver's time to focus on what they choose," Omari said. "The expertise of the Latitude team will further complement and enhance Ford's in-house global ADAS team in developing future driver assist technologies, ultimately delivering on the many benefits of automation."
In January, Waymo reached its milestone 1 million miles of public autonomous driving with no human monitor in the vehicle. The company also published detailed safety data, including descriptions of all incidents with their vehicles involved. Cruise has declined to provide similar information, though since most of their operations are in San Francisco, many of them have been reported to the California DMV, according to Forbes.
Waymo crash statistics, as reported on its blog, include:
"18 minor and two major contact events in 1 million miles of operation
"Other vehicle at fault in all vehicle-to-vehicle contacts. There were four contacts with physical objects, three of which caused no known damage
"No reported injuries, no contacts at intersections, no contacts with vulnerable road users
"All events were of a class unlikely to result in a severe crash or fatality, and the serious ones were front-to-rear which only account for 19% of serious crashes and 6% of fatalities in data on the general population.
"In 55% of events, the Waymo vehicle was stopped and hit by somebody else."
More statistical information can be found in a 30-page academic paper published by Waymo.
"Cruise, on the other hand, has not performed as well, but worse, they decline to publish many of the statistics," Forbes Senior Contributor Brad Templeton wrote. "As these companies (and others) move to deploy in the world, they will need to take steps to reassure the public, and not revealing the facts is a poor choice in that regard — it can't help but raise the question of 'why won't they say?'"
Waymo has begun testing in Los Angeles with no safety driver on board, suggesting operations there may be imminent, he added.
Fear of self-driving
According to AAA's annual automated vehicle survey, fear of self-driving vehicles by the public is on the rise with 68% of respondents saying that's how they feel, compared to 55% last year. That's also the biggest jump in the statistic since 2020.
"We were not expecting such a dramatic decline in trust from previous years," said Greg Brannon, AAA director of automotive research. "Although with the number of high-profile crashes that have occurred from over-reliance on current vehicle technologies, this isn't entirely surprising."
The study suggests that despite all the advancements made to improve vehicle technologies, the public isn't really to fully trust these emerging advancements, AAA said.
It added that it's working with automakers to help educate drivers on vehicle advancements.
"Together, we can help consumers understand the type of technology their vehicle has along with how, when, and where to use these systems, which will ultimately build trust in the vehicles of the future," Brannon said.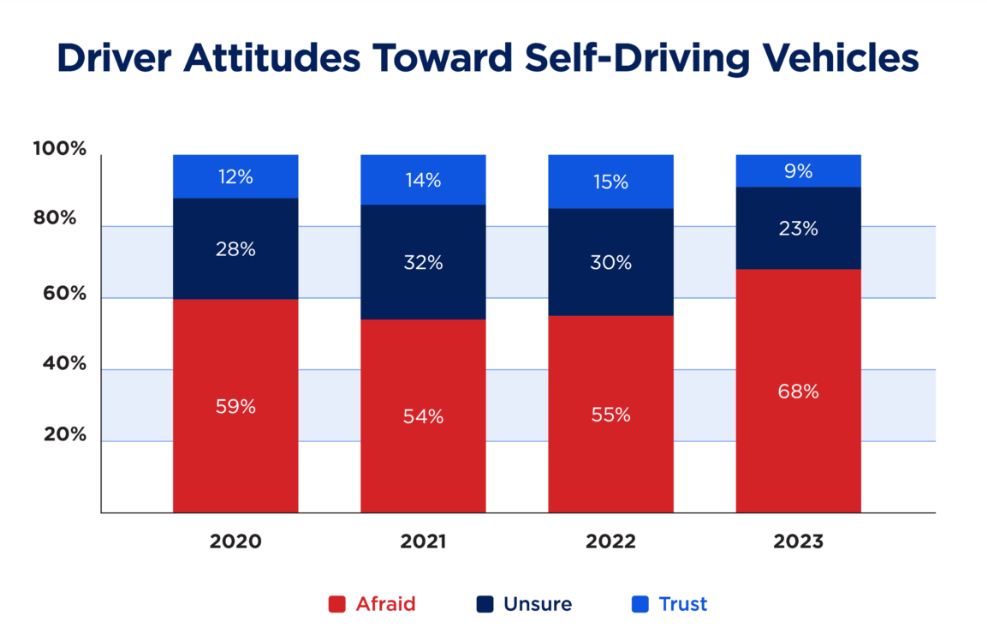 However, 6 in 10 U.S. drivers would "definitely" or "probably" want advanced driver assistance systems (ADAS), such as blind spot warning, adaptive cruise control, and automatic emergency braking equipped on the next vehicle they purchase. ADAS, of course, is not to be confused with autonomous or "self-driving" because ADAS still requires a person to actively drive the vehicle.
Even with advancements made in recent years, AAA says the findings suggest improvements are still needed to build public trust and knowledge surrounding emerging vehicle technology.
"There is also a need to dispel confusion around automated vehicles. AAA's survey found that nearly one in ten drivers believe they can buy a vehicle that drives itself while they sleep. Currently, there is no such vehicle available for purchase by the public that would allow someone to fully disengage from the task of driving.
This perception could stem from misleading or confusing names of vehicle systems that are on the market. AAA found that 22% of Americans expect driver support systems, with names like Autopilot, ProPILOT, or Pilot Assist, to have the ability to drive the car by itself without any supervision, indicating a gap in consumer understanding."
AAA used responses from 949 qualified respondents, all 18 years of age or older, to serve as sample coverage of 97% of the U.S. household population.
Electric vehicles (EVs) and hybrids
Ford also announced on Friday that it is increasing production at manufacturing plants across North America to meet strong customer demand for the Mustang Mach-E, F-150 Lightning, Bronco Sport, and Maverick. The company is also preparing to launch all-new versions of four vehicles in 2023: Super Duty, Ranger, Mustang, and Escape.
"We have had a strong start to 2023 sales and we are moving to fast-track quality production," said Kumar Galhotra, Ford Blue president. "Increasing production benefits both our customers and our business."
Ford Blue is the automaker's internal combustion engine (ICE) vehicle division, which Ford said last year would serve to "drive growth and profitability – relentlessly attacking costs, simplifying operations and improving quality" and would "provide world-class hardware engineering and manufacturing capabilities for all of Ford. Ford Model e is the company's EV division.
Through February, Ford EV sales are up 68%. Also last month, Ford's U.S. market share increased by 1.4 percentage points to 13.3%, powered by a 21.9% sales increase.
Increased production of the Mach-E began last week, including changes at the plant to nearly double hourly production and bring the annual manufacturing run rate to a targeted 210,000 units by year-end. Mustang Mach-E drove Ford to No. 2 in U.S. EV sales last year.
Production of the Bronco Sport and Maverick are targeted to increase by more than 80,000 units this year, helping to meet demand in both North and South America. In the U.S., Ford brand SUV sales totaled 777,770, up 4.6% in 2022 versus 2021, led by the Bronco family of vehicles. Maverick was the No. 1 small truck in America in 2022.
In Michigan, production of the F-150 Lightning at the Rouge Electric Vehicle Center is on track to triple this year, targeting an annual production run rate of 150,000 by the end of 2023. The F-150 Lightning is the best-selling electric truck in the U.S. with sales of 3,600 through February, in addition to 15,617 sales recorded in 2022. F-150 Lightning production will resume March 13. Overall, for the F-150 Lightning production increase, Ford is investing $2 billion across three plants in Michigan and adding 3,200 union jobs.
Ford says it is also looking at ways to increase production at the Dearborn Truck Plant of the F-150 gas and hybrid trucks "to meet continued strong demand."
Images
Featured image: Ford Latitude has been created by the OEM to focus on autonomous vehicle technologies. (Credit: Ford Motor Co.)
"Driver Attitudes Toward Self-Driving Vehicles" bar graph provided by AAA.
Share This: