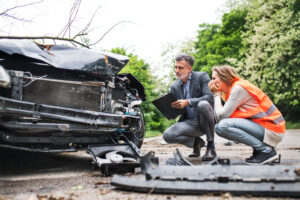 Hi Marley's latest research on car and home insurance policyholders' FAQs found that poor claims experiences push them to switch carriers and that nearly half of the questions concerned getting vehicles to body shops and repair status.
More than 1,000 claims in Hi Marley's database were analyzed and the root cause of the questions asked most often were broken into five categories:
Process Explanation/Next Steps: 31% of inquiries resulted from an unclear understanding of the process and next steps
Ad Hoc Request: 30% of inquiries related to a specific issue or topic
Informational Only: In 18% of the inquiries, the customer did not ask a question, but required a response or acknowledgment
Expectation Setting: Unclear expectations drove 13% of the questions
Scheduling: 5% of the inquiries related to coordinated schedules for either a call, meeting, appraisal, or other needs
Response Timeliness: The customer requested an urgent need for response in 2% of claims
Hi Marley said the research shows how carriers can anticipate their customers' concerns and improve their claims experiences as well as efficiency.
Out of the 1,040 claims, customers asked 244 times how they can receive acknowledgment of receipt or confirmation of information they sent to their carriers, which resulted in 823 messages back and forth to reach resolutions.
"If carriers proactively acknowledged receipt before a customer asked, they could save three messages per conversation, on average," Hi Marley wrote in its report. "Configuring automated replies removes a manual step for adjusters, creates timelier responses, and puts the customers' minds at ease while making them feel supported."
Examples of FAQs and information shared to carriers include:
"I did have a question, the auto shop asked us to sign a form giving them 'power of attorney' rights. Have you heard of this before? It seems fishy."
"I sent the towing company the paperwork to release my car to AAA."
"Am I responsible to pay any part of this rental other than the accidental?"
"How long can I keep my claim open?"
"I emailed you all last week and I have yet to hear back from the insurance company on our request. Can you or someone on your team please provide an update on our claim?"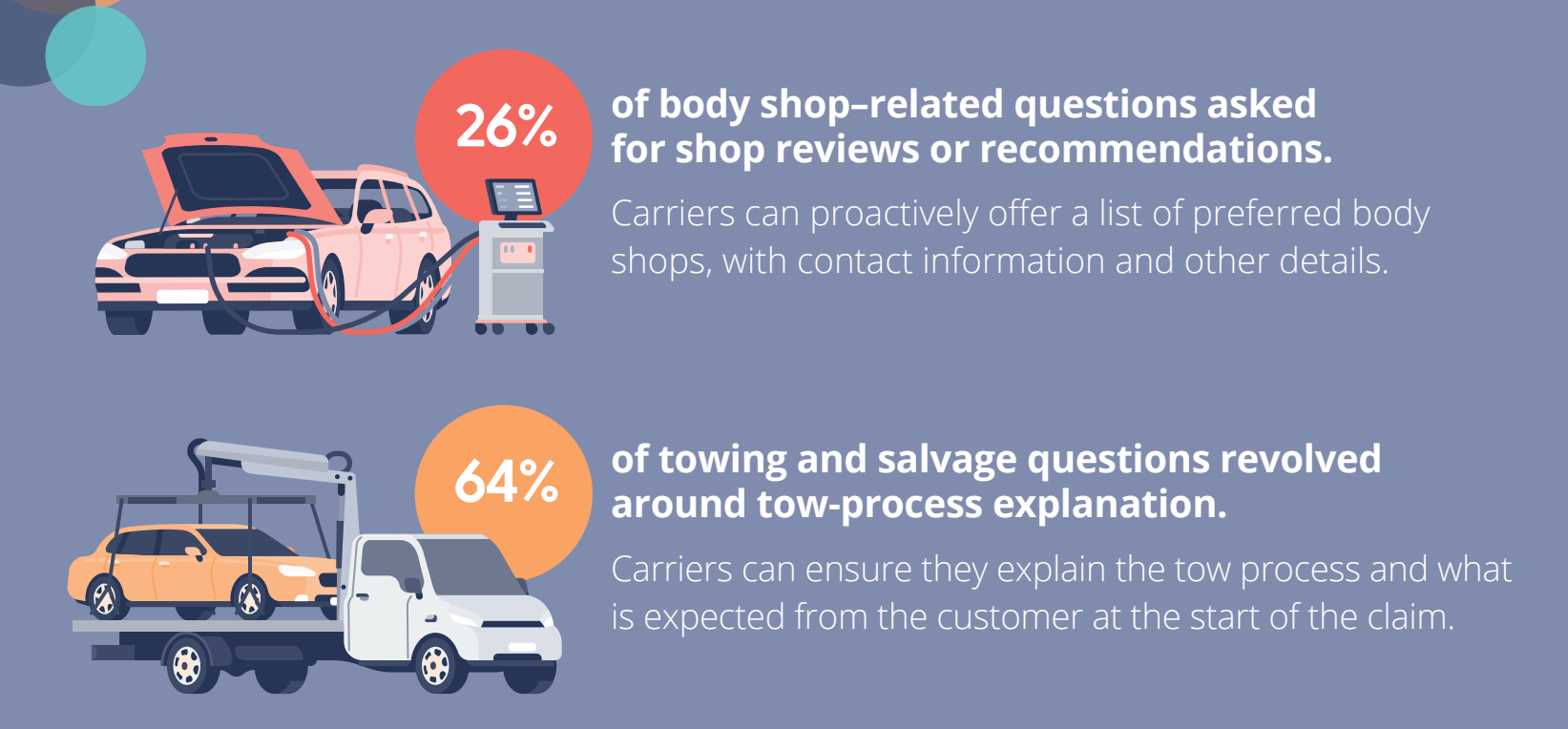 The research also revealed that while 65% of the questions only related to the individual asking the question, 35% involved other parties. Forty-eight percent of questions were related to body shops and 25% to car rentals.
"One thing our analysis reinforced is that claims consumers want to be heard," said Mark Snyder, Hi Marley principal consultant and claims subject matter expert. "We found that a significant number of inbound inquiries could potentially be avoided — and ultimately reduce cycle times and costs — by adjusters being a little more proactive, thoughtful, and detailed in terms of initial explanations of the claims process and setting of customer expectations."
Hi Marley determined that if carriers were to explain their claims processes and set claim-handling expectations up front, they would be asked far fewer
questions later. Forty percent of the questions asked involved claim status (23%, including 10% about payment status), next steps (9%), and documents necessary to send to adjusters (8%). Another 17% of claimants called and left messages asking for a callback from their carriers.
It was discovered through the research that 45% of customers to carriers concerning body shops could've been avoided by "better process explanation and expectation-setting earlier on," Hi Marley wrote in its report.
"Additionally, most towing and salvage questions revolved around tow-process explanation (64 percent), which, again, ties back to process explanation and expectation setting. This study indicates that adjusters can avoid most inbound inquiries that require further explanation by being more proactive, thoughtful, and detailed in terms of initially explaining the process and setting customer expectations as to what will occur when it will happen, and who will need to do what."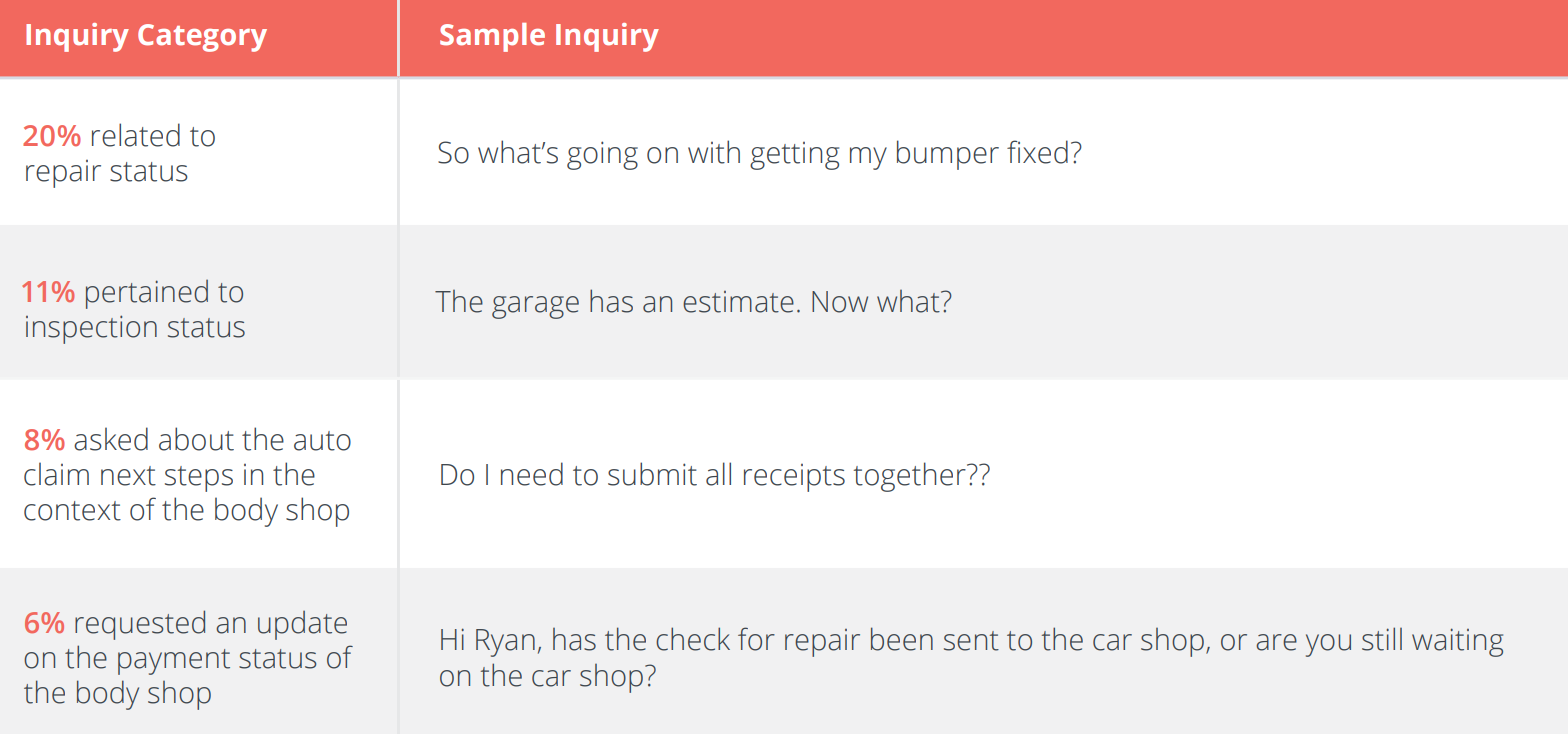 Hi Marley noted that the introduction of new technology, like advanced driver assistance systems (ADAS), combined with current labor shortages, rising costs, and supply chain issues creates challenges for repair shops to get the parts they need. "As a result, insurance carriers are experiencing prolonged cycle times and increased average severities," the report states.
"Accenture found that if a claim isn't settled within a month, dissatisfaction rises 30%. Furthermore, in our analysis of customer satisfaction surveys, Hi Marley found that 12% of 1-star customer satisfaction surveys cited 'untimely service' or 'resolution took too long' as the primary driver of their poor claims experience.
Hi Marley called managing claims expectations is critical and noted J.D. Power's 2022 U.S. Claims Digital Experience Study found that customers are three more times likely to say the claims process was slower than expected if carriers don't provide regular updates, and are two more times likely to say it was quicker if regular updates are provided.
The findings also showed "a sharp rise in the number of customers contacting their insurer for information, particularly tied to these longer-tailed claims," J.D. Power said. "Satisfaction among customers who need to primarily call their insurer for updates includes some of the lowest scores compared with other update methods."
Hi Marley's full report can be found here.
Images
Featured image: Halfpoint/iStock
All other images provided by Hi Marley
More information
Share This: