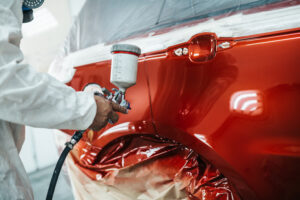 Modern automotive spray guns are designed for ease of use and efficiency, allowing technicians to complete a paint job in mere days. However, it took more than a century of innovation to get the industry there, as one expert recently explained.
Speaking during a Society of Collision Repair Specialists (SCRS) presentation, 3M Application Engineering Specialist Brady Haislet offered a history lesson on automotive paint processes.
"We want to pay some respect to where it all started," Haislet said.
He went on to reference game-changing inventors from the 1800s, including Marshall Fields, a department store maintenance manager who was seeking a faster way to apply whitewash to the store's walls. He developed a tool that included a container pump and a wand which he used to paint faster than he could with the brushes they used at the time.
At the time, there was no need for spray painting in the auto industry, and a market for that wouldn't develop until the early 1900s. When it did, paintbrushes were considered state-of-the-art tools, and the only available color was black, said Haislet.
"Paint brushes of course leave behind the texture, the brushstrokes, that's not desirable in the finish," he said. "The application process required a lot of sanding and polishing steps after the application and with these early varnishes it was a three-week to a month process, so that cycle time was definitely not desirable."
Room for improvement
The situation improved, albeit slightly, in 1915 when some technicians began using squirt gun-type tools to apply paint, Haislet said. Although it was faster than using a brush, it still left an undesirable finish, requiring sanding and polishing to perfect, he added.
Also in the early 1900s, an inventor named Tomas DeVilbiss created a spray gun that revolutionized paint coating applications on both furniture and vehicles. He did so by adapting an atomizer that his father, Dr. Allen Devilbiss, had invented a decade earlier for health care.
The original device was created with some tubing, a bulb, and the base of an oil can.
The invention worked, reducing paint drying time from weeks to hours and increasing productivity.
"Around the same time, the varnishes that were being used were replaced with these lacquer paints," Haislet said. "The combination of the spray gun and these lacquer finishes really accelerated those cycle times and left behind a more desirable finish for those cars. That was monumental in the industry."
How a spray gun works
Haislet also offered an explanation of how a spray gun works, laying out how applying low pressure gives a porous finish with large droplets, while increased pressure creates a greater amount of finer droplets.
"But at a certain point you can't go too fine because ultimately you want to match an OEM finish," Haislet said. "You don't want to have particulate that's so small that the texture is actually finer than the panels next to the repair that you're trying to match. Also, at this time, if you go to higher pressures that atomization gets so fine, that some of those particulates don't even make it to the panels.
"There's something called transfer efficiency, which is simply defined as how much of that paint actually goes where you want it to go. As you think about it, if it gets very, very fine, it doesn't even make it to the panel, it just goes [elsewhere] and that's wasted paint."
Configurations
There are a number of different spray gun configurations, with one of the earliest models called Siphon Fed, which contained a reservoir of paint below the atomizing head that required higher pressure to use.
The trouble, Haislet said, is that higher pressure leads to additional overspray and paint waste. The more recent gravity feed guns help avoid such waste through the addition of reservoir coating above the atomizing head, Haislet said.
"That allows you to reduce the amount of pressure to still get that same application flow rate that you would want," he said. "Lower pressure means a little bit less overspray or better transfer efficiency."
In industrial applications, pressure-fed spray guns are used to cover large substrates while ensuring a good finish and maintaining a wet edge in the application, Haislet said.
Latest and greatest
The most important feature technicians should look for in a modern spray gun, Haislet said, is the way it sprays. Paint technicians should consider the size of the pattern, distribution, and balance when selecting the right tool, he added.
Material efficiency is also critical, he said, to minimize paint waste.
In 2020, 3M launched its performance spray gun with replaceable atomizing heads. It's the lightest spray gun in the world, Haislet said.
"The idea here is just to really take the pain out of painting for our customers," he said. "We want them to be able to maintain the equipment really easily, [and] changeovers are faster."
Aside from being the lightest gun, 3M's product is also the industry leader for transfer efficiency, Haislet said.
"We've been able to help a lot of shops," he said. "Even as these paint costs are rising, people who have been adopting the spray gun who've been finding they've been able to reduce their paint spend."
As the industry continues its technology-driven evolution, Haislet said 3M is likely to grow alongside it.
"Just like the century of development and spray guns, we're going to continue to find ways to make it easier, more simple to use day after day without much pain," he said.
Images
Featured image by Group4 Studio/iStock
Share This: