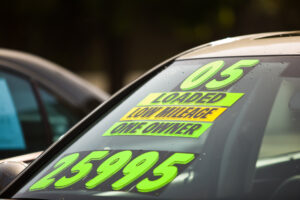 Used car prices are down, inventory remains low
By on
Market Trends
Used cars are likely to continue dropping in price despite inventory dipping to its lowest point since 2019, according to a Cox Automotive analysis.
According to the newly-released report, about 2.05 million unsold cars were parked at dealer lots at the end of March, less than the 2.09 million available for sale at the end of February.
The drop was more marked year-over-year, when used car inventory dropped 10% in March, Cox said.
"The supply of used vehicles at dealerships is at its lowest point in our data, which goes back to 2019," said Cox Automotive Senior Economist Charlie Chesbrough. "Finding the right product at the right price is more challenging for buyers today."
Used car prices, meantime, decreased slightly from $26,250 in February to $26,213 in March.
The drop might be welcomed by those on the hunt for a used car, as prices for previously-owned vehicles have skyrocketed throughout the past few years. The rise contributed to insurers raising costs and made it a challenge for policyholders to find replacements in the event of total loss collisions.
"Compared to Spring 2021, used-vehicle prices at retail have been relatively stable and trending downward," Chesbrough said. "However, with tight inventory, still-high used-auto loan rates, and improving new-vehicle inventory, the used-vehicle market might be cooling off in the coming months."
Last month, cars sat for an average of 40 days before being sold, with cheaper vehicles selling sooner and more expensive ones taking longer to find a buyer.
Chesbrough's forecast that used car prices will likely drop is shared by Ducker Carlisle, which said in a recent whitepaper that the used car boom "bubble has burst."
It said the growing availability of new cars, coupled with alleviating supply chain bottlenecks, is driving down prices on used cars.
"The used car bubble seems to have burst since the second quarter of 2022," it said. "New cars have been slowly becoming more widely available, as supply chain bottlenecks finally start to ease."
Some new car prices are also dropping. Tesla dropped its prices for the sixth time this year for Models Y and 3 as competition intensifies within the electric vehicle space. It reduced its Model Y long range and performance by $3,000 each, while the Model 3 rear wheel drive dropped in price by $2,000.
However, a separate Cox report from February found that overall, new cars are becoming out of reach for many consumers.
"As prices rise and high interest rates shut out many shoppers with low credit scores, the U.S. market is becoming a luxury market, i.e., a new vehicle is a luxury afforded only by wealthier buyers," it said.
It noted that in December 2017, there were 36 models retailing for less than $25,000, with that segment accounting for nearly 13% of all vehicle sales. In December 2022, there were just 10 models selling new for less than $25,000, representing a 4% share of sales.
Image
iStock/halbergman
Share This: