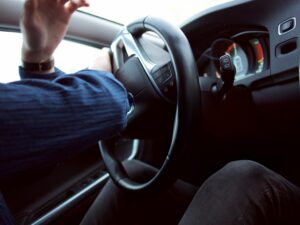 Consumer Reports calls on 7 automakers to offer free 'life-saving' safety feature
By on
Technology
Consumer Reports (CR) has launched a campaign to make the automatic crash notification (ACN) feature, which it says is "life-saving," free in all new vehicles.
In a recent investigation, CR says it found that most automakers still require a subscription for ACN that can be more than $100 a year and if the fee isn't paid, the feature will be disabled. The feature is now mandatory in all new cars sold in most of Europe.
CR found that 14 car brands — Acura, Audi, BMW, Ford, Lincoln, Genesis, Honda, Hyundai, Jaguar, Land Rover, Mazda, Polestar, Porsche, and Volvo — offer free ACN on at least some vehicles. Seven — Jeep, Kia, Lexus, Mercedes-Benz, Ram, Toyota, and Volkswagen — offer free trials of five years or longer. Tesla and Fiat don't offer the feature at all in the U.S.
More than 700 lives could be saved each year if all new vehicles had this safety feature, according to a 2019 National Highway Traffic Safety Administration (NHTSA) study. Fifty-one percent of Americans say it's either extremely or very important that their next vehicle has a system that will call emergency services when the airbags deploy, according to a new national CR survey conducted in March.
To help save lives, CR is ramping up a new campaign to pressure automakers to make ACN come standard in all new vehicles, and keep it active for free.
More than 20,000 consumers signed a new CR petition in its first three days to urge General Motors, Stellantis, Mitsubishi, Nissan, Subaru, Toyota, and Tesla to begin offering free ACN in all their models.
CR has raised this issue with the auto industry in the past and one Hyundai says it made a difference, according to CR. The automaker recently said it will include ACN notification free on new vehicles sold after 2024 as part of its BlueLink connected suite and noted that CR's advocacy played a role in its decision.
"We believe providing these customer benefits at no cost is the right thing to do and is in alignment with our brand DNA over the years," a Hyundai spokesperson said in a statement. "Consumer Reports' information was one piece in our decision-making process."
CR says it's time for more automakers to make the same move.
"Automatic crash notification can save lives. It should come standard on all new cars, and remain active—and free—regardless of what happens with subscriptions for other connected services," said William Wallace, CR's associate director of safety policy.
Wallace noted that ACN is often bundled with convenience features including remote start, WiFi hotspots, and concierge services. However, CR's engineers have found it would be easy for automakers to separate ACN and offer it at no cost while still charging for other connectivity services.
"People injured in a crash shouldn't have critical medical care delayed because they choose not to pay for features like remote start or a mobile hot spot," Wallace said. "It's one thing for automakers to charge extra for conveniences, but this is about safety, and safety isn't optional."
CR says doctors are also calling for ACN to be a standard and free feature in vehicles.
"All cars should be required to have this feature, and nobody should pay for it," said Dr. Eileen Bulger, a professor of surgery at the University of Washington Medicine in Seattle. "It's a safety feature."
Bulger has researched the benefits of ACN on crash survival rates and presented her findings to the federal government. She found that ACN reduces delays in contact with emergency services, facilitates appropriate EMS and rescue response times, and gives a heads-up on injury severity so emergency services can make the right decision on mode of transport and choosing the right hospital that can offer appropriate care. For example, sending severely injured patients to a Level 1 trauma center lowers their risk of death by 25%, according to Bulger's findings.
"Today's new cars and trucks come with standard safety features that used to be optional for an extra charge, including seat belts and rearview cameras," CR says. "Automatic crash notification is a proven safety feature that makes a real difference in saving lives. It's time for automakers to make it available for all consumers in the U.S., just as many of them are already doing for consumers in most parts of Europe."
Images
Featured image credit: Per Lööv/Unsplash
Share This: